100 Eritrean Christians Arrested, Locked in 'Horrific' Storage Container Prisons Reaching 120°F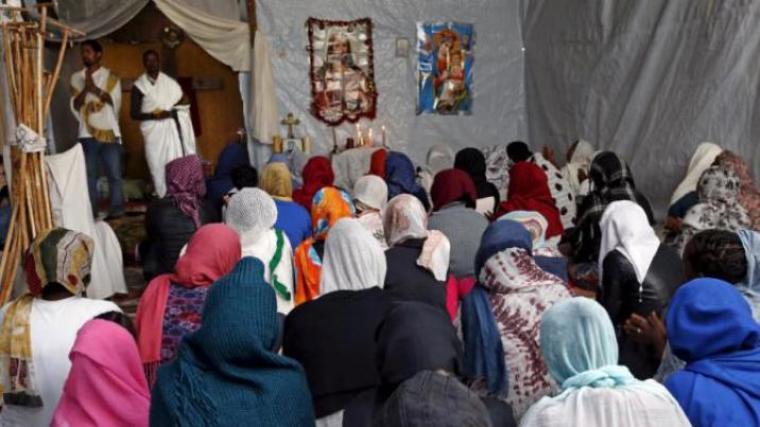 Eritrea's persecution of Christians escalated throughout May, resulting in as many as 100 believers being arrested, a watchdog reported. Prisoners are often kept in "horrific" storage container jails where they are deprived of basic necessities.
"They're rounded up and put into storage container prisons many times. Eritrea is on the eastern side of the continent of Africa where it gets extremely hot. These people are sometimes locked in storage containers with very little air ventilation and up to 120 degree heat," Open Doors USA's Emily Fuentes explained in an article for Mission Network News on Friday, describing the conditions the Christian prisoners are facing.
"[They] often get sick from the lack of hygiene in these places, and often don't get the food they require to stay nourished. So it's a horrific place for Christians who don't fall into the approved denominations."
Fuentes pointed out that "paranoid government crackdowns" led to the arrests of close to 100 Christians last month as authorities carried out door-to-door interrogations seeking to hunt down worshipers that fall outside the four recognized religious denominations.
Although members of Sunni Islam, Orthodox Christian, Catholic Christian, and Evangelical Lutheran groups are allowed to worship in the African country, those who fall outside these denominations are considered criminals.
International Christian Concern confirmed the persecution, stating: "Though Eritrea does allow four denominations to practice their faith they keep a close control on them. For those Christians that meet in their homes or do not belong to the approved denominations the punishment is extremely high. These Christians are rounded up and stuffed into storage containers without air ventilation and with little food."
Another concerning development has been the 10-year-long house arrest of Patriarch Abune Antonios of the Eritrean Orthodox Church, Christian Solidarity Worldwide noted last week.
Antonios continues to be held at an undisclosed location. Reports indicate that his health has severely deteriorated as a result of poisoning, causing alarm among believers.
The church leader was removed from office back in January 2006 after he objected to undue government interference in church affairs, and authorities have been holding him ever since.
"The government has stripped him systematically of his liberty and of every possession related to his position. However, it failed to strip him of his dignity and lacks the capacity to take away his calling," said CSW Chief Executive Mervyn Thomas.
"CSW continues to call for his immediate and unconditional release and reinstatement. We also to urge the international community not only to express concern at the patriarch's plight, but to also remind the Eritrean authorities that his removal constituted an unlawful interference in church affairs, and to request his immediate release and return to office."
Fuentes noted that thousands of people have fled Eritrea, which is ranked 10th on Open Door's World Watch List where Christians face the most severe persecution for their faith.
Many Christians who remain continue risking their freedom in order to preach the Gospel.
"People have to be extremely careful of how they practice their faith, who they share their faith with, because if they get discovered, it means one of these horrific situations like these storage container prison camps," Fuentes said.
"But people are still willing to risk it all for the sake of the Gospel. People are still evangelizing in this country. There are pastors having small groups and churches meet together. So you find the Gospel spreads in spite of all the fear tactics that are taking place from the government."