100 Terrorists Meet Mangled Survivors, Victims' Families at Indonesia Event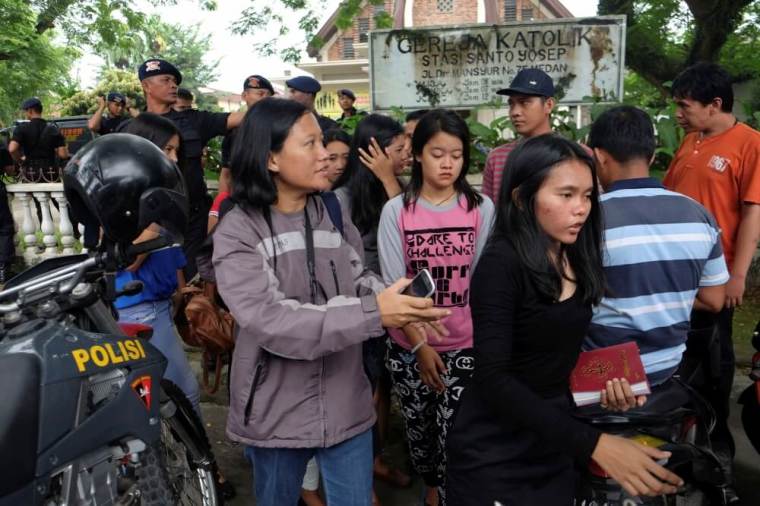 Some 124 convicted terrorists met 51 survivors of terror attacks and family members of victims over a three-day first-of-its-kind event in Jakarta, Indonesia, aimed at reconciliation, though some said they were too upset to attend.
"This is the first event of its kind. We want to develop a spirit of reconciliation," National Counterterrorism Agency Chief Suhardi Alius told Catholic news agency ucanews.com.
The rehabilitated prisoners included those who played a part in various terror acts over the past decades, including a former Islamic radical named Mokhtar Daeng Lau, who in December 2002 killed three people at a McDonald's in Makassar, South Sulawesi.
"I have repented and I will help the government educate others not to follow a radical path as I did," Lau said at the event last week.
A man identified only as Sumarno, who took part in bombings in Bali, stated, "I deeply regret what I have done. I did not expect that so many victims were our brothers and sisters."
"It's hard and saddens me to see survivors who are now suffering from permanent disabilities," the former militant continued.
"I had not imagined the impact would be like that. I am sorry and have apologized to them."
Still, AFP reported that a number of survivors and relatives boycotted the event, saying that the face-to-face meetings would have been too much.
"There are so many of them (former convicts) in the room. We're not ready psychologically," said Ni Luh Erniati, an adviser to the Indonesian Survivors Foundation, a group which decided not to attend.
"We have forgiven them but we cannot predict what would happen if our emotions were ignited."
Erniati, who lost her husband in the 2002 Bali bombings when Islamic radicals killed more than 200 people, said that previous smaller-scale events were difficult to pull off successfully.
"Some survivors were so emotional and they became furious at the former militants," she recalled.
Victims who were able to attend the meeting talked about the importance of forgiveness.
"If I succumb to my resentment, I would not be any different from them," said Febby Firmansyah, a survivor of the 2003 JW Marriott hotel bombing who was left with a mangled hand and permanent burn scars.
"I cannot force other survivors to forgive them as quickly as I did ... so I warned them: don't come if you are not ready," he added.
Indonesia, which is the world's largest Muslim country, saw an increase in arrested terrorists last year, jailing 172 suspects, slightly more than the 163 taken in by authorities in 2016.
Christians have been targeted in a number of terror attacks, including at Lidwina Catholic Church in Sleman, Yogyakarta, on Feb. 11, when an Islamic radical injured four people at Sunday mass, including 81-year-old German priest Karl Edmund Prier.
The man, who was shot by police, beheaded a statue of Jesus Christ in his sword attack. Police later found that he had made an attempt to join the Islamic State terror group in Syria.