Radical Attacks Worshipers, Decapitates Jesus Christ Statue at Indonesian Church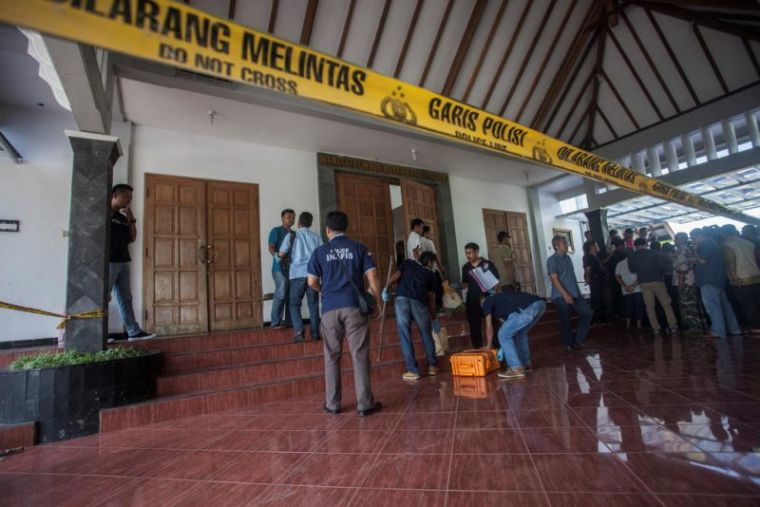 A radical who beheaded a statue of Jesus Christ with a sword and injured four people during Sunday mass at a Catholic church in Indonesia wanted to join the Islamic State terror group, police said.
The 22-year-old attacker, who was named only as "Suliyono," began decapitating the statues at St. Lidwina Church in Sleman, Yogyakarta province, and lunged toward the 100 or so worshipers with a three-foot sword, The Associated Press reported.
He injured three of them in the process, along with 81-year-old German priest Karl Edmund Prier.
The man was shot by police, who rushed to the scene, after ignoring a previous warning shot, and has been hospitalized.
The injured churchgoers suffered injuries to the back, neck, and head, but are all in stable condition.
Police later told AFP that the suspect had wanted to join IS in its war for territory in Syria.
"Suliyono had made a passport application as he attempted to go to Syria, but the application failed. He ended up launching the attack here," national Police Chief Tito Karnavian revealed.
Counter-terrorism experts are investigating whether the man was a "lone wolf" terrorist, or whether he is part of a larger group.
Andhi Cahyo, one of the worshipers at the church, said that the attack occurred a few minutes into the service. One man was bleeding from the head as he ran away from the attacker.
"Everybody started panicking and screaming. I was scrambling to save my wife and children," Cahyo said, according to Sky News.
Yos Bintoro, another priest from St. Lidwina Church, spoke out against the attack, but urged believers to stay calm and not to overreact over the incident.
"We oppose any movement that denies the diversity and the unity of our nation," Bintoro said.
IS, which lost significant ground in Iraq and Syria in 2017, has been trying to spread to other Islamic-majority nations, including Egypt in Africa, and to Indonesia, which is the largest Muslim majority nation in the world.
Back in May 2017, a Baptist pastor from Jakarta told The Christian Post that Christianity is growing in the country, but is being targeted by radical Islam.
The pastor, by the name of Kongkin, told CP that many of the new Christians are converts from Islam.
"Yes, the number is growing. I think a lot of Muslims are realizing that Islam is false; they see the bombings and terrorist attacks done in the name of Islam, and they wonder 'Is this it? Is this what I want?'" he stated.
"They realize there has to be a better way, and then they find Christ."