11 NFL Stars You Didn't Know Were Christian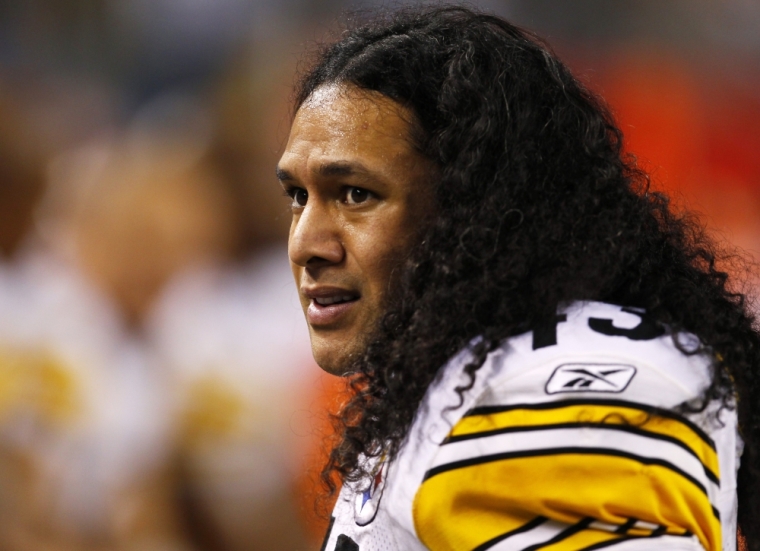 Troy Polamalu (retired), Safety, Pittsburgh Steelers
After announcing his retirement this past April, it's hard to tell if Polamalu will be remembered more for his Head & Shoulders shampoo commercials or as one of the hardest hitting safeties in the history of football. However, the former Defensive Player of the Year knows there's more to life than football itself.
"Football doesn't define me. It's what I do and how I carry out my faith. Football gives confirmation of how I can carry out my faith. It's my way to glorify God," Polamalu said. "When I make the sign of the cross on the field, it goes back to [Hebrews 11:1]. Faith is confidence in what we hope for and assurance about what we do not see."
"Football, in general, has it backward. Players think this inner anger, this hatred, is what drives football and becomes the physical aspect of the game," Polamalu continued. "But love overcomes all things. My love to glorify God through my playing will far outweigh anybody's hate for me."
Colin Kaepernick, Quarterback, San Francisco 49ers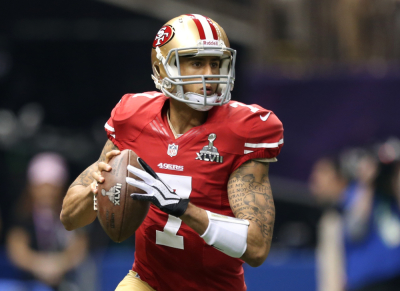 Coming into his fifth NFL season, Kaepernick has made a name for himself as a dual-threat quarterback and helped take the 49ers to a Super Bowl in 2013.
But playing time did not come easy for Kaepernick, as he had to sit on the bench behind Alex Smith for most of his first NFL season. Although he was frustrated by his lack of playing time, Kaepernick remained patient and kept his trust in the Lord.
"Wherever you're at, whatever you're doing, that's what His plan is for you, and you have to make the best of it and keep moving forward." Kaepernick asserted. "When I step on the field, I always say a prayer, say I'm thankful to be able to wake up that morning and go out there and try and glorify the Lord with what I do on the field."
Aaron Rodgers, Quarterback, Green Bay Packers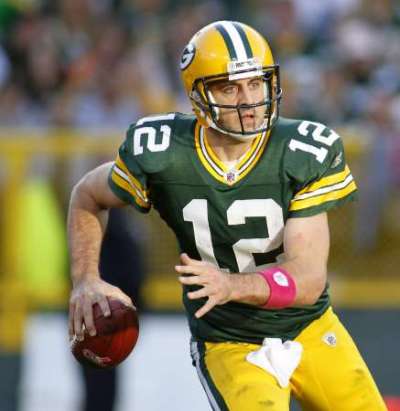 For Rodgers, who is a Super Bowl MVP and two-time NFL MVP, actions speak volumes about a man's faith.
Growing up in a Christian home, he understood what it meant to live a God-centered life but also understood how to walk the fine line of respecting the beliefs of others, while sharing his faith with those around him without forcing his own beliefs on them.
"Let your actions talk about your beliefs," Rogers said. "Start a relationship with others, then finally when there is a chance for questions, tell them about God. My platform as a professional athlete and the face of the Green Bay Packers gives me a tangible way to share my heart and faith."
Maaddi agreed with Rogers and said that players often show their faith by conducting themselves in a godly manner on and off the field.
"You often hear players thank their Lord and Savior Jesus Christ after a game or after victory, and often times people tune that out and they don't want to hear about that. But that's one way to do it," Maaddi said. "You use the platform that you have been given. You don't have to shove your faith down people's throat. You don't have to be a 'Bible toter,' but when you are given your opportunity you thank the One who put you in that position and you exhibit that personality by being an example and the way you act toward others."
Michael Vick, Quarterback, Atlanta Falcons, Philadelphia Eagles, New York Jets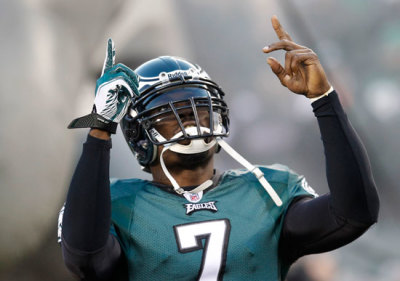 Although Vick had been a believer in Jesus throughout his childhood, it took a giant and widely publicized fall from grace for the four-time Pro Bowler to truly accept Jesus in his heart.
In 2007, Vick and three other men were charged with felonies for their involvement in an interstate dogfighting ring in Virginia and were sentenced to 23 months in federal prison.
"Before I was incarcerated, it was all about me. When I got to prison, I realized that I couldn't do it anymore," Vick said. "The one thing I could rely on was my faith in God. Through the unfortunate situation I put myself in, I found Jesus and asked Him for forgiveness and turned my life over to God."
"There were a lot of Bible verses that helped me in that time, especially the book of Jeremiah," Vick explained. "But this was the one passage that stands out. Jonah was cast deep into sea and swallowed by a fish. But he called out to the Lord, and he was saved. I was cast aside, too, sitting in a prison cell, swallowed up by the mistakes I had made and the culture I grew up in. But I reached out for Jesus and I was saved."