12-Y-O Boy Fatally Shoots Himself at Boy Scouts Summer Camp Where Father Was Troop Chaperone; Scouts Left in Tears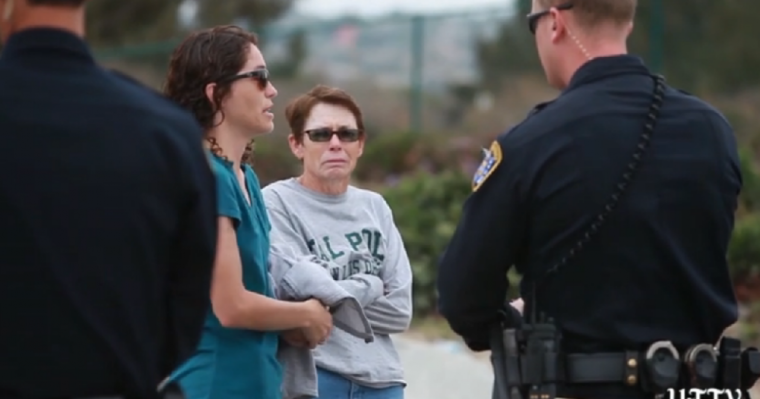 There were plenty of tears to go around at a Boy Scouts of America summer camp in San Diego, California, Monday after a 12-year-old Las Vegas boy reportedly fatally shot himself in a tent as his father served as chaperone for his troop.
Police told The Chicago Tribune that the heartbreaking incident is being investigated as a suicide and noted that a gun was removed from the scene. It is unclear at this time where the gun came from.
A U-T San Diego report said the shooting was first reported as a suicide attempt at about 7:35 a.m. at Camp Fiesta Island, according to police Officer Matthew Tortorella.
Caterer Robert Peletier told NBC San Diego that he was serving breakfast to about 400 scouts at the camp when he saw the dead boy's Las Vegas troop react to the news of his death and there were lots of tears.
With watering eyes, Bob Jones, the grandfather of another 12-year-old camper, told NBC that he was shocked to learn of the incident when he arrived at the camp Monday morning to drop off his autistic grandson.
"I know this will affect him emotionally, so I would just like to be there for him," Jones said. "I'd like to get some word to him if I can."
Homicide Lt. Mike Hastings said the boy was discovered suffering from a gunshot wound to his chest in a tent.
Tortorella, however, told USA Today that the boy had shot himself in the head.
The boy, who has not been identified, died at the camp after emergency personnel tried to revive him.
The Christian Post reached out to San Diego Police for an update on the details Tuesday but they were not available at the time of publication.
Police say the camp with canoes and kayaks was focused on water sports and had no shooting component to it.
The dead boy's father arrived at the camp Sunday and was expected to stay for seven days, according to the police. He and other scout leaders are being interviewed by police. The USA Today said about 20 scouts arrived in San Diego for the week-long camp on Fiesta Island in Mission Bay Park.
The camp has been closed to outsiders until police complete their investigation, according to NBC San Diego, reported that child abuse investigators were also assisting on the case.
"Our thoughts and prayers are with the families and all those who experienced this tragedy," the Boy Scouts of America said in a statement. "Our top priority is providing support to our community and for those in the grieving process."