15-Y-O ISIS Fighter: Islamic State Drugs Militants to Commit Suicide Attacks; Killed Woman Because Her Wedding Dress Showed Bare Arms, Neck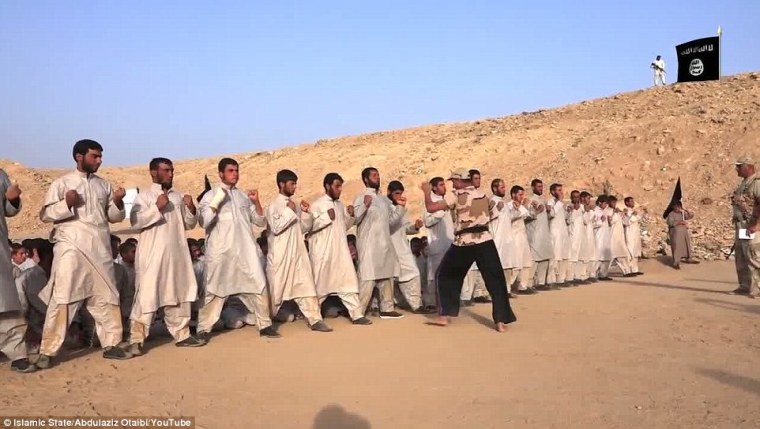 A 15-year-old Islamic State fighter imprisoned by Kurdish forces in northern Syria explained how he was threatened into joining ISIS' military ranks and alleges that ISIS leaders are often drugging their fighters before battle so that the militants would be more likely to commit suicide bomb attacks.
In a CBS report Tuesday, correspondent Holly Williams interviewed various prisoners accused of fighting for ISIS in the basement of the Kurdish-operated prison in northern Syria. Fifteen-year-old Kareem Mufleh told Williams of how he was forced into becoming an ISIS fighter and also highlighted the forceful nature behind their suicide tactics and detailed how the militants kill women for showing too much skin.
While the other men that Williams interviewed in the basement of the Syrian prison ultimately deny that they fought with ISIS, Mufleh, who was captured by Kurdish forces over nine months ago after a firefight, did not hide the fact that he had joined the ISIS ranks. However, it was not by choice.
"They captured my village and gave me a choice," Mufleh said. "Either join ISIS or be beheaded."
Mufleh is just one of the many adolescent boys that are forced to train to become ISIS militants after the Islamic State captures their villages. Witness testimony from a previous Human Rights Watch report claims that when ISIS seizes villages they usually kill all the men, while they detain the boys and train them spiritually and physically to become militant jihadists.
Mufleh continued by explaining how the Islamic State has been so successful in getting militants to follow through with suicide attacks. Mufleh said that before going into battle, the ISIS leaders give fighters an anti-anxiety drug that would cause them to go crazy. When the fighter is mentally unstable and in the heat of battle, a leader hands the fighter a suicide belt and tells the fighter to carry out a suicide attack. Mufleh said he was personally given the anti-anxiety drug Zolam.
"That drug makes you lose your mind," he said. "If they give you a suicide belt and tell you to blow yourself up, you'll do it.
Mufleh added that he had been witness to the massacre of numerous people as ISIS conquered villages in Syria. He added that he witnessed militants kill women for simply wearing clothing that doesn't cover enough flesh.
"I even saw them kill a woman because her wedding dress showed her neck and bare arms," Mufleh said.
During the interview, Mufleh lifted up his shirt to show Williams the bullet wounds on his stomach, which he received when he was shot three times during the fight with Kurdish fighters were he was eventually captured.
Although it is dangerous for reporters to be in Syria as ISIS has beheaded two known journalists, Williams said that after weeks of negotiations, she was able to enter Syria and safely get to the prison to interview the prisoners with the help of safety escorts from the Kurdish group that runs the prison.
The other prisoners Williams interviewed in the prison were accused of working with ISIS in plotting to detonate a car bomb. Both men vehemently denied those accusations.