Escaped ISIS Captive: ISIS Showed Me Videos of My Neighbors' Beheadings, Put Lifeless Heads in Cooking Pots; Many Times I Thought of Suicide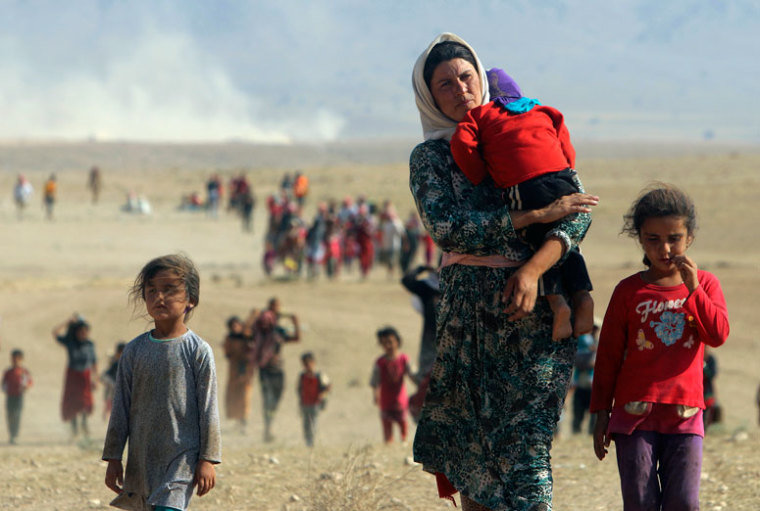 Testimonies from two Yazidi female teenagers who have escaped from the tight grip of the Islamic State detail their horrific experiences as ISIS captives. One of the girls, like many other ISIS captives, contemplated suicide before her eventual escape.
Interviews conducted by Globalpost.com earlier this month highlight the experiences of two Yazidi females, one 15-year-old and the other 19, who were captured when the Islamic State took control of the Yazidi region of Sinjar in the Nineveh province in Iraq on Aug. 3.
As the Yazidi Fraternal Organization states that it has registered the names of 12,000 missing Yazidis (7,000 men, 5,000 women) since Aug. 3, these stories provide greater anecdotal insight into the all-too common nature of the human rights abuses facing many religious minorities who are at the mercy of the Islamic State in Iraq and Syria.
Sara, a 15-year-old Yazidi currently taking shelter in Duhok, Iraq, said her ISIS experience began as she, her brother, pregnant sister-in-law and other Yazidis tried to escape from their village in Sinjar as militants approached the village.
As they headed to the nearby mountains, the Yazidis were hiding out in a remote farmhouse but were eventually found by the militants. The militants, then separated the men from the females and loaded all of the females on seven trucks, while they proceeded to gun down all the Yazidi men, including Sara's brother.
The trucks full of females were taken to Mosul and they were to be sold off as sex slaves. Once they got to Mosul, Sara said some of the women were allowed to go back to their husband, only if the husband had converted to Islam. Sara and her sister-in-law were later separated.
Sara and a friend she had met in Mosul were later taken to Fallujah and gifted to a pair of elder ISIS fighters who were living in a mansion that was taken from a local family.
Sara said that the men rarely fed her, beat her and would also regularly draw blood from her arm with a syringe. As she got weaker and the men continued to abuse her, she considered ending her own misery.
"They didn't feed us much. I used to pass out a lot, but I would make trouble for him as much as possible and fight when I could," Sara said. "Many times I thought of suicide but I kept thinking of my family and my brother. I lived only for them."
Sara said the degradation didn't end with just the beatings as the fighters would also show her videos of ISIS beheading her own Yazidi neighbors. She continued by detailing the gross nature in which the men further mutilated the heads that ISIS had severed.
"In some [videos] they put the heads into cooking pots," Sara said. "Sometimes they would stand on them. There were so many heads. And they would ask us, 'Do you know this one?' and laugh."
Sara and her friend were able to escape on a Friday when the men that were holding them went to a prayer service. She eventually reunited with what remained of her family with the help of a hotel owner who secured them a flight to Ebril.
Leila, a 19-year-old Yazidi also taking shelter in Duhok, said she was captured in much the same way in that Sara was.
Leila was fleeing from her village in Sinjar when ISIS militants caught up to her, her husband and their 1-year-old child. Again, the militants separated the women and the men, placing the women in trucks, while telling the men to lie face down on the ground. Sara said she saw the militants execute all the men including boys as young as 14 years old and her own husband.
Leila and her child gathered in the back of the truck and were taken to the town of Sebai and later to Mosul.
"We drove past so many bodies. Even the bodies of children," Leila said.
Once in Mosul, Leila was housed in a hall with more than 1,000 other woman where they were able to compare stories. Many of the women's husbands had also been shot, while the spouses of others were taken away in separate trucks.
Leila said the women were told they must convert to Islam or else suffer 10 days of isolation. When Leila refused to convert, she and her baby were isolated. Although, the militants supplied her with food, they would not supply her baby with milk.
"[ISIS] told us we must convert to Islam," Leila said. "We refused and they left us alone for 10 days."
Periodically, men, including local Iraqis, would come to the hall and choose women to take for themselves, she added. She said many of these men were as old as 70 years.
Leila was later moved out of the hall to a small house in Mosul, and men would continue to come and choose their girls. Eventually, she and her baby were the only ones left in the house and one night while the militants were sleeping she snuck out with her baby and ran away.