20,000 people may have been exposed to measles at Asbury University revival: CDC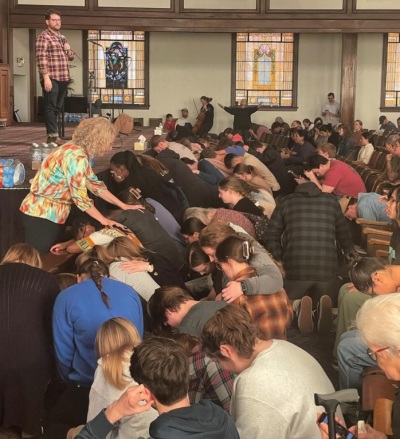 An estimated 20,000 people who flocked to Asbury University in Kentucky last month to participate in a two-week-long prayer event could have been exposed to measles by an attendee later found to be infected with the highly contagious virus, the U.S. Centers for Disease Control and Prevention has warned.
According to the CDC, measles, which spreads through the air when an infected person coughs or sneezes, "is so contagious that if one person has it, 9 out of 10 people of all ages around him or her will also become infected if they are not protected."
Asbury University said in a statement that the infected revival participant is a Jessamine County resident who was unvaccinated and asymptomatic when they attended the event, which started on Feb. 8. The infected participant attended the event on Feb. 18.
As of Feb. 28, only 3 cases of measles have been reported nationwide, including the Asbury revival participant. The agency urges doctors to "be on high alert for measles symptoms" among people who attended the event.
"Community transmission of measles in connection with this event is possible, particularly among unvaccinated or under-vaccinated individuals," CDC spokesperson Scott Pauley said in a statement cited by CBS News.
Health officials encourage unvaccinated or under-vaccinated individuals who attended the event to get vaccinated.
"Anyone who attended the revival on Feb. 18 may have been exposed to measles," Dr. Steven Stack, commissioner of the Kentucky Department for Public Health, said in a statement released last Friday, the last day of the event. "Attendees who are unvaccinated are encouraged to quarantine for 21 days and to seek immunization with the measles vaccine, which is safe and effective."
Early symptoms of measles are typical of many upper respiratory illnesses — fever, cough, conjunctivitis and runny nose — the Kentucky Department for Public Health said. Three to five days later, the characteristic rash from the virus will develop.
"If you may have been exposed at Asbury University's campus and develop any symptoms, whether previously vaccinated or unvaccinated, please isolate yourself from others and call your medical provider, urgent care, or emergency department to seek testing," Dr. Stack stated. "Please do not arrive at a health care facility without advance notice so that others will not be exposed."
In the United States, children usually receive their first dose of the measles vaccine in combination with the mumps and rubella vaccine at age 12 months through 15 months.
A second MMR dose is generally administered at ages 4 through 6. These two doses of MMR vaccine are about 97% effective at preventing measles if exposed to the virus, according to the Kentucky Department for Public Health.
Asbury University, which is "primarily a four-year, multi-denominational institution" located in Wilmore, notes on its website that the school has been at the "heart of spiritual movements" throughout its history and is known for hosting multiple revival events over the years.
On Feb. 3, 1970, a revival broke out on the campus after then-Dean Custer B. Reynolds, who was scheduled to speak, felt led to invite persons to give personal testimony instead. It led to 144 hours of unbroken prayer forcing the cancellation of classes for a week.
"Many on campus had been praying for spiritual renewal and were now in an expectant mood. Soon there was a large group waiting in line to speak. A spirit of powerful revival came upon the congregation. The chapel was filled with rejoicing people," the university notes on its website.
"Classes were canceled for a week during the 144 hours of unbroken revival, but even after classes resumed on February 10, Hughes Auditorium was left open for prayer and testimony."