20,000 Yazidis Taken to Safety as US Launches More Airstrikes in Iraq; Lebanese Patriarch Calls for Protection of Christians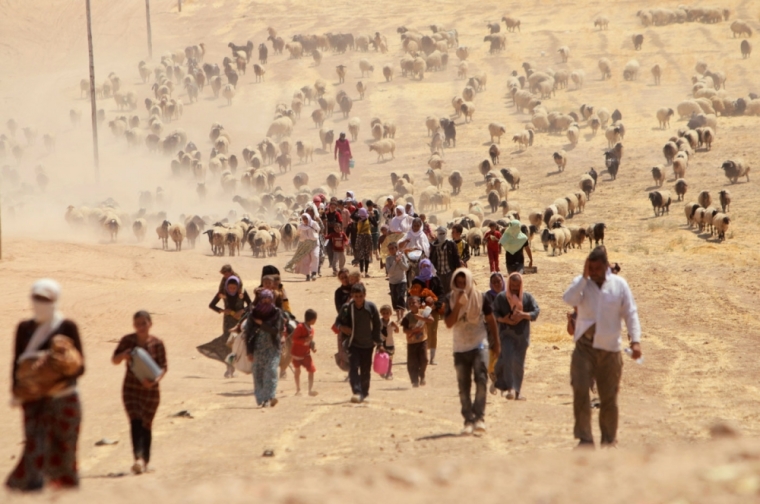 About 20,000 minority Yazidis were rescued in northern Iraq while tens of thousands of others remained stranded on mountains as U.S. forces launched more airstrikes on ISIS militants Sunday. Christians, who too are facing an unprecedented wave of persecution, also need urgent protection, Lebanon's Maronite Patriarch said.
U.S. warplanes and drones on Sunday destroyed vehicles of the ISIS, also known as the Islamic State of Iraq and Syria or the Islamic State, according to U.S. Central Command.
About 20,000 Yazidis have been rescued and taken to safety near the Syrian border, CNN quoted Kamil Amin, spokesperson for Iraq's Ministry of Human Rights, as saying Sunday.
Humanitarian aid has also improved with the U.S., Turkey and the U.K. helping with airdrops on a mountain where tens of thousands of Yazidis have been trapped, a freelance reporter, Hermione Gee, told CBC News from Erbil, the capital of the semi-autonomous Kurdish region in northern Iraq and home to a U.S. consulate and U.S.-Iraqi joint military operations center.
A strike by U.S. forces overnight at ISIS militants in the Sinjar mountain region restored some calm, the reporter said, adding that Kurdish forces near Erbil told her that peace followed the Thursday and Friday night airstrikes that destroyed heavy weaponry operated by the ISIS.
As U.S. forces began to launch attacks last week, hundreds of Yazidi women were abducted and thousands of other Yazidis remained trapped in Sinjar with little food and water. About 50,000 Yazidis, roughly half of them children, were earlier forced to flee to Sinjar with death threats.
Most of the Yazidi women taken captive are below the age of 35 and are being held in schools in the city of Mosul.
ISIS militants have killed at least 500 Yazidis, burying some victims alive in the mass grave found in northern Iraq, France24 quoted Iraq's Human Rights Minister Mohammed Shia al-Sudani as saying Sunday.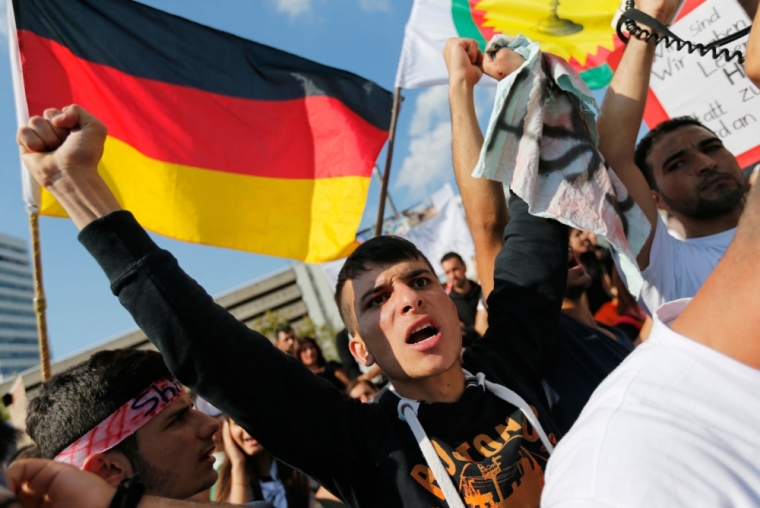 The Sunni militants view the community as "devil worshipers."
"We have striking evidence obtained from Yazidis fleeing Sinjar and some who escaped death, and also crime scene images that show indisputably that the gangs of the Islamic States have executed at least 500 Yazidis after seizing Sinjar," Sudani said. "Some of the victims, including women and children were buried alive in scattered mass graves in and around Sinjar."
The minister also said that about 300 Yazidi women have been forced into slavery by the ISIS, an al-Qaeda offshoot, has made significant military gains in Iraq in recent months.
Christians have also been bearing the brunt of the ISIS rampage in Iraq.
The ISIS, which had been aiming at forming an Islamic emirate in the Levant, a region also known as the Eastern Mediterranean, through "jihad," has asked minorities to flee, convert to Islam, or be killed.
Lebanon's Maronite Patriarch Beshara Rai called Sunday for the international community to intervene to stop the persecution of Christians.
"We pray for our national unity, and for the unity of the communities of the Middle East afflicted by divisions and wars, for the spread of peace and understanding," AINA quoted him as saying during Sunday Mass in Diman, north Lebanon.
"We renew the patriarchate's call to the Arab League, the United Nations, the Security Council and the International Criminal Court to put a stop to ISIS' attacks and those of other fundamentalist organizations against the Christians of Mosul and the villages of Ninevah in dear Iraq, and allow the return of those Christians to their homes and properties with dignity, securing for them a decent life in their home countries with all the rights of citizens," he added.
Mark Arabo, national spokesman for Iraqi Christians and Chaldean-American businessman, said last week that the "evil" being carried out by ISIS militants now includes shocking beheadings of children.
"They are systematically beheading children, and mothers and fathers. The world hasn't seen an evil like this for a generation. There's actually a park in Mosul that they've actually beheaded children and put their heads on a stick," Arabo told CNN.
"And they have them in the park. This is crimes against humanity. The whole world should come together. This is much broader than a community or faith. This is crimes against humanity and they are doing the most horrendous, the most heart-breaking things you can think of," he added.
Addressing the plight of Christians in Mosul, Iraq's second largest city, since it was captured by the ISIS militants, Arabo said 95 percent of them were forced to flee while some five percent of the Christian population converted to Islam.
Most of the 50,000 Christians in Qaraqosh city south-east of Mosul fled last Thursday as ISIS convoys passed through the city. Most members of the minority community of the nearby Christian towns of Tel Askof, Tel Keif and Qaramless have also fled.