25 Black Customers Were Thrown Out for 'Obnoxious' Behavior, Use of N-Word, Not Race, Claims Wild Wings Worker
'One of the guests also insulted a deaf white girl'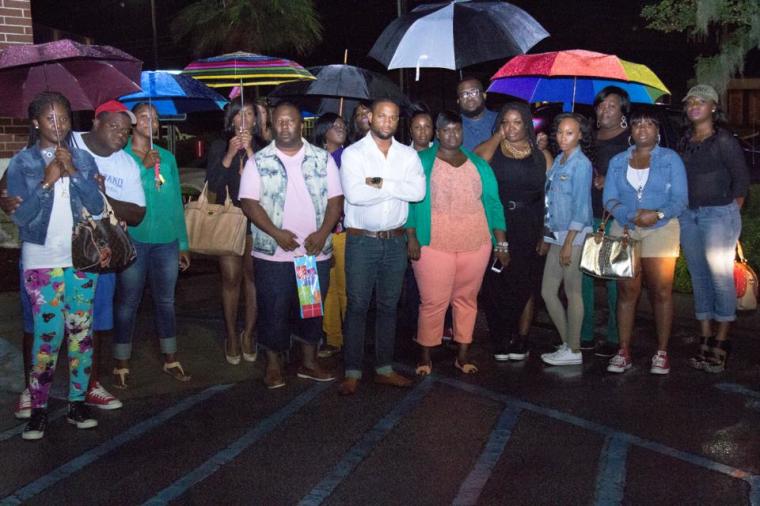 A woman identifying herself as a worker at the now infamous Wild Wing Café in North Charleston, S.C., where 25 black customers say they were kicked out in the rain because a white patron felt threatened, now claims members of the group hurled around the N-word, roughed up a deaf girl and were "obnoxious."
The worker who asked to be anonymous in a Radio Facts report disputes the claim that the group of black customers who had gathered for a going away celebration at the eatery had waited patiently to be seated.
"The group was being loud and obnoxious to both customers and staffers. They kept complaining about their long wait and were talking about how 'whitey' was able to get seated, but they were not," explained the worker in the report.
"The problem was that they had a large group and insisted on sitting next to each other. We only had one area that could accommodate their large group and the patrons in that area were not done. So yes, some 'whities' were able to be seated before them, but only because they were going to a different area. We also seated non-whites in other areas too…They made this a racial issue before anything," she continued.
The worker also claims a member of the group attacked a hearing impaired girl for not responding to a command. To "move."
"One of the guests also insulted a deaf white girl because she didn't respond to one of them telling her to move (she was deaf and didn't hear them. They were also all standing in the middle of the walk way, making it difficult for customers to leave. We asked them if they could move over, but they said they can stand wherever they want, and if we wanted them out of the way then we should seat them," said the worker.
"The customer that was offended was offended by a particular individual's constant uses of the word 'n*gger' When asked to stop, he threw out a long string of racial epithets against one of my co-workers," ended the report.
The controversial incident was first publicized on social media via a Facebook post on Aug. 22 after the group said Wild Wings Café ignored a complaint about the incident for three weeks after it was first made.
"I will never go to Wild wings cafe in N. Chs again! We (Party of 25 family and friends) waited 2hrs, patiently and were refused service because another customer (White) felt threatened by us," noted Mike London in the Facebook post. "This type of racial discrimination is unacceptable and we have to put a STOP TO IT. The manager looked me dead in the face and said she was refusing us service because she had a right to and simply she felt like it. DO NOT SUPPORT THIS ESTABLISHMENT... PLEASE SHARE THIS POST…We need your help," the post continued.
In their most recent response to the incident on their Facebook page, Wild Wings Café said they were investigating the matter.
"We are conducting a thorough investigation and are taking the appropriate action. In the meantime, we are in regular and productive conversation with the individuals and we hope to keep all involved fans and friends of WWC," the company noted.
"We realize these are topics that engender emotional reactions. We truly believe that actions speak louder than words and we hope all are open to let ours speak for us as we move through this situation. We are committed to not repeat the mistakes that have been made and to make sure anybody who walks in the doors of WWC is treated with love, respect and care," it said.