25 Years After Tiananmen Massacre, China Communist Party Has Not Admitted Its Evil; Stop Receiving Them as 'Honored Guests,' Chen Guangcheng Tells World Leaders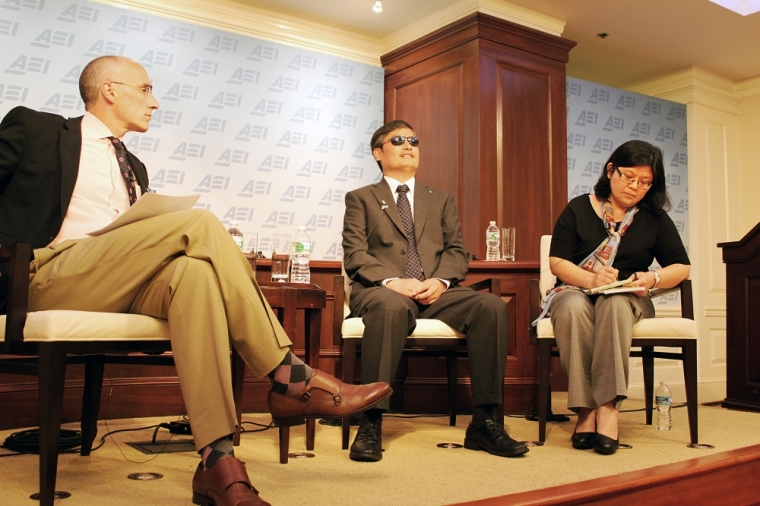 WASHINGTON — The Communist Party of China is trying to expunge the historical record of the Tiananmen Square Massacre and will not admit to the evil that was done against its own citizens, Chinese dissident activist Chen Guangcheng said.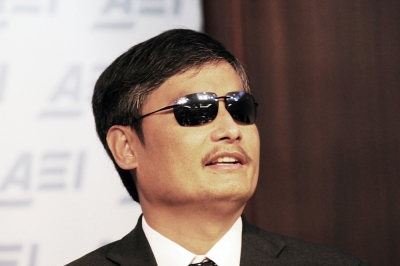 "Twenty-five years later, instead of admitting its evils and facing history, the Communist Party of China continues to cover it all up, and continues its one-party dictatorship. Calls for justice have still not been answered. The criminals who ordered the crackdown have still not been held accountable. This is a deep grief for the Chinese people. This is a grief for the whole world," he said.
Guangcheng delivered the speech at the American Enterprise Institute Tuesday for an event marking Wednesday's 25th anniversary of the Tiananmen Square Massacre.
His speech was the first time he spoke publicly in English, he announced at the beginning. After his speech, he spoke through an interpreter to answer questions from AEI President Arthur Brooks and the audience.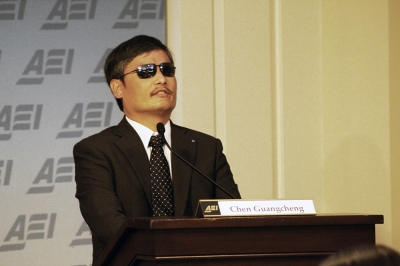 Despite all the economic progress in China, there has been little political reform in the past 25 years, he said. The people of China are "still afraid and silent" about the massacre.
The Chinese government spends 70 billion Yuan ($11.7 billion) a year in its attempts to stifle dissent, Guangcheng explained, arguing that this money could be used to help its people, but is instead being spent to suppress them.
Even with this tremendous effort by the Communist Party, Guangcheng said that "citizen activism has been growing." These activists are fighting "against cold-blooded evil men who live outside the law — outlaws."
Guangcheng urged government leaders around the world to stop receiving and honoring the government leaders of China.
"Stop receiving the June Fourth Incident criminals as your honored guests," he said. "Don't let those who crush human rights enter your free, democratic countries.
"Deny them the warmth of your handshake, the warmth of your smile. Evildoers won't stop until they are held responsible. Dishonoring evildoers is not dishonorable. But honoring them honors their crimes."
The Communist Party of China is not only a threat to the Chinese people, he added, but a threat to everyone.
"A corrupt regime is a threat to us all, and not just economically and militarily. It is a threat to our very human culture, our human civilization, and our universal human values."
Guangcheng concluded his remarks by encouraging everyone to lend their support to the Chinese activists opposing the regime.
"To give future generations a free world, we must act now. Work with the human rights lawyers in China. Help the Internet activists. Partner with all statesmen who support democracy and freedom. Let us join hands and fight together. Here. Now.
"At the rebirth of democracy in China, the whole world must stand firm. If we speak loudly and clearly, a free China, a democratic China, a China with a constitutional government will come to pass. It must."
In 2012, Guangcheng fled house arrest in China and was granted a visa by the United States. He holds positions as Distinguished Senior Fellow in Human Rights at the Witherspoon Institute, Distinguished Visiting Fellow of the Institute for Policy Research & Catholic Studies at the Catholic University of America, and Senior Distinguished Advisor at the Lantos Foundation for Human Rights & Justice.
You can read a copy of his speech at The Witherspoon Institute's "Public Discourse" blog, or watch the speech below.