$2M Fundraiser Launched to Rebuild Christian Town Decimated by ISIS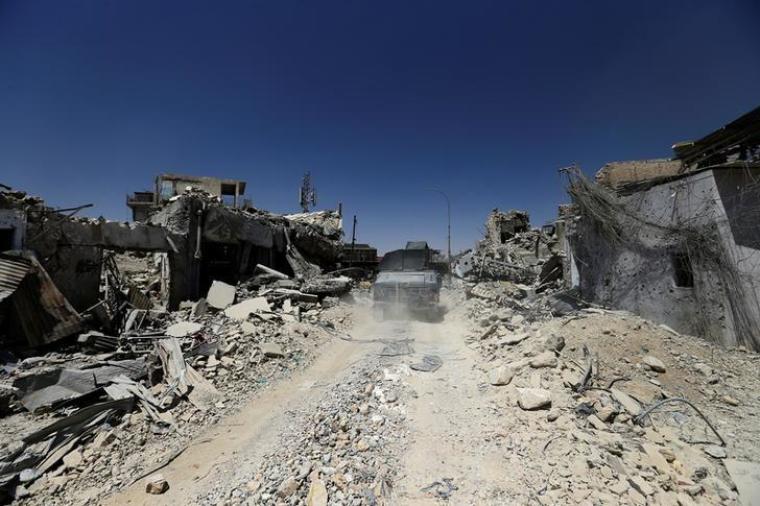 A leading humanitarian organization has launched a fundraising initiative to raise over $2 million to help the Archdiocese of Erbil rebuild an Iraqi Christian town decimated by the Islamic State so that the town's displaced citizens can finally return home in what has been described as a "now-or-never situation." 
The Knights of Columbus, the world's largest Catholic fraternal organization, announced that it will raise and donate $2 million to help the archdiocese, which houses the largest population of Christian refugees in Iraq, to restore the town of Karamdes, also known as Karamlash.
"In talking with the folks in Iraq, the next 60 days are critical that if we don't start moving people home, they are going to start leaving the country for good," Andrew Walther, the Knights of Columbus vice president of communications and strategic planning, told The Christian Post. "With the Christian population having fallen from 1.5 million to somewhere in the neighborhood, maybe a little south of 200,000, it's a now-or-never situation."
Karamdes, which lies about 18 miles southeast of Mosul, was once home to hundreds of Christian families. But when the Islamic State took over large swaths of territory in Mosul and the Nineveh region in the summer of 2014, many of the town's Christians — like religious minorities in other Iraqi towns — faced the choice of fleeing their homes or being killed for their faith.
Hundreds of thousands of residents in Northern Iraq chose to flee their homes and villages in order to escape the wrath of IS (also known as ISIS, ISIL or Daesh). Fearing persecution at United Nations displacement camps, many Christians were aided at camps run by the archdiocese.
But now that IS has been pushed out of the region by Iraq-led coalition forces, the next two months will be critical in determining whether many Christians stay in the country or leave Iraq altogether.
"Christianity is reaching a tipping point," Walther said. "We have been told in 60 days, if there aren't signs of hope and construction and people starting to move home, if this process doesn't begin in the next 60 days that people will just start leaving in droves and Christianity in Iraq will reach the point of no return."
Many human rights activists have spoken out vocally about how foreign aid given to Iraq by the United States government hasn't funnelled down to the archdiocese and others sheltering and aiding Christian victims of genocide, who have spent the last three years not knowing whether or not they would ever be able to return home.
Knights of Columbus' fundraising effort was, in part, inspired by the $2 million donation given to the archdiocese by the government of Hungary to restore the predominantly Christian town of Teleskov. Because of the rebuilding efforts in that town, over 1,000 families have been able to return home.
"What the hungarian government did worked," Walther said. "We have a proof of concept and a way forward that we have a very high degree of confidence in because we have seen it work within the last several weeks with what the Hungarians did a little to the north."
Walther explained that most of the residents of Karamdes are living as refugees in Erbil. He stated that getting a town like Karamdes to be "substantially repopulated" would have to happen in waves, explaining that Karamdes had over 750 Christian homes before the threat of IS.
"Several hundred families would be moved immediately — those with the least disastrous homes that could be rehabbed more quickly. The things that are totally flattened take more time," Walther explained. "Could we stabilize 400 to 600 homes very quickly? Absolutely. What I am told is these people would be back in their homes by the end of August."
"They have a really good system," he added. "The system is the Chaldean Archdiocese ... has builders, has structural engineers that people work with to rebuild their own homes. Then they are given the money they need for the supplies to rebuild their own homes. So they come with an estimate, the engineer inspects it, signs off on the work, they go get the supplies with the assistance of the archdiocese and in this case, the Knights of Columbus. After they build, the engineer comes back and signs off on the work that it is safe."
The Knights of Columbus is urging parishes, organizations and other churches to donate $2,000. According to a press release, $2,000 is the approximate cost of resettling one family back to Karamdes. The Knights are also accepting online donations that will go toward the effort of rebuilding the town.
Besides Karamdes and Teleskov, Walther said that other restoration efforts are happening through the archdiocese in Christian towns like Qaraqosh, which was once the largest Christian town in the region. He said that it could cost an estimated $50 to 100 million to re-stabilize the Nineveh region.
"I would say that the model is one town at a time for the time being — getting these towns back up and getting them repopulated," Walther said.
Some have feared that empty Christian towns and villages in Iraq could present a security problem because of the Iranian-backed Shia militias that are trying to fill that void.
According to an op-ed posted by The Hill last month that was written by Kenneth Timmerman, a conservative writer with a history of reporting on the Middle East, an estimated 100,000 Iranian-backed troops now "occupy Assyrian Christian towns and villages" surrounding Mosul and parts of Kurdistan.