4 in 10 LGBT Americans Identify as Christian, Similar Number Unaffiliated, Poll Finds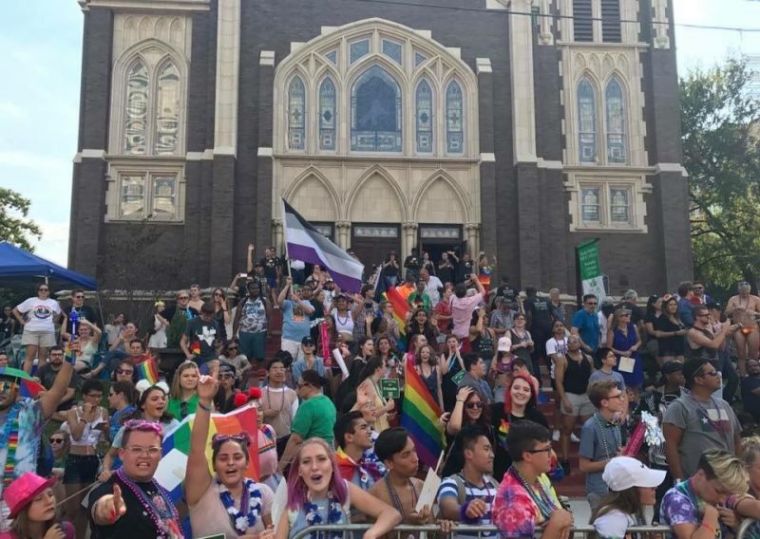 Approximately four out of ten LGBT Americans identify as religiously unaffiliated, roughly equaling the percentage that identify as Christian, according to a new survey.
A poll conducted May 24 to June 1 by BuzzFeed News and Whitman Insight Strategies of 880 LGBT Americans, whose findings were released last week, found that 39 percent of respondents did not have a religious affiliation.
By comparison, 41 percent identified as either Catholic or Protestant, 8 percent identified as some "other" religion, 4 percent identified as Jewish, 3 percent identified as Buddhist, and 1 percent identified as Muslim. 
Marilyn Paarlberg, the executive director at the LGBT organization Room for All, told Newsweek in an interview published Sunday that she was surprised by the fact that a plurality of respondents identified with a religious affiliation.
"That is very surprising to me because in my experience working with the LGBTQ community in the church is that many of them have either left a long time ago or were exiled," said Paarlberg.
BuzzFeed and WIS' findings echo a 2013 survey by Pew Research Center's Social & Demographic Trends, which found the LGBT community's rate of religious disaffiliation to be twice the general population.
Based off of a survey of 1,197 self-identified LGBT individuals aged 18 and above conducted April 2013, Pew found that 48 percent of LGBT Americans considered themselves without a religious affiliation, compared to 20 percent of the general public.
"Lesbians, gay men, bisexuals and transgender adults are, on the whole, less religious than the general public," stated Pew in a 2013 press release.
"LGBT adults who do have a religious affiliation generally attend worship services less frequently and attach less importance to religion in their lives than do religiously affiliated adults in the general public."
Christopher Yuan, author of Out of a Far Country: A Gay Son's Journey to God, A Broken Mother's Search for Hope, told The Christian Post in a 2013 interview that he felt the Pew study was accurate and reflected things he heard from others in the LGBT community.
"Some were pastors' kids and some even went to a conservative, evangelical college or university. Overall, their experiences were negative," said Yuan to CP at the time.
"A few of my friends were asked to leave their church after simply admitting that they experienced attractions toward the same sex, without ever pursuing gay relationships."
BuzzFeed and WIS also found that 31 percent of respondents favored legalizing polygamy, 59 percent of respondents said they voted for Hillary Clinton in 2016 while 14 percent reported voting for Donald Trump, and 12 percent reported being discriminated against in the workplace.
The margin of error for the full sample is 3.3 percentage points.