5 Interesting Facts About the Christian Faith of John Kasich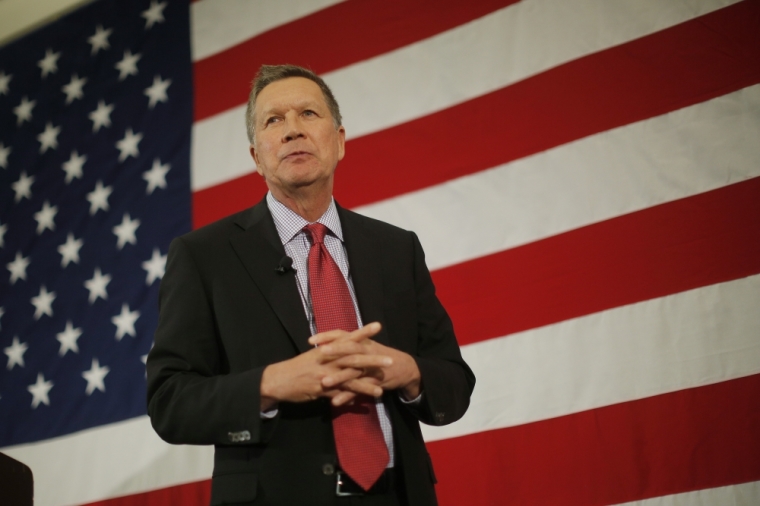 One thing presidential candidate John Kasich can point to that makes him unique amongs the crowded field of Republican candidates is that he has actually balanced a budget in Washington. Kasich, the current governor of Ohio, was once chairman of the House Budget Committee and the architect of a balanced budget signed by President Clinton.
While the spending cuts were quickly reversed by 1999 and 2000, Kasich can at least claim credit for the only federal budget surplus since the 1960s. He even tried to use his budget balancing prowess to run for president in 2000, but quickly stepped aside, endorsing eventual president George W. Bush.
In 2010, Kasich defeated Democrat Governor Tim Strickland, becoming the first candidate to defeat an incumbent governor in the state of Ohio in 35 years. He was reelected in a landslide four years later. Kasich has talked a lot about his faith during his long political career, and is the author of Every Other Monday: Twenty Years of Life, Lunch, Faith, and Friendship, a book about his prayer and Bible study group.
Below are six interesting facts about Kasich's Christian faith:
1. Kasich was a former altar boy in the Roman Catholic Church.
Kasich, who is no longer Roman Catholic, likes to weave in stories during his campaigns and political appearances about his experience as an altar boy growing up. Now a member of a conservative Anglican Church, Kasich has said "there's always going to be a part of me that considers myself a Catholic."
2. Kasich has stated that Christian author and philosopher Dallas Willard is one of his heroes.
Willard, who died of brain cancer in 2013, is the author of many books on Christian philosophy and spiritual formation. Kasich said at last month's Faith and Freedom Coalition gathering that Willard was a hero to him and Willard once asked, "As you live your life on earth are you prepared to run five cities for the Lord in the kingdom yet to come?"
3. He once suggested that God likes the band Pearl Jam.
Ohio's governor has long talked about his love for rock music. He's referred to himself as a "dead head," a moniker for fans of the Grateful Dead band. He's played the music of Pearl Jam and AC/DC during campaign stops. A Daily Beast profile on Kasich quotes him as saying, "I like baseball, I swear a lot, I like Pearl Jam — and I have a personal relationship with God. But I think He likes Pearl Jam, too."
4. Kasich has used his faith to argue for expansion of government programs.
Many on the right criticized Kasich's comments when he told this story to reporters concerning the debate over Medicare expansion in Ohio:
"I had a conversation with one of the members of the legislature the other day. I said, 'I respect the fact that you believe in small government. I do, too. I also know that you're a person of faith.
'Now, when you die and get to the meeting with St. Peter, he's probably not going to ask you much about what you did about keeping government small. But he is going to ask you what you did for the poor. You better have a good answer.'  "
5. After his parents were killed by a drunk driver in 1987, the tragedy reoriented his faith life.
He said the untimely death of his parents made him reevaluate his entire conceptions about God and faith and that he had to start over at ground zero with, "Does God exist?" Kasich has said the more he "wrestles with his faith, the stronger I get." Before the incident, he says "God was a rabbit's foot to me" and the tragedy led to the launching of by-weekly prayer and Bible study. The group Kasich meets with wrestles and discusses a host of theological issues.