5 notable moments at March for Life 2020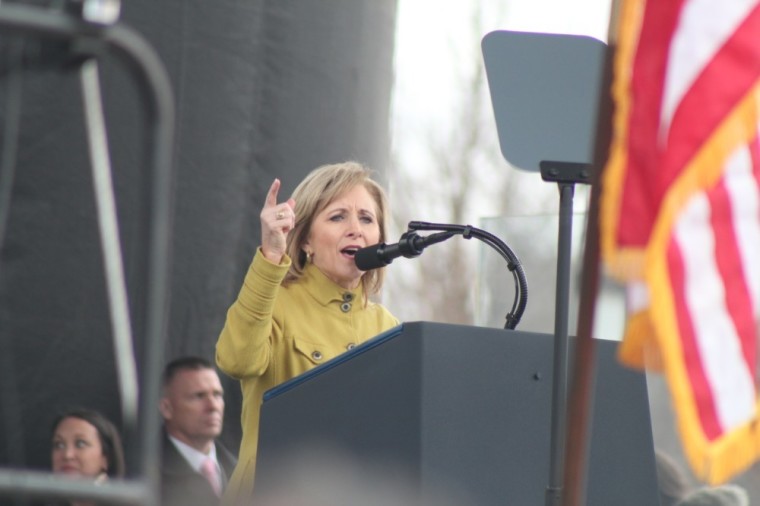 Pro-life Democrats bridged political divide 
While it is not strange to see Republican politicians speak at the March for Life each year, this year's March for Life was attended by a Democrat state representative and the wife of Lousiana's Democrat governor. 
Democrat state Sen. Katrina Jackson, who as a member of the Louisiana House of Representatives introduced a bill voted into law requiring abortion doctors to have admitting privileges at a local hospital, addressed the March for Life for the second year in a row. 
Her legislation is the subject of a high-profile case that will be heard before the Supreme Court in March that abortion proponents fear could result in court-granted protections on abortion being eroded or dismantled.  
"We hope one day, just like Louisiana, Congress will have Democrats and Republicans fight [for life]," she said. "[We need] to let people know everywhere that the fight for life doesn't have a partisan stance to it but that we love babies."
Jackson stressed that "life is the most important thing." 
"I tell people everywhere that if you were born after 1973, after Roe v. Wade became law, someone chose you," Jackson explained. "Because someone chose us, we fight [for life.] … In March of this year, we will be at the U.S. Supreme Court and we will fight for life. It is the most important thing that we could ever fight for in our own lives." 
She declared that "this decade will mark the major fight for life."
"Because at this time, we are about to turn the situation around. I see the bands and the chains dropping off of Roe v. Wade and I see people and babies being born everywhere. I see us spreading life like never before. This is the decade that in unity we will fight for life." 
Jackson declared that Louisiana is the "most pro-life state." 
"In Louisiana, the majority of Democrats elected are pro-lifers," Jackson said. "Every day that I walk into the state capital, I am greeted by pro-lifers regardless if they are white, black, Republican, Democrat, male or female. We know that in unity, we must fight for life." 
Louisiana first lady Donna Edwards, whose husband signed one of the nation's most restrictive abortion bans into law last year, also addressed the crowd. 
Edwards has created several campaigns to support children at all stages. 
"Being here today is important to me and my husband who was recently sworn into a second term as governor of Louisiana," Edwards said. "Our faith is the guiding force in both of our lives and we are not shy about it. We rely on our faith daily to inform the decisions that we make. We believe in the power of prayer. We know first-hand that prayer changes things. 
"We know as believers that God does not conform to man's law," she continued. "At the end of the day, it is up to each of us to pray and stand in the gap in prayer for those who need our help and see things change for the better." 
Edwards stressed that the greatest commandment is to "love your neighbor as yourself."
"In addition to being pro-life, let us also be pro-love," she challenged. "It was what we are commanded to do. As Christians, we are not called to judge one another but help the least among us."