6 Things to Know About Trump's Feud With the NFL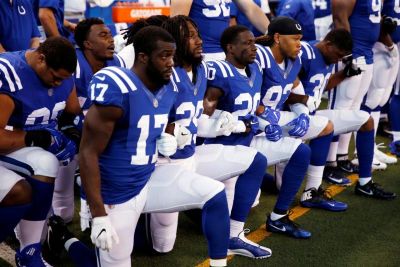 4. Trump's comments lead to an exponential increase in national anthem protesting.
During the second week of the NFL season, only six players protested during the playing of the national anthem, according to the Associated Press.
To go from just six to over 200 players protesting the "Star Spangled Banner" gives a good indication that NFL players did not take what Trump said too kindly.
"Up until yesterday, the players would want people to know that this was not about the flag and this was not about patriotism. It was about social change," Hall of Fame head coach and broadcaster Tony Dungy said on the "Today" show Monday. "Yesterday, this was a group of our family [who] got attacked and called names and told they were unpatriotic and should be fired for what we feel is demonstrating our First Amendment right. We are going to bow-up, band together as a family and they reacted."
"You had people who hadn't been involved in this movement now saying, 'I am going to side with my teammates,'" Dungy added.
Watson told "Good Morning America" that many players felt that Trump's comments were a "direct attack on our brotherhood."
"Even to imply that we don't have a right to express ourselves in any way, whether you agree or not, is something that we really took to heart," Watson stated.