6-y-o boy who told congregation 'I'm tired of this church' goes viral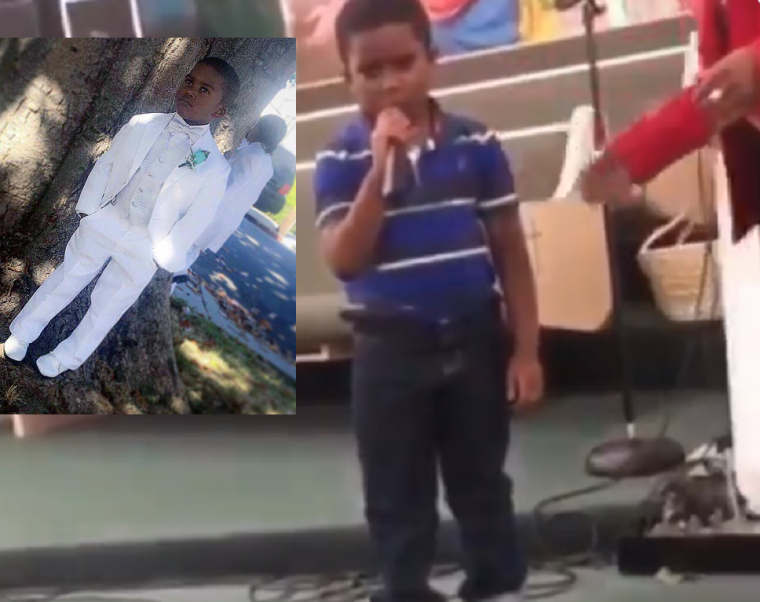 A 6-year-old boy from Oakland, California, who told a congregation "I'm tired of this church" during a Christmas Day speech in a now viral video clip, got a spanking for his defiance from his father and a rebuke from the pastor.
Dominique Ferrell, father of young Naszir Ferrell, revealed during a Facebook interview with South Carolina pastor Lenny Gaines, "I fired on him" after finding out what his son had done.
In that same interview, Naszir also explained in his own words what happened that day.
"I was with my grandma at church. She didn't let me do the speech because I didn't practice it (the speech). I started getting mad and I went up on stage, I said 'I'm tired of this church.'" He noted that the pastor of the church took him in the bathroom and told him, "don't do that again."
The church was one that Naszir's grandma's friend attends. Naszir does not attend it regularly.
The recording of the moment shows how Naszir, dressed in a polo shirt tucked inside blue jeans rolled up at his ankles, defiantly handed the microphone back to an emcee and walked off with his head down. Some of the congregants who heard his statement could be heard gasping "Oh!" while one woman declared "that's a beautiful speech."
Even though he disciplined his son for the outburst, Dominique Ferrell said he had warned his mother that his son wasn't prepared to do the speech.
"My mom's best friend, she want him to do the speech real bad and I already told my mom, he don't know it so don't force him to get up there and try to do it and then him getting all camera shy. They ended up putting him there anyway," he said.
He further explained that he was raised by a single mother who taught him that if he had something on his heart he should "let it be known." He taught that same lesson to his son but he did not expect him to practice it in church.
Nazsir, who is a kindergartner, said he is also a "little bit tired" of school and prefers to spend his time playing basketball.
Reactions to his speech have become the stuff of many lighthearted jokes and serious debate online.
"The GREATEST Christmas Speech EVER!!!!!!!!! He's going to the Hall of Fame of speeches! I can't stop laughing!!! #MyDadWouldveMurderedMe #HesSickOfItAll," wrote E. Dewey Smith Jr., senior pastor of The House of Hope Atlanta church in Decatur, Georgia, in a post on Twitter.
Others, like entertainer KevOnStage, praised the boy for speaking his heart, in a video post that has been viewed more than a million times on Facebook.
"The funniest thing about this is that this kid knew that he was going to say this and he weighed the options. He's like look, 'I'm probably gonna get whooped for this. I know what I'm supposed to say but I just can't do it…,'" he said.
"Somebody else said 'that was a great speech.' That's what's wrong with the church. We gotta tell the truth. That wasn't a great speech but that [little] man spoke his heart. He's my hero because as a child, I know I would have died," he added.