76 Schoolgirls Rescued, 2 Dead After Being Kidnapped From School by Boko Haram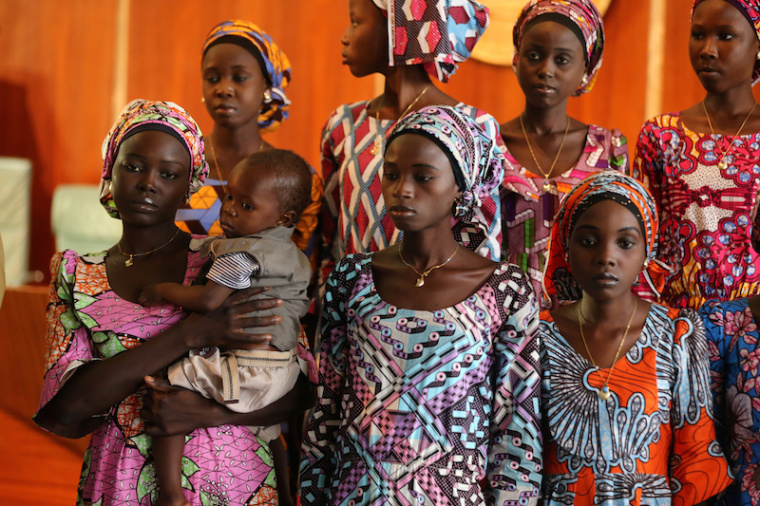 As many as 76 Nigerian schoolgirls have been rescued after they were abducted by the Islamic terrorist group Boko Haram from their school on Monday, while 13 are still believed to be missing and two are dead.
School officials and families feared for the lives of 91 girls who had gone missing after Boko Haram's raid on the Government Girls Science and Technical Secondary School in the Dapachi town of Yobe state on Monday.
The attack marked the latest school raid carried out by the Islamic State-aligned faction, which gained international attention when it kidnapped more than 270 schoolgirls from a government school in Chibok in April 2014.
Parents and government officials told Reuters Wednesday that the Nigerian military was able to rescue the 76 girls and recovered the bodies of two abducted girls. There was no initial explanation as to how the two girls died.
The girls who were rescued returned to Dapachi on Wednesday night.
"Everybody is celebrating their coming with songs and praises to God almighty," Babagana Umar, a parent whose daughter disappeared after the school attack, told Reuters. "The only sad news is that two girls were dead and no explanation."
Despite the return of the 76, 13 girls might still be missing, authorities fear.
"Many students cannot be accounted for till this moment, some classes are empty, some classes had less than 15 students; some said 10 could not be accounted for; mostly all of the classes have missing students," student Aishatu Abdullahi told Pulse.ng. "Many of us are traumatized; many were even fainting upon hearing any unusual sounds due to the experience."
"The school has given us one week to go home for a break," she added. "But in all honesty, I am not willing to come back here because we are scared of what could happen to us in the future."
Abdullahi was inside the school when the attack occurred. She said the attack occurred right as the students were preparing to break for their Monday fast.
"They were shooting guns and everyone was confused; then we started running helter skelter but they were able to ...," she said. "We saw some people pushing some of the students to enter their vehicles."
Abdullahi explained that there were no soldiers present to protect the school at the time of Boko Haram's invasion until the principal placed made a call.
Abdullahi added that that gunmen came in three trucks.
"But they didn't cart away food from our store as claimed," she said. "Some of the other schoolgirls ran with some of our teachers to a house near the school. We saw the women in the house running away, but we had to enter and hide inside the house. All of us that escaped including our school principal, the vice principal and some other teachers stayed in the deserted house till morning."
Abdullahi said that one school official led about 60 girls to escape the wrath of the terror group.
While some of the Chibok schoolgirls abducted by Boko Haram in 2014 have been freed, many remain unaccounted for. The terror faction has claimed that the missing girls have been sold, married off and have converted to Islam. Some of the girls have also been impregnated.
"I abducted your girls," the group's leader Abubakar Shekau declared in a video from 2014. "I abducted a girl at a western education school and you are disturbed. I said western education should end. Western education should end. Girls, you should go and get married. I will repeat this: western education should fold up. I abducted your girls. I will sell them in the market, by Allah. I will marry off a woman at the age of 12. I will marry off a girl at the age of nine."
It was reported late last year that Boko Haram forced 135 children to carry out suicide bombings in Nigeria and Cameroon. That number was nearly five times the number of children used by Boko Haram in 2016 for suicide bombings.
Boko Haram began its insurgency in North East Nigeria in 2009, which has led to the death of at least 20,000 people and forced millions to flee their homes. The group is a large reason why Nigeria is ranked as the 14th-worst nation in the world when it comes to Christian persecution, according to Open Doors USA's 2018 World Watch List.
However, Boko Haram is also active in neighboring African countries.
World Watch Monitor reports that Boko Haram has carried out at least three attacks in Cameroon since the beginning of 2018.
On Feb. 4, the group reportedly killed five Christians and a tribal follower during an attack in the town of Gitawa. Five of the victims, including a pregnant mother, were shot to death while the other victim died when his home was burned down.
Three others were injured in the attack and two are still believed to be missing.
The group also reportedly burned down over 100 huts in the village and other properties including a church building.