79-Y-O Anglican Priest Defends Marriage to 25-Y-O Male Model, Despite Letting Him See Other Men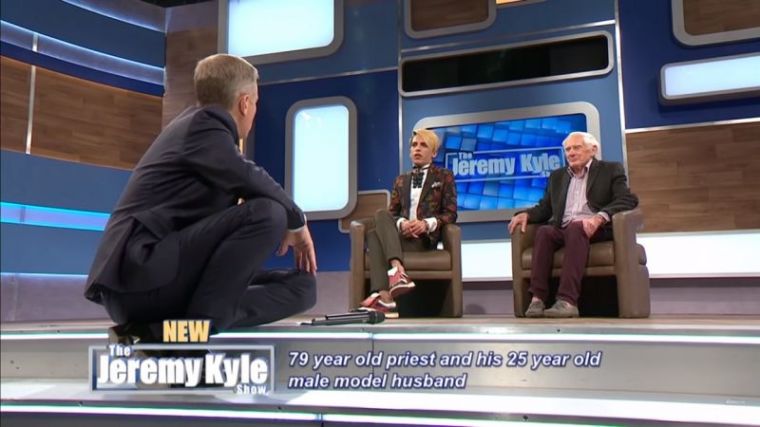 A 79-year-old Anglican priest in the U.K. has defended his marriage to a 25-year-old male model from Romania, insisting that he's not being taken advantage of despite buying the latter a house and letting him see other men.
The Rev. Philip Clements, a retired rector and boarding school chaplain, appeared on "The Jeremy Kyle Show" in the U.K. with his husband, Florin Marin, to try and explain their relationship, which has been the subject of much media scrutiny.
Kyle, the host, asked Clements whether he feels he's being made a fool of, given that he sold his house to buy Marin one of his own in Romania, and given that they are not living together five months after their marriage.
"Being made a fool of can be very nice, especially if it's a very young man making a fool of you," the priest argued.
Still, he said that the couple's relationship "has been tested when I haven't had money," noting that they first met when he only had his pension.
He revealed that he and his much younger husband have had "moments of physical relationship," but admitted that due to his age, he is restricted in that regard. With that, he told the host that he and Marin "have an arrangement."
"I've said to Florin that if he has any relationships [with others] he should tell me, but I'm not going to be angry about it."
Marin himself later joined in the interview, saying, "I love this man," and denied that he's a gold digger only looking to use the priest for money.
"They don't know me, they don't know us," he added of critics.
Clements denied reports that he has been made homeless now that he bought Marin a house in Romania and they are not living together, saying that he lives in a home in the U.K.
"I wanted him to feel secure when I die. At my age, you have to think about dying one day," he said about the decision to buy his husband his own house.
"I am not a dirty old man, I just want to show people we are normal," he insisted.
The couple said that they are currently not permanently together, but are looking into being together on a more regular basis in the future.
Clements married Marin in 2017 despite official Church of England doctrine stating that marriage is solely between one man and one woman.
Some regional Anglican bodies, such as the Scottish Episcopal Church, have embraced gay marriage, while in 2015 the U.S. Episcopal Church also voted to authorize same-sex marriage ceremonies in church.
The perceived growth in same-sex relationships acceptance in the CofE and Western Anglican churches has prompted pushback from conservatives, such as the Global Anglican Future Conference.
Last week, GAFCON gathered over 2,000 Anglicans in Jerusalem to network and build ways to "move Gospel ministry forward" at a time when they feel the global Anglican Communion is "theologically confused" on issues such as same-sex marriage.
Watch "The Jeremy Kyle" interview below: