A Spider once saved Christmas: Raymond Arroyo brings legend back to life in new children's book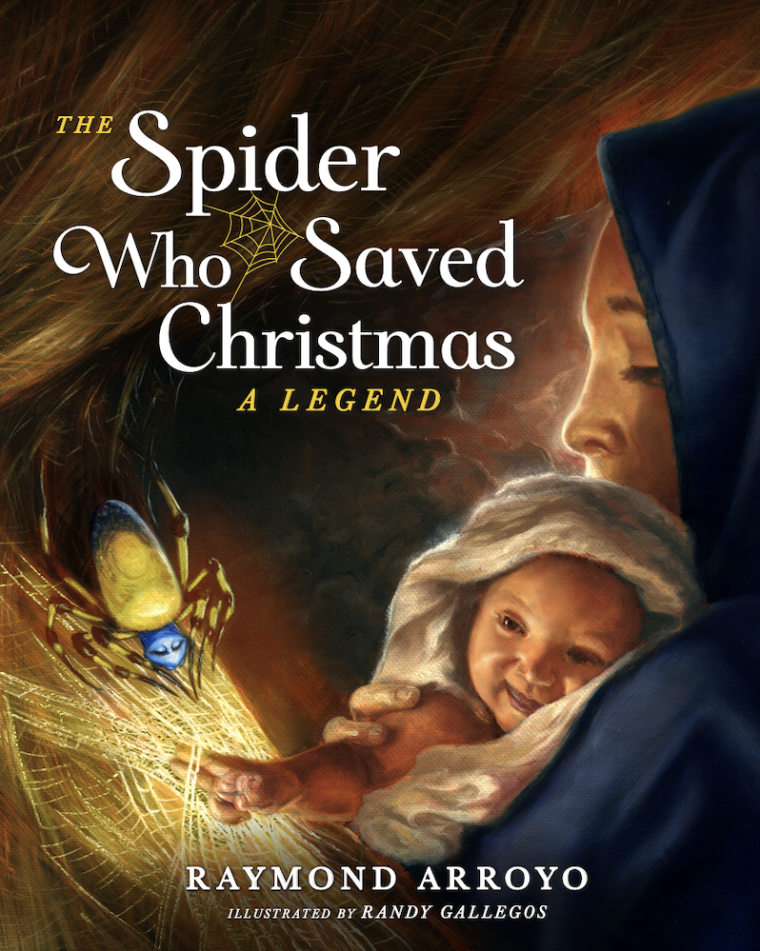 Children's author and well-known television host on EWTN and Fox News, Raymond Arroyo, wants families to look at the Christmas story in a new way this season by sharing a legend that is responsible for some of the Christmas traditions we celebrate today.
The children's book, The Spider Who Saved Christmas,has been a big success in the retail charts, landing in top slots on the New York Times, USA Today and Publisher's Weekly bestsellers' lists since its debut in October.

In an interview with The Christian Post, Arroyo revealed that the book concept was something he stumbled upon while doing research for another book he was working on.
"I was working on that and as I read a Bible commentary, a footnote of this Bible commentary said, 'There is an ancient living legend about the Holy Family encountering a spider on their way to Egypt.' I said, 'What is this? I've never heard this story before.'"
The ancient legend says that Mary, Joseph and Jesus were protected by a spider. As the biblical account confirms, after the birth of Christ the family fled to Egypt because King Herod decreed that all baby boys be killed. The legend adds that one night while the family stopped to sleep in a cave, a spider in that cave shielded the family with her webs to deter soldiers sent by King Herod to kill the infant Jesus.
The legend of that spider, which is illustrated and told inThe Spider Who Saved Christmas, became well-known in some parts of the world. Arroyo said he now understands why, as he traveled through Eastern Europe, Poland and Ukraine, "they have tinsel in all of their trees, and they even have spider ornaments."
"I did some research, I found that there is an ancient tale. That a spider encounters this family, she provides a service that only she can, and she ends up saving their lives and protecting them in an incredible way. I thought, this story should be known and it had been lost, for some reason, through time," he said.
Arroyo explained that these stories "leave marks in life, they always leave a mark. And in this case, it was tinsel and we continue that tradition, but lost the reason for doing it. So I hope the story in the book restores that, and it seems it is."
The book takes place after the Nativity and the TV host believes it's a part of the Christmas story.
"To my mind, Christmas is Christ-mass. That's what it represents. It is the commemoration of Christ coming and intruding into the world, God the man. I mean, that's what it's about," he shared. 
"We often think of the angels and the shepherds and the animals bowing down, and all those things that, frankly, in our everyday lived experience this Christmas, we probably won't have in our own lives," he continued. "But many of us are feeling anxious, and worried. We're hiding out in caves with our families and our loved ones trying to protect ourselves from sudden death.

"That's what this family is going through at this moment. So though I didn't realize it when I wrote this a year-and-a-half ago, I think that's why it's speaking to this moment. Because it talks about the hope found in dark places, and that hope is always there."
The Spider Who Saved Christmasrevolves around the message that "we are all here for a reason," as Mary tells her husband, Joseph, when they first encounter the insect and he instinctively thought to kill it.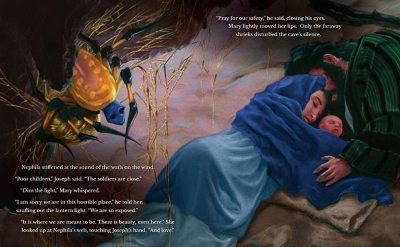 "That scene fell out. That was not part of the original story. So I broaden the story a bit," he revealed.

"When we got into that scene, I thought, she would stop him. Because Mary is protecting her own child and worried about His future, and she kind of sees with a deeper gaze, I think, than anybody else in this book. So I like that she sort of stops him and says, 'Let them be, all are here for a reason,'" Arroyo added.

That quote then became the spine of the entire story of the Nephila spider that weaves golden silk webs. 

Arroyo said his book was meant to inspire everyone to believe that no gift is too small to use for good.

"The message is: no matter how small your gift is or how people tell you it's useless or it's not important, the fact is, it is important. And in this case, pivotal, to the survival of some of the most important people in history," he maintained. "So I liked that aspect of it. That little things done well are important and we have to be true to the gifts we're given."

God put all of us in this particular time for a particular reason and we don't know what that is. That spider could have crawled back into the cave and hidden herself out of self-protection. She does what she's called to do and the only thing she can do."

The Louisiana native of Catholic background said the book impacted his own faith as well. 

"We all, myself included, glissade over these characters, if you will, of Christmas. We don't consider the lived reality of the Holy Family, what they went through, what they were experiencing," he said.

"That's not what Christmas is about. What Christmas is about is the lived experience of this moment, of the coming of the Christ child in a rather intrusive way. I mean, He causes shockwaves when He comes. You've got a king who sent soldiers out to hunt Him down. You've got these men from the East, who are trying to figure out who this new Messiah is, they're searching for them. Then you have this family going door to door looking, trying to survive."

Arroyo said that working on this book enabled him to "consider all of that" in a new way.

"This was a way for families and for you and me to enter into the story from a different onramp. It's a different way into the story that we took for granted or thought we knew. That's what I was trying to do," he offered. "Judging from the reaction, I think it's been successful because all I really wanted was for families to read this together, for multi-generations to share the conversations that would naturally come from it. And that's what's happening."

The father of three says the story was certainly divinely inspired.

"I think every project I've ever done is inspired. The artist has to be open to what he's being called to in each moment," he said.

"When I'm inspired and I really get my teeth into a story, and feel, 'OK, I have to write this,' there are inspirations that will come in the writing. It's like life. God only gives you enough light to light the next step in your path. He doesn't let you see down the road. That's just how it works. Writing is the same. He lets you see the next turn, the next chapter, the beginning of the next chapter, but not the whole thing. So it's all an act of inspiration. It's all an act of cooperation."

Arroyo said he had moments where "the breath of God, ... the Holy Spirit in between our mistakes and failings," broke through and led his writing.

The children's book is relevant to all ages and features stunning illustrations by Randy Gallegos. 

The Spider Who Saved Christmas is now available for purchase everywhere books are sold.