Abandoned, shot but not defeated: The life of Bill Wilson, leader of global children's ministry
Wilson was brought up around Pentecostal influences, but his desire, he said, is to walk into churches of all different denominations to share his method for reaching children throughout the world. 
"Real ministry is an exchanged life. Before Hudson Taylor went to China to build the China Inland mission, he made a statement about an exchanged life," he replied after I asked him to share his definition of ministry. "You look at so many of the old missionaries — the one-way missionaries. Instead of taking a suitcase of their belongings, they bought a coffin because they knew the only way they were coming home from the field was if they were brought back in a casket. Those were the kind of people who lived an exchanged life."
"Real ministry is what William Booth, founder of the Salvation Army, said, it's others. Real ministry is an exchanged life," he reiterated. 
Wilson barely finished lunch before he was back on his feet headed downstairs to meet a group of people who had flown from Indonesia just to spend a couple of days observing the ministry.
"You are adamant about not boasting of your ability in God or success in ministry. Why?" I asked. 
"I don't think I'm a naturally gifted person. That's not false humility, I know myself. But I've worked very hard at becoming a student of the word, of culture, of personalities, of evangelism, but that didn't come easily. I had to work at it," Wilson responded.
"My greatest asset that really built the foundation for how I think today is the two churches that I served in as a young man [which] were outstanding churches. And the pastors were exceptional pastors and leaders, and extremely relational. Much of what I absorbed from those experiences are what I've tried to build on over the years," he continued. 
"Both of those men were exceptional. One became the pastor of one of the largest churches in Florida back in the '60s and '70s, and the second church was the fastest growing church in the United States. So it afforded me the opportunity to be around men of character, men of integrity, men who were relational, who were exceptionally homiletical. I was the recipient of being around men who spoke into my life through the result of their ministry and them allowing me to be a part of that.
"We didn't have things like mentorship in those days. They just told me this is your job and I said, 'OK!' It's because I understood the 'why,' so that drove me to find the 'how.' Most of what we did here at Metro came from trial and error. I saw what worked and what didn't. I threw out what didn't and developed the things that did."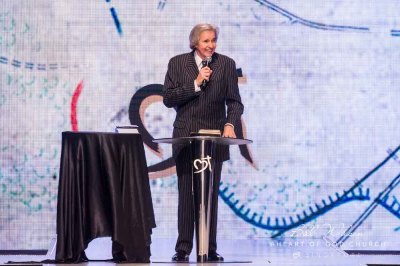 At 70 years old, Wilson has seen more than what most people would experience in three lifetimes. Holding a Ph.D. from the University of Wales, he's also a published author and speaks and lectures regularly at universities and seminars. He also travels weekly, receiving invitations to churches, conferences, and television and radio programs where he shares the vision and mission of Metro World Child and that one person really can make a difference.
He's dedicated his life to helping sponsor the children he ministers to through the ministry's child sponsorship program and is so dedicated to fighting for the life of his ministry that in 2018, Wilson celebrated his 70th birthday by climbing Mt. Kilimanjaro to raise $500,000. 
Although it appears he never slows down, the pioneer said he makes sure to not get burned out and knows his "level of life," which he defined as finding that "middle ground" where one can effectively live.
He acknowledged that he laughs as much as he cries, and calls it the balance of life. 
In his downtime, he reads.
"I'm a voracious reader. I've read a book a week since I was in my early 20s. And because I'm in front of people so much, teaching university, television, speaking to the staff on Friday (which is a pretty tough crowd!) or speaking in conferences around the world, I've got to keep that freshness and edge," he shared.
"I'm constantly getting input in my life and most of the books that I read are books that you can't order or get them on Amazon. They're books that are no longer available, by old preachers from the 1700s and 1800s. They understood history, and when you get a preacher that is a student of history, scripture comes across totally different. So that's my idea of time for myself — sitting with a good book, reading on the plane and being able to have this constant input. It helps me."
Although he's traveled the world many times over, he said New York is still his favorite place in the world. 
"A lot of that is because I'm gone so much, raising support and getting exposure for the ministry; preaching in all circumstances and for all different groups of people. When I'm home I enjoy being here with the team, with the staff, driving the bus and doing what I do. It reminds me of the purpose. As you know, I'm a very purpose-driven person. So I think when you're gone a lot, it's easy to lose track of why you're doing. By constantly coming back, it keeps that purpose in front of you and that helps me to be able to do that," Wilson added.
At this stage of his life, he says he has a ritual. He wakes up, slaps himself and says, "Oh, you're awake. OK. That means you have a chance for one more day."
"At 70, I've lived my three score and 10. And now, you really understand that every day is a gift. When I try to go to sleep, one of the last things on my mind usually is, 'I hope I've done everything I could do today. Take the gift that was given to me a few hours ago and make it count for the Kingdom.'"
At the end of the day, he hopes to be able to say that he fought the good fight of faith and really "finished" his course.
A quote he said while preaching earlier in the day was, "Don't tell me how much faith you got until you show how much fire you've been through." It resonated with me as he shared his goal because Wilson has done just that. 
Finally, I asked what he wanted his legacy to be when it's all said and done.
"I don't think about legacy much. I think, if you do what you're doing and invest in people, the legacy will be the people that you've invested in. That's what legacy is. Legacy is in the generation of people who are now pastors, youth pastors, and missionaries all over the world. The legacy comes from the testimonies that I still get every week, from adults who were once kids on Bus 12. To me, legacy isn't something you try to build, it just comes from a life that was lived for others," Wilson concluded. 
Wilson just released his fourth leadership book, Elephants of Relevance, and will be traveling this summer from Dubai to Asia.