Abby Johnson says women need more self-control, they don't have to get pregnant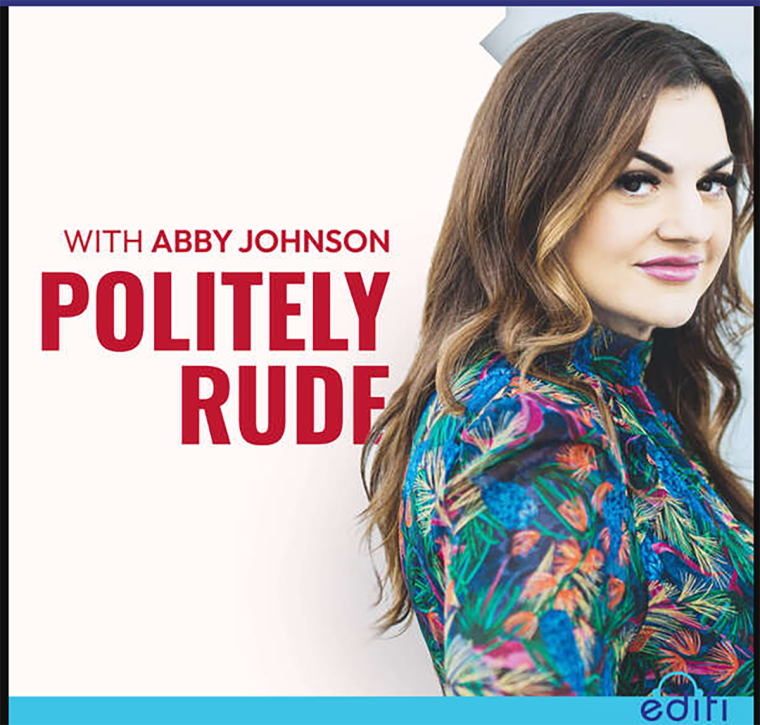 Pro-life activist and podcaster Abby Johnson said despite the alarmist rhetoric after the U.S. Supreme Court overturned Roe v. Wade, for most states, "it's business as usual" as clinics continue to operate unabated. 
Johnson, who resides in Texas, which has banned abortion, said outside of the few pro-life states that place restrictions on abortion, little has changed. Yet many Americans wouldn't know that based on how abortion activists and some in the Biden administration have responded. 
Following the Supreme Court's ruling last summer, Johnson said President Joe Biden suggested opening abortion clinics on Native American Reservations despite tribes opposing abortion and having the Defense Department use taxpayer money to cover the cost of abortions for members of the U.S. armed forces and their families. 
Johnson kicked off the first episode of "Politely Rude" season two by saying the quiet part out loud and advising single women of childbearing age to use the only birth control guaranteed to work: don't have sex. 
Listen to 'Politely Rude with Abby Johnson' and your other favorite podcasts on edifi
In relationships, Johnson said she tells women and her own daughters that "men are the gas and women are the brakes," when it comes to sexual intimacy because women can stop in most cases, except for rape.
"You know what we'll say about a woman getting pregnant … the first thing that everybody says is, 'What about the man?' What about him? Doesn't he have a responsibility? Of course the man has a responsibility. ... But here's the thing. Ladies, you really are the person who is the driver in your relationship when it comes to physicality," Johnson said. 
"I told my daughter who's 16, 'If you don't want to get physical with your boyfriend, you will be the one that makes that decision.' I mean, of course unless one day, unfortunately, you're raped. But in a consensual loving relationship, you will be the one that makes that decision, not him." 
Women need to start having honest conversations about the decisions that led them to seek an abortion, Johnson asserted. 
"Am I going to allow my clothes to come off? Am I going to allow this to be taken to the next level? Am I going to allow him to have sex with me? Am I going to allow it to continue to move in this direction? As one of my friends says, and I've said this to my daughter, 'boys are the gas, girls are the brakes,'" Johnson reiterated. 
"Everybody wants to act like in a physical relationship, in a physical encounter, that both parts are equal. But they're really not. They're really not equal. Because in all of my relationships with guys, anytime if I would have said that we're not doing this … then we wouldn't have done it. But it was my willingness that allowed the sexual encounter to happen." 
If a woman isn't ready to have a baby, Johnson advised that she shouldn't have sex. 
"We need to be having this very honest conversation with women to help them understand that they really do have more power than they realize when it comes to relationships and physical relationships. They are the ones that control whether they are going to get pregnant or not. And the bottom line is, if you don't want to get pregnant, don't have sex," Johnson said. 
"If you aren't ready to have a baby, don't have sex. If you are with a man, and you're like, 'oh, he's not even that great to me, so I'm not sure he'd be a good father, don't have sex with him. If you're like, 'oh, I've only known this guy for a month, not sure he's committed to me, don't have sex with him." 
Young women need to learn how to respect their bodies, Johnson stressed. "That really is the power that we need to be teaching women around us. You want to talk about women's liberation. Let's teach that to young women — that you don't have to use your body as a tool to get what you want or to manipulate relationships." 
"I can tell you the number of pregnancies would go down tremendously," she added. "Number one, these women wouldn't have to have abortions if there was a little more self-control and women recognized that they're really the ones in charge. … Number two, if we were honest, pro-lifers need to do a better job at articulating the options out there for women.
"​​I run a crisis hotline called Loveline. We get calls all the time from women who don't necessarily want to have an abortion but they already have other children," Johnson continued. "One of the things that we hear from them a lot is that they don't want to have an abortion but they don't really know where else to go. … They just feel like nobody will help them. Nobody wants to help them. And that's really a sad state of affairs when we do have a lot of help out there for people in crisis. But people who need the help don't know how to access it. … That's really a shame to me." 
Abby said that women who are thinking about getting an abortion often need guidance and the services available to them in their states are not widely known. 
"​​We, as pro-lifers, need to know what that help is and how to help someone access it. So, if you see a woman on social media or you encounter a woman who you know is obviously in need of help, where do you tell her to go? Can you help her find her local pregnancy center? Do you know about the WIC program, the women infants and children's program, which I think every single woman should qualify for, no matter her income bracket," Johnson said. 
"Have you encouraged her to get on prenatal Medicaid if she's pregnant so that she can get medical checkups? Do you know where the community clinic is that takes Medicaid so that she can get prenatal care?" Johnson added. "Have you encouraged her to get on SNAP food benefits which we used to call food stamps? Now we call it SNAP food benefits. Have you encouraged her to do that? Does she have children with a man who isn't and he's not taking care of his children? … Did you encourage her to reach out to the attorney general's office to take that up with the attorney general because he should be paying child support." 
While pro-lifers cannot help every woman in need, each should be equipped with the knowledge about services in their community that will help pregnant women and their families thrive.
"You don't have to be everything to everybody. And we don't expect that. But just some basic things, empowering these women [by saying], 'Look, you're not alone. There are places that will help you. There are resources out there. Do you know about x, y and z?' So that she understands that she's not going to have to be on this journey alone," Johnson said.
During this first episode of the new season and new look for Johnson, she lamented that in states where abortions have been banned, Planned Parenthood is deploying RVs along the border of those states to offer mobile abortions. These same clinics that couldn't meet basic standards of health and safety for women in their clinics are now taking the same practices on the road, which has raised many concerns for Johnson.