Acclaimed Christian Artist Matthew West Recalls How a Moment With a Recovering Drug Addict Validated His Purpose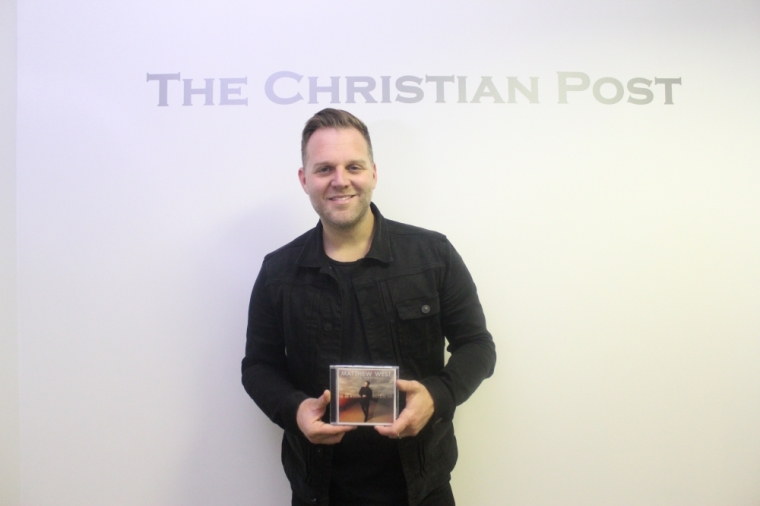 Four-time Grammy Award-nominee Matthew West shared recently that hearing 40,000 stories of human suffering and adversity from around the world inspired his new album Live Forever, which debuted at No. 1 on the Nielsen Soundscan Christian & Gospel Albums chart in its first week.
The 11-track project, which marks West's 6th studio album and the third in which every song was inspired by people's stories, has been lauded by fans around the world since its debut last week. It features the album's first radio single, "Day One," an uptempo song that reminds the American Music Award winner of a memorable moment he once had with a recovering drug addict at one of his concerts.
"Well, every single day Your grace reminds me/That my best days are not behind me/Wherever my yesterday may find me/Well, I don't have to stay there, no," West sings on the God-glorifying track.
During a recent interview with The Christian Post on Wednesday, West, who is in the midst of his 40-city Live Forever tour, recalled his touching encounter with the troubled teen.
"I get to meet people at every concert and when you read [those lyrics], the picture I have is the picture of a teenage kid who I had invited to [my] concert because he was going through a drug recovery program and we had invited the whole drug recovery program to attend," West, 38, told CP earlier this week.
He continued: "This teenage kid, he had a nice shirt tucked in that had been given to him by the program and I was just encouraging him. I got to hang with him and I said, 'Man you're looking really sharp tonight ... you know there's girls out there [and] they're probably going to want to get your number.' I was kind of just joking around with this teenage kid."
The downcast teen then lowered his head and said with absolute certainty in his voice, "'Man those girls wouldn't want anything to do with an addict like me.'"
The young man's overwhelming sense of defeat and hopelessness saddened West, so in he decided to take the opportunity to uplift and reassure him, much like his lyrics in "Day One."
"I got a chance to look that guy in the eyes – and here's a young teenage boy who's already so discouraged. I mean he's defeated before he even walks out the door, so [I] said 'Hey look, that may be who you were but that's not gonna be who you are ... this is just a chapter of your story called addiction and we all have chapters of our stories we wish we didn't hav,e but those chapters don't have to own us,'" West recalled.
"'They don't have to be the title of our story. They can just be chapters that go from broken to healed.' And that's what fires me up, when I see people like that young boy where a light appears in his eyes and he goes 'alright maybe I'm not just an addict, maybe God put me here for more than that.'"
West, whose career spans over 20 years, began as an independent artist in 1997 and went on to become an internationally acclaimed singer/songwriter who is currently signed to Capitol CMG.
Six years ago while recovering from vocal cord surgery, the married father of two launched a campaign to collect true and heartfelt stories from around the world, and 40,000 letters later, Live Forever was created.
"So this song called 'Day One,' it's about the promise of a new beginning every single day. What I was sensing in the stories I was reading from people is that so many of us get so discouraged by the chapters in our stories that are behind us and the ones that have already been written, the ones that if somebody gave us a do-over we might say, 'yeah I want to do that chapter over again,'" West explained.
The acclaimed Christian singer and actor said that he hopes that his music can help people discover that the present moment is a gift from God.
"I wanted to write an anthem that says, 'hey, the past is gone and how do I know that?' Well the Bible tells me so: 'forgetting what is behind I press on to a new tomorrow,'" West said citing Philippians 3:13. "And so the whole song is about how every morning God's mercy is new (that's Lamentations 3:22-23) and so I think that's why it's resonating with people because who doesn't need a reminder? I need a daily reminder that God's grace is a daily gift, it's a well that never runs dry, it's a gift that never stops giving."
West is the recipient of many prestigious awards including ASCAP Christian Music Songwriter/Artist of the Year, an American Music Award, a Billboard Music Award and a Primetime Emmy Award-nomination.
"I'm thankful for any recognition. Obviously to me what it points to hopefully is the sign that the music is resonating in people's lives. You know there's an interesting thing in my genre of music ... you know faith-based music or contemporary music or contemporary Christian music – we don't have MTV or tabloids and things like that, so there's a certain anonymity that goes along with it," said West.
"People might know my songs more than they would know my name. At the beginning of my career I had to come to grips with like 'hey why am I in this?' If at the end of my career, if people don't remember Matthew West the name but they remember a song that impacted their lives, am I ok with that? And now more than ever, after six records, sitting here talking with you here today, I'm ok with that because the messages of those songs resonate in people's lives and hopefully it helps people get from point A to point B. Whether they remember my name or I win an award or not, that's not the point … so I'm excited for the recognition but I'm more excited when a song resonates in somebody's heart."
For more information on Matthew West CLICK HERE.