ACLU Will Not Sue Trump Over Religious Freedom Executive Order; Calls It 'Elaborate Photo Op'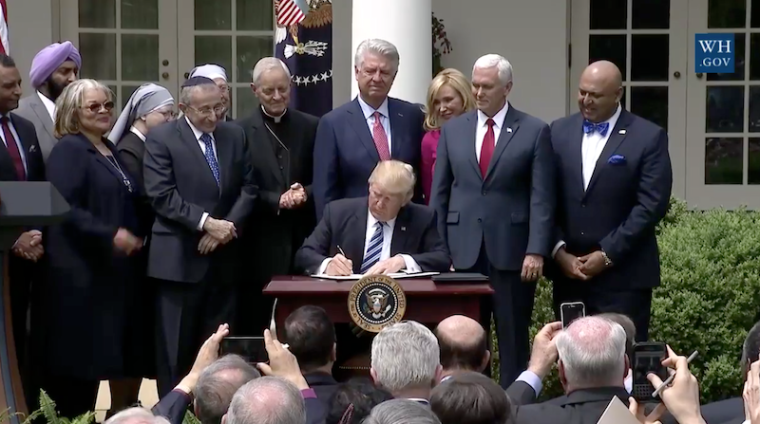 The American Civil Liberties Union will not be suing the Trump Administration over its recently signed religious liberty executive order, deeming it only an "elaborate photo op."
In a comment posted to their official Twitter handle on Thursday afternoon, the national ACLU stated that they did not see a need to sue President Donald Trump over the executive order.
"We thought we'd have to sue Trump today. But it turned out the order signing was an elaborate photo-op with no discernible policy outcome," said the ACLU, garnering as of Friday morning more than 14,000 likes.
The ACLU went on to state that contrary to some concerns from other progressive groups, items like the Johnson Amendment remain in force.
"Trump's assertion that he wished to 'totally destroy' the Johnson Amendment with this order has proven to be a textbook case of 'fake news,'" added the ACLU as a reply comment.
Hemant Mehta, also known as the "friendly atheist," also commented that the order "isn't as devastating as we thought."
"There's a rule when it comes to Donald Trump that the entire media should understand: Don't go crazy covering what he says. Pay attention to what he actually does," he wrote. "[W]hile the idea of the executive order is disturbing — and church/state separation groups have a right to be upset — it doesn't ultimately change much. Just as with so many of Trump's executive orders, this was all for show."
On Thursday, President Trump signed an executive order regarding religious liberty, doing so on the same day as the annual National Day of Prayer.
The executive order calls for the Health and Human Services Department to consider amending its contraception mandate to accommodate religious dissent, instructs the Attorney General's office to craft interpretations of federal religious liberty guidelines, and states that the Treasury Department will not take punitive action against churches that speak about politics from a religious perspective.
"The Founders envisioned a Nation in which religious voices and views were integral to a vibrant public square, and in which religious people and institutions were free to practice their faith without fear of discrimination or retaliation by the Federal Government," reads Section 1 of the Executive Order.
"Federal law protects the freedom of Americans and their organizations to exercise religion and participate fully in civic life without undue interference by the Federal Government. The executive branch will honor and enforce those protections."
At the signing, Trump said his administration "will not allow people of faith to be targeted bullied or silenced anymore ... and we will never ever stand for religious discrimination."
Conservatives have been divided over the executive order, with some praising the overall content of the measure while others, including the National Organization for Marriage, calling it a failure.
"[The] executive order he signed today, while containing some helpful provisions for pastors and religious medical providers, falls far short of what is needed to protect people of faith from governmental persecution set in motion by the Obama administration," stated NOM.
"President Trump talks eloquently about religious liberty and did so again today at a ceremony in the Rose Garden of the White House. While he may sincerely believe in protecting religious liberty, his actual executive order does not do so in any meaningful way for the vast majority of people of faith."
Although the ACLU has no plans to sue Trump over the executive order, the Freedom From Religion Foundation announced Thursday that they have filed a lawsuit.
"The order and Trump's repeated statements clearly communicate to churches that they can now endorse political candidates from the pulpit," stated FFRF.
"FFRF and co-plaintiffs FFRF Executive Directors Dan Barker and Annie Laurie Gaylor assert that Trump has used this order to usher in a new era of church politicking to the exclusion of secular organizations," the organization said. "Among its several abuses, Trump's order and statements signal to the Internal Revenue Service that it should not enforce the electioneering restrictions of the tax code against churches and religious organizations, while permitting these restrictions to be enforced against secular nonprofits."