Trump to Sign Religious Freedom Order on National Day of Prayer, Report Says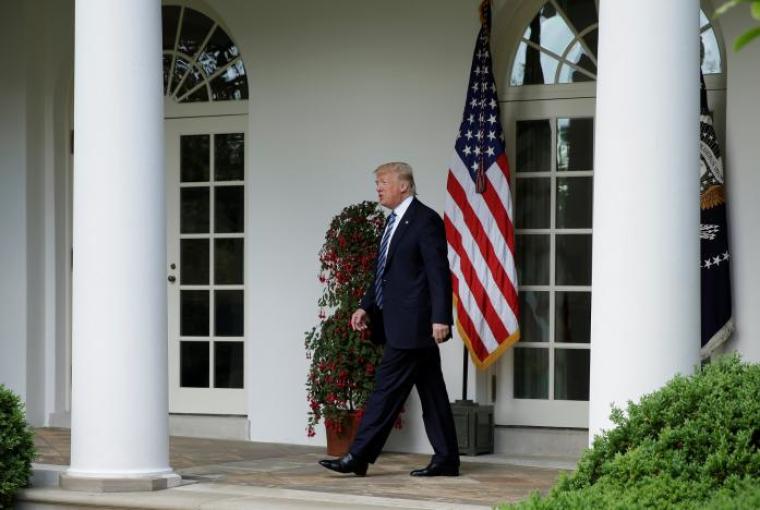 President Donald Trump is reportedly planning to sign a highly anticipated executive order on religious freedom on the National Day of Prayer, according to Politico.
The news outlet cites multiple sources familiar with the situation who disclosed that the president has invited conservative leaders to the White House on Thursday for what they believe to be the signing of an order protecting First Amendment rights.
Conservatives and evangelicals have been calling on the administration to enact some sort of policy to protect the rights of individuals and organizations to act in accordance with deeply held religious beliefs on social issues like marriage, abortion, contraception, sexuality and gender without fear of government coercion and backlash.
However, critics on the Left have claimed that such an order would make it easier to use religion as an "excuse" to discriminate against LGBT individuals.
Conservative hope arose after a four-page draft copy of a religious freedom order was leaked to the press in early February. After two months, no such order has been issued but sources close to the discussions have indicated that such an order is still in the works.
According to Politico, two senior administration officials confirmed a plan to sign the order on Thursday. However, one official warned that the plan hasn't yet been finalized and that the draft order is still being fine tuned.
Ken Blackwell, chief domestic policy adviser to the Trump transition team who oversaw the formation of nine federal agencies, told The Christian Post during a conference call last Thursday that it would only be a matter of time before the Trump administration enacted some policy or order to address the religious liberty concerns of many conservative Christians, adding that "we are seeing ... the desire to make sure it is as tight and as sound as it possibly can be."
"Folks who are framing this are not novices. They know that it is going to be immediately and aggressively challenged," Blackwell said.
Plaintiffs are already seemingly lining up to legally challenge the rumored religious freedom order to be enacted by Trump. The American Civil Liberties Union and the pro-LGBT firm Lambda Legal have already threatened to immediately sue should Trump sign the religious freedom order. The nonprofit American Atheists has also vowed to "fight back."
According to Buzzfeed reporter Dominic Holden, liberal groups believe they can bring First and Fourteenth Amendment challenges against such an order.
"We will fight this with everything we have," Lambda Legal Senior Counsel Camilla Taylor told Buzzfeed on Tuesday. "We are prepared to sue in a very short timeframe if the executive order closely resembles the leaked drafts."
Although it was reported that Ivanka Trump and her husband, Jared Kushner, who have a record of supporting LGBT rights, have had some influence on Trump's decision not to sign the order in February, an influential conservative who saw the text of the reported order told Politico that the language hasn't weakened much from the draft obtained by The Nation in February.
"The language is very, very strong," the source was quoted as saying.
When asked about Ivanka Trump and Kushner's influence, Blackwell told CP: "I do know that those of us who have advanced religious liberty within the discussions are confident that we have done it in way that is morally sound, legally assertive and politically advantageous for the administration to advance."
In addition to the threats of legal action, over 1,300 left-leaning faith leaders signed a statement condemning the rumored religious freedom order.
"Although it purports to strengthen religious freedom, what this order would actually do is misuse this freedom, turning it into a weapon to discriminate against broad swaths of our nation, including LGBTQ people, women, and children in foster care," the letter reads. "We urge you to turn away from all proposals that would abuse religious freedom, including any executive orders on this issue that are currently under consideration."
In early March, over 100 conservative leaders, headed by Family Research Council President Tony Perkins, signed onto a letter that was sent to Trump, urging him to sign a religious freedom order and citing a number of instances in which individuals and organizations received consequences for acting in accordance with their biblical convictions.