Actor Terry Crews and Audience Cheer Ben Carson's Take on Welfare on 'The View;' 'It 'Doesn't Provide a Way Out of Poverty'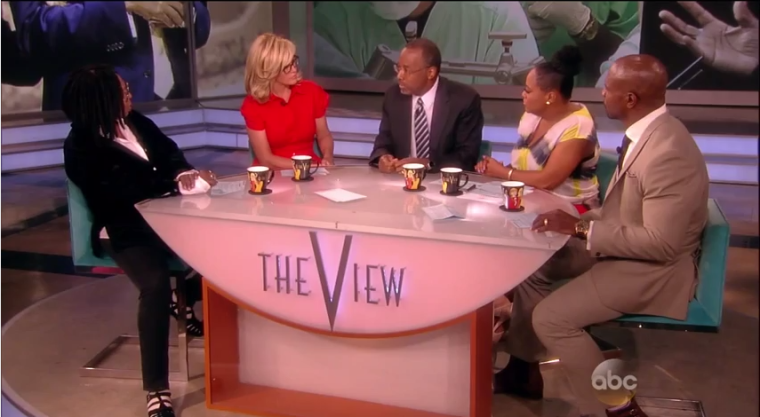 Retired neurosurgeon and conservative darling Ben Carson scored big points with the audience and actor Terry Crews in an appearance on ABC's "The View" Tuesday when he argued that welfare "doesn't provide a way out of poverty."
Carson who appeared on the show to promote his new book 'One Nation' was asked by Crews if he thought the welfare system in its current state is racist.
The neurosurgeon who was raised by a single mother argued that welfare works against people who are seeking to become independent productive citizens.
"When you rob someone of their incentive to go out there and improve themselves, you are not doing them any favors," he said. "When you take somebody and pat them on the head and say, 'There there, you poor little thing… Let me give you housing subsidies, let me give you free health care because you can't do that.'"
"What would be much more empowering is to use our intellect and our resources to give those people a way up and out," he ended on the subject.
"I agree," said Crews joining the audience in applauding Carson's argument.
"The View" co-host Whoopi Goldberg quickly reacted, however, by revealing that she was a "welfare mother" at one time and pointed out that very few people want to be on welfare and would prefer to work.
"I don't feel bad about being a welfare mother because I contribute as an American," she argued. "Because the welfare system is so bizarre, you can't work, they don't allow you to work because they take the money from you. So, if we fix the system so that it doesn't hurt the people, maybe they'll get better."
Responding to whether he has any presidential ambitions during the interview Carson noted.
"It is not something that I desire to do, and my hope is that someone will come along that excites the people, who really understands what America is all about, and really doesn't want to change it in to something else.
"If that happens, then I won't do it, but I have so many people asking me, and as a patriotic American, I certainly have to think about it."