'This is Us' actress Chrissy Metz says relationship with God sustained her amid 'scary' times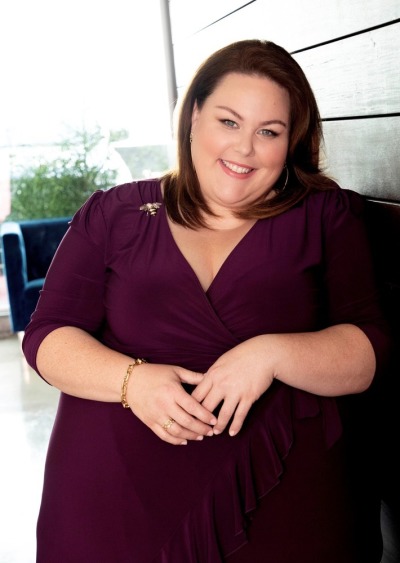 Thinking back to her childhood, Chrissy Metz can pinpoint the many instances prayer sustained her through difficult times. 
"I've been praying the whole time, honestly, ever since my grandmother and I would go to church together when I was a kid because I didn't know what to do," the 42-year-old actress and singer told The Christian Post.
"I had a pretty interesting relationship with my stepfather that was very difficult. And I would pray all the time about that and to understand him, but also go, 'Why do I have to be in this situation?'"
"There were always questions and prayers and thoughts about what is the bigger picture. And that has always sustained me through my life."
Metz said the practice of talking to God about everything was instilled in her as a small child and guided her as she shot to fame starring as Kate on the hit NBC show "This is Us."
The show, which ended in May 2022 after six years, won a slew of awards and landed Metz nominations for a Primetime Emmy Award and two Golden Globe Awards. She also starred in the 2019 Christian film "Breakthrough." 
"I moved to LA when I was 20, but there was no way in the world that I was going to be able to navigate Los Angeles without a foundation, without prayer, and without God, my Higher Power helping me in navigating it because it is really scary and it is uncertain," Metz recalled. 
"I would constantly say, 'Please, God help me; you know better than I do. Thy will and not mine be done. Just give me the best next right action; what do I need to do for You and not for me?' When you're 20 years old, you want to be on the most successful television show. Now, as an adult, I want to be on a show that touches people's hearts and minds that shows empathy and the love that we have for each other as a family and as people. So prayer has been a constant for as long as I can remember."
Fueled by a personal understanding of just how powerful prayer can be, Metz and acclaimed songwriter Bradley Collins pennedWhen I Talk to God, I Talk about You. The book encourages children to pray and reminds them of God's faithfulness. 
Illustrated by artist Lisa Fields and releasing Tuesday, the rhyming book shows a parent describing the many things they pray to God for as their child grows right before their eyes.
"We just wanted to make it simple and to have a loving introduction to prayer, but also for kids to feel like they were really wanted, and it was important for them to know they're purposeful and to encourage them and support them," Metz said. "And I really do believe that children are the future because they are, and so those are the things we wanted to continue in our lives and also impart to young readers."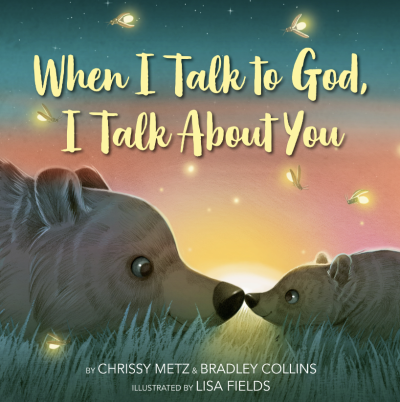 The duo is also releasing a lullaby album to accompany the book, Pray for This Day, which features songs performed by Metz. A former preschool teacher, Metz told CP she understands firsthand the critical role music plays in impacting children. 
Writing the book and recording the album was a healing experience for both Collins and Metz.
"Hard times, trauma, doesn't have an age to it," Collins said. "My grandfather was very sick when I was really young, about the same age that this book is for. And I remember seeing my mom being stressed, my grandmother being stressed, me being stressed and not knowing why I was stressed and thinking, you know, I need to be praying. And I was like, 'Can I? Am I allowed to pray? Talking to God, talking to a higher power— what if I mess it up?'"
"In writing this book, for Chrissy and I, I think we answered a lot of those questions. For my inner child, being like, you can pray for anything; you can pray for your grandparents, your parents, your pets, your friends at school. You can pray for anything. Whatever is on your heart, you can talk to God about it, and He wants to hear it."
Metz and Collins have been dating since 2020 after meeting during the COVID-19 pandemic. The pair shared how prayer impacts their relationship, from praying together on flights to guiding them as they navigate forthcoming projects and ideas. 
"It's sort of become second nature," Metz said. "Prayer seems like a very individualized idea, but … there's something so beautiful about the collective consciousness of a higher good and geared toward a Higher Power that really can turn the tide, I believe. 'Where one or more are gathered' — it's something we feel like we end up doing; we don't even think about it now."
The actress said sometimes, there can be negative connotations associated with prayer.
A December 2021 study from the Pew Research Center found that fewer than half of American adults pray daily, while a 2023 study found that a minority of parents stress passing their faith down to the next generation.
"I think it can be intimidating and that people don't feel deserving of it," she said. "We have this idea that we don't want to ask for help sometimes, or that we're not deserving of help, or we've maybe made a mistake, and so how can we ask for forgiveness and then ask for something that we need? … I think it can be complex and layered for different people."
"There's this idea that if we don't have a faithful practice, that we can't [pray] or desire a different outcome and ask God for it," she added. "I think there is some guilt and shame. … But everyone is deserving of a relationship with Him."
Metz says she wants to use her platform to elevate stories that matter and provide comfort and encouragement to a hurting world. And her new book and album are part of that mission. 
"I pray that it reaches and touches people that need it the most," she said, her eyes welling up with tears. "I pray it impacts the people that need to hear it and want to hear it, even with the music, that it will bring solace and comfort to people. … All that matters is how we treat people. The prayer would be to surround the project and us and our intention behind it, which is to impart love and joy to people."