'Adopt a Liberal' Campaign Pushes Film on Andrew Breitbart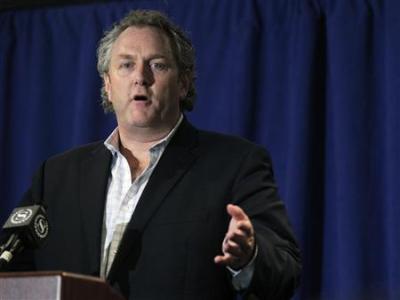 If you've ever wanted to save America from liberalism but never had a clue how, now's your chance. The "Adopt a Liberal" campaign is encouraging people to send their favorite liberal personality a haunting DVD on the life of late conservative gadfly Andrew Breitbart.
The website Hating Breitbart advertises images of NBC journalists Rachel Maddow, Brian Williams, and Chris Matthews as well as CNN's Anderson Cooper, Supreme Court Justice Sonia Sotomayor and others as potential recipients of "Hating Breitbart" DVDs.
"In spite of his strong beliefs, Andrew enjoyed the times he was able to engage his opponents in the mainstream establishment. At Hating Breitbart, we believe liberalism is an illness that is best treated with a healthy diet of being exposed to different points of view," reads a message on the Hating Breitbart website.
"We're offering fans of our movie the chance to 'sponsor' an intellectually malnourished member of the mainstream establishment by ordering a copy of the film to be sent to them to help overcome years of indoctrination by the liberal elite," it continues.
In a recent interview, the director of "Hating Breitbart" Andrew Marcus echoed the sentiments of the statement on the website. "It's similar to those groups who arrange for Americans to sponsor malnourished children overseas," said Marcus. "Only in this case we're talking about intellectually malnourished members of our media."
He further noted: "These are people who live in an echo chamber. We want to help them hear other points of view … We think of it as sensitivity training for insensitive liberal members of the establishment," he said.
"Hating Breitbart" was released in eight theaters with an R-rating last November and generated just $81,000. The movie was re-cut and is now rated PG-13.
Breitbart died of natural causes at the age of 43 just over a year ago. He was the owner of the website Breitbart.com and five others. His dogged investigations played a major role in the resignation of former New York City Congressman Anthony Weiner over a sexting scandal. Weiner is reportedly working on a political comeback according to several media reports.
The conservative watchdog's relentless efforts also led to the controversial resignation of Shirley Sherrod, former Georgia State Director of Rural Development for the United States Department of Agriculture, and was a key factor in exposing the 2009 ACORN undercover video controversy.
Shortly after his death, Breitbart's family released a statement on his website that read: "With a terrible feeling of pain and loss we announce the passing of Andrew Breitbart…We have lost a husband, a father, a son, a brother, a dear friend, a patriot and a happy warrior."