Adrian Peterson on Gay Marriage: 'It's Not Something I Believe In'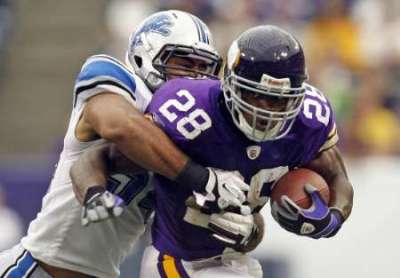 Minnesota Vikings star running back Adrian Peterson has been questioned on his views of gay marriage, with the NFL star explaining that it's "not something that I believe in," although he added that he treats homosexuals the same as anyone else.
Peterson was asked about his views on the divisive topic during an interview last week on Sirius/XM radio, to which he answered, "To each his own, I'm not with it. But I have relatives that, you know, are gay. I'm not biased toward them. I still treat them the same. I love them. But again, I'm not with that. That's not something that I believe in. But to each his own."
Radio hosts Amani Toomer and Bruce Murray asked the NFL MVP whether he thought Chris Kluwe, the Vikings' former punter, was cut for his very vocal support of gay marriage.
In response, Peterson denied that there had been any such underlying issues in Kluwe's departure from the team.
He added that even though he disagreed with Kluwe on the issue of gay marriage, he was sad to see his former teammate depart, describing him as a smart person whose company he greatly enjoyed.
"It hurt me to see him leave. He was a good friend of mine and a really cool guy, man. Probably one of the smartest guys I've ever been around, man. ... Different," Peterson said.
The topic of gay marriage has been one that has sharply divided the nation, as well as American professional sports stars.
An anonymous poll was conducted by ESPN last fall, which asked professional sports stars whether the United States should legalize gay marriage.
The poll showed that in the NFL 61.5 percent of those surveyed believed that gay marriage should be legalized, with 38.5 percent disagreeing.
However, oppositely in the MLB and NBA a majority believed that gay marriage should not be legalized, with 55 percent and 53.8 percent respectively saying that marriage should not be redefined but remain a union between one man and one woman.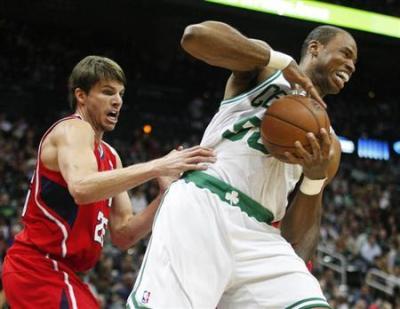 Recently Jason Collins became the first active NBA player to openly announce that he was homosexual. Collins was praised by President Barack Obama for his announcement and many other sports stars rallied around him in the aftermath of the revelation. However, Christian ESPN analyst Chris Broussard described Collins' announcement as an open rebellion against God.
During a segment on "Outside the Lines," Broussard said that as a Christian he does not agree with homosexuality and that Collins, who came out as a gay man, is "walking in open rebellion to God and Jesus Christ" by being gay.
Broussard's comments drew huge backlash from Collins' supporters, with some even calling for him to be fired from ESPN.
However, Christian Golfer Bubba Watson also came out and said he supported Broussard's statement. Watson explained that he respects "anybody that's gay" but believed that homosexuality is a sin according to the Bible.
"The Bible says you're not supposed to be gay, and so I never downed Jason," Watson told Golfweek, referring to his tweet, which said "Thanks @Chris_Broussard for sharing your faith & the bible!! #GodIsGood."
Watson commented, "I've met Jason, said, 'Hey,' to him, because he used to play for the Suns when I had the Suns tickets. I respect anybody that's gay."
The golfer added that he did not intend to say he is better than others: "I'm not saying I'm better than anybody else. I'm not saying he's wrong, I'm saying I love him. If he called me right now and said, 'Hey,' or any person that was gay called me, I'd go to dinner with them any time. It's just my belief system on the Bible says you can't be gay. That's a sin. So somebody living in sin I believe to be wrong."
The Bible, Watson went on to say, tells "how to act, and I try to act that way. Now, I don't do it every time. We've seen me get mad before. I do wrong, too. Every time I hit a bad shot I'm pretty mad about it."