Alabama Church Plants 6,800-Plus American Flags to Honor Dead from Iraq, Afghanistan Wars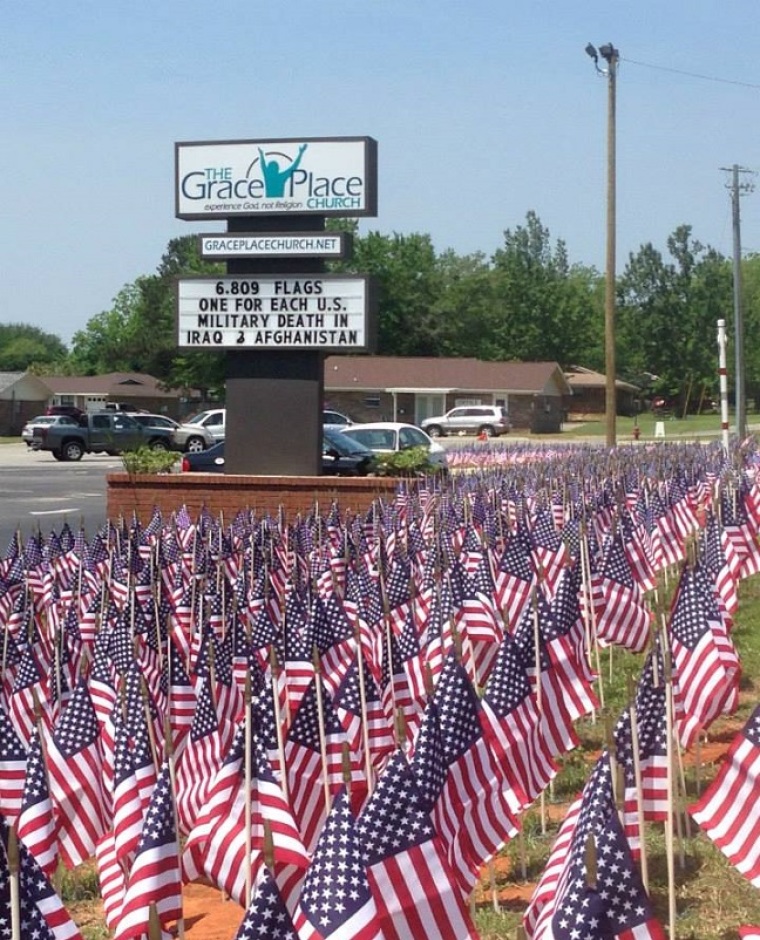 A congregation in Alabama planted nearly 7,000 American flags on their church property in remembrance of the Americans who died during the Iraq and Afghanistan wars.
Grace Place Church of Enterprise created the display for Memorial Day weekend, with a total of 6,809 flags, each representing a soldier who died in Iraq or Afghanistan since 2003.
Donny Thrasher, pastor at Grace Place, told The Christian Post that a major reason for the display was to "remind our congregation that freedom isn't free; that it often is paid for with the lives of our military."
"This is our first year, but I can assure you it won't be the last. Our church really got behind this project; from paying for the flags to putting out the flags today," said Thrasher. "Many of those who have served in Iraq and Afghanistan sponsored flags with donations and dozens of them were present today to put out the flags."
Thrasher explained that the cost of the flags was about $5,000 and the money came mostly from single donors sponsoring the project one flag at a time.
"Our commitment is to donate everything above the cost of the flags to a worthy charity that provides support/services to military members and/or their families," said Thrasher.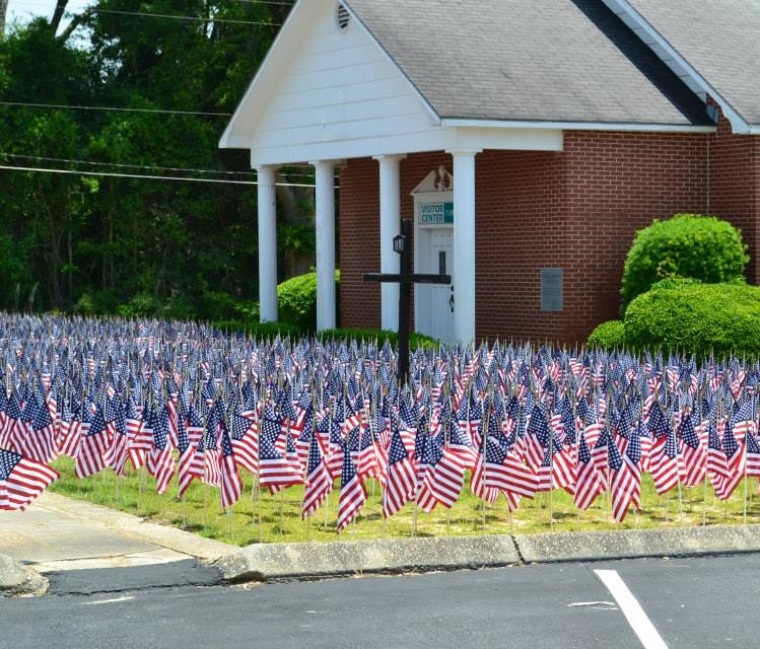 Grace Place's commemoration came as churches and communities across the United States observed Memorial Day. A federal holiday that falls on the Monday in May, Memorial Day observances involve numerous remembrances for those who have served in the Armed Forces.
Every year a major ceremony is held at Arlington National Cemetery, in which flags are placed at the graves and a wreath is laid at the Tomb of the Unknown Soldier.
"Everything that we hold precious in this country was made possible by Americans who gave their all," said President Barack Obama at this year's observance. "These Americans have done their duty, they ask nothing more than that our country does ours, now and for decades to come."
Thrasher of Grace Place told CP that he felt it was "very important" that churches in America remember the men and women who sacrificed all for their country.
Thrasher said churches should lead the way in honoring those who gave their lives for freedom.
"No people in the world are as free as we are to worship without fear of reprisal; and that freedom to worship and serve our Lord and Savior is protected and paid for by our military. Memorial Day is about remembering those who paid for it with their life," he said.