Alabama High Court Orders Stop to Gay Marriage, Defying Federal Court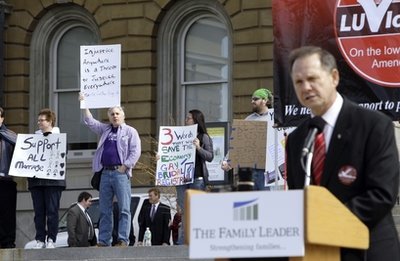 Alabama's highest court ordered probate judges in the state to cease issuing marriage licenses to same-sex couples, defying a federal court decision.
In a 7 to 1 ruling made Tuesday, Alabama's supreme court concluded that the a recent ruling by a federal judge and the refusal of the Supreme Court to grant a stay in said ruling were not to be honored.
"As it has done for approximately two centuries, Alabama law allows for 'marriage' between only one man and one woman," read the decision.
"Alabama probate judges have a ministerial duty not to issue any marriage license contrary to this law … Nothing in the United States Constitution alters or overrides this duty."
In January U.S. District Judge Callie V. S. Granade ruled the state's ban on gay marriage, passed with over 80 percent of the vote back in 2006, unconstitutional.
In the district court ruling, Granade granted a two week stay on the ruling pending an appeal by the state government.
Alabama attempted to get the U.S. Supreme Court to intervene, but last month the Court decided 7-2 to not grant the request, allowing the gay marriages to go forth.
All the while, Alabama Supreme Court Chief Justice Roy Moore, who recused himself from Tuesday's ruling, issued an order demanding that no probate judges issue licenses to gay couples despite the Granade decision.
"The state of Alabama shall not recognize as valid any marriage of parties of the same sex that occurred or was alleged to have occurred as a result of the law of any jurisdiction regardless of whether a marriage license was issued," ordered Moore last month.
Added to the confusion were the actions of many probate judges who refused to issue marriage licenses to gay couples even after Moore's initial order was disregarded by state authorities.
In response to Tuesday's Alabama Supreme Court ruling, the National Center for Lesbian Rights released a statement denouncing the move by the Moore court.
"The only question is not whether marriage equality will return to Alabama, but how quickly," stated NCLR regarding the decision.
"It is deeply unfortunate that even as nationwide marriage equality is on the horizon, the Alabama Supreme Court is determined to be on the wrong side of history."