Alex Kendrick on 'Lost Medallion': 'It's Spiritually Fulfilling to Share God's Love' (VIDEO)
Alex Kendrick on 'Lost Medallion': 'It's Spiritually Fulfilling to Share God's Love' (VIDEO)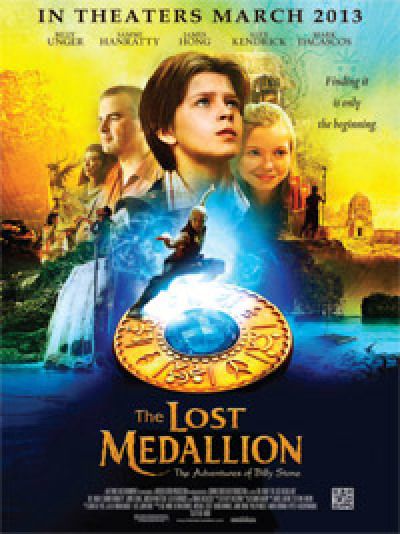 Alex Kendrick has just finished working on the upcoming film "The Lost Medallion" with Christian producer, writer, and director Bill Muir. The actor is also an ordained minister who has chosen to use the entertainment industry for his ministry. Kendrick talked with The Christian Post about "Medallion" and his own personal faith.
The Christian Post: How did you get involved with "The Lost Medallion"?
Kendrick: After I finished working on "Courageous," I was told that the director Bill Muir wanted to meet me and discuss an upcoming project. I was able to meet him and see the initial screener for "Medallion," which was missing some of the parts it now features. Muir said he wanted to make a kids' action film but he felt something was missing … the faith element was missing.
I pitched the idea of having a man come into the foster home and tell the kids a story. Muir liked it and allowed me to write a tentative script and scene and then to actually play that character. I was also able to help edit the film once it was done, which was incredibly generous of Muir.
CP: Where does your faith come from?
Kendrick: My father was a minister, so family devotions, prayer, going to church were all normal things for me. I always believed in God, but it wasn't until I was 15 that I gave my entire life to God. I decided that I would take on an attitude of total surrender. After school, I became a minister and then later began working with my brothers in the entertainment industry. I filtered my work through the question of "Is this pleasing to God?" and have helped work with other Christian producers.
God has always provided opportunities for me. It's an extremely fulfilling job, though at times it feels like I'm writing term papers for college. It's spiritually fulfilling to share God's love with others.
CP: What projects are you working on?
Kendrick: Right now I'm working on two films entitled "To The Wall" and "Mom's Night Out." The second film is more of a chick-flick than I am used to working on, but it's good to have a challenge. I'm also working on the follow-up book to "The Love Dare," which was a New York Times best seller.
"The Love Dare for Parents" is different because it focuses on a different type of love than that between spouses. People have asked me about parental love and the intensity of it, which is so unique and special. That's why I wanted to write the follow-up.
"The Lost Medallion" opens nationwide in theaters on March 1, 2013.
Watch a preview of "The Lost Medallion" here:
The Lost Medallion (Official Theatrical Trailer)