Historic Alfred Street Baptist Church Donates $1M to Smithsonian's African-American History Museum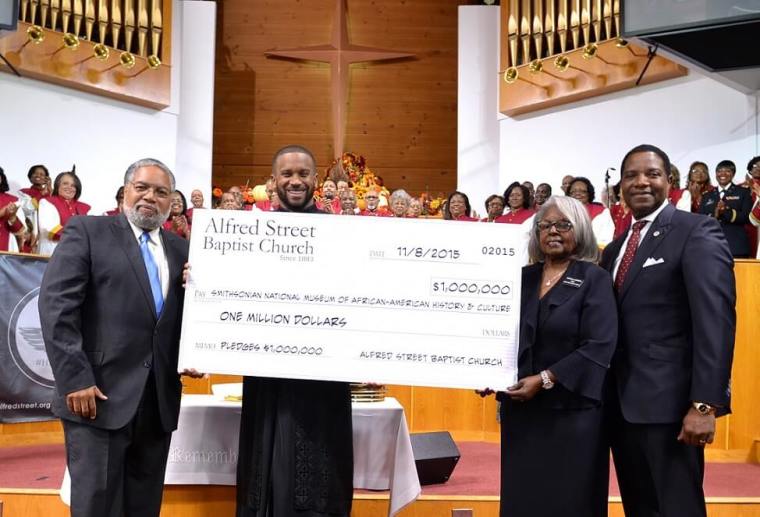 A historic black church based in Virginia has pledged to donate $1 million to the Smithsonian's National Museum of African-American History and Culture.
Alfred Street Baptist Church, a historically black congregation in Alexandria that traces its history back to the early 1800s, has announced their donation for the educational institute.
"ASBC has always been a leader in community outreach and missions within the faith-based community," said the Rev. Howard-John Wesley, lead pastor of Alfred Street Baptist, in comments to The Christian Post on Monday. Wesley added that this was the first time a faith-based organization had donated $1 million to the Smithsonian.
"We hope and pray that other predominantly African-American churches and organization will contribute to telling our story as well."
The National Museum of African-American History and Culture was first approved by Congress in 2003 to be part of the Smithsonian Institute.
"The Smithsonian Board of Regents, the governing body of the Institution, voted in January 2006 to build the museum on a 5-acre site on Constitution Avenue between 14th and 15th Streets N.W.," reads the NMAAHC's website.
"The new museum, the Smithsonian's 19th, will be the only national museum devoted exclusively to the documentation of African-American life, art, history and culture. It is expected to open in 2016."
Last November, the partially completed museum was the site of an event commemorating historical milestones in the struggle for racial equality in the United States.
Featuring music and poetry, the November event included scheduled remarks by Washington Mayor Muriel Bowser, Congressional Delegate to Congress Eleanor Holmes Norton, and Museum Director Lonnie Bunch III.
"In addition to celebrating the completion of the external construction of the museum, the image mapping will also initiate the public countdown to the museum's grand opening in fall 2016," said Bunch in a statement.
"It is also an opportunity to acknowledge and celebrate historic moments where the African-American experience has had an impact on expanding the rights and freedoms of all Americans."
Wesley of Alfred Street Baptist noted that the impetus for Alfred Street's donation was to help showcase the "significant role that African-American people played in our history."
"Alfred Street Baptist Church believes that it's our responsibility as one of the oldest African-American churches in the United States, founded 1803, to ensure that not only African Americans, but all people understand the importance of learning about our accomplishments," continued Wesley.
"We realize that if we don't tell and preserve our own history, future generations of African-Americans will never know their real value."