All-Star Group of Pastors, Singers Honor John Gray at Relentless Church Installation Ceremony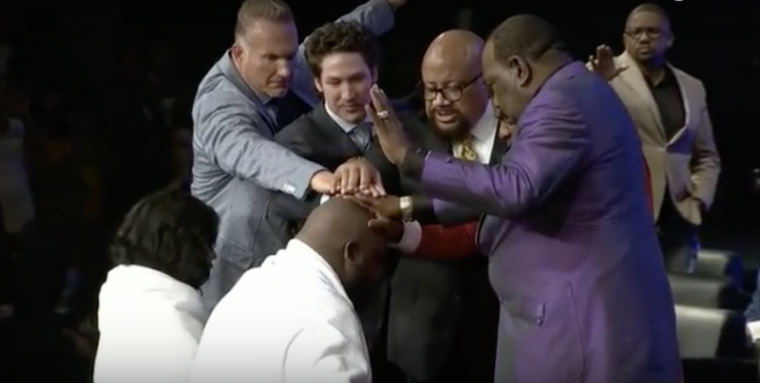 Pastor John Gray was formally installed on Sunday as senior pastor of Relentless Church in South Carolina and was joined by many big name pastors, including Joel Osteen, and gospel artists who showed up to support him.
The more than 3-hour long service featured tributes and words of blessings from Osteen, Hillsong Church NYC's Carl Lentz, Kirk Franklin, as well as video messages from Bishop T.D. Jakes, Rich Wilkerson, Brian and Bobby Houston and Pastor Chris Hodges, among others.
"[God has] called John to lay his life down so many people can walk over their lives," Lentz said. "He's not a guy that changes because of the platform; he changes any platform he's on.
"This guy right here (Gray) is prepared to lay his life down. ... This church is going to be about the name of Jesus."
The Hillsong pastor also commended the founder of the megachurch, Ron Carpenter, for passing the baton.
"It's one thing to give somebody your used car. It's another thing to give them the best you got," Lentz said to Carpenter, referring to the megachurch. "This is special. ... I can understand someone giving away a church in a barn or something but you walk in and see this."
Gray took the helm of what was formerly called Redemption Church last month after founder Ron Carpenter transferred leadership to him. The installation ceremony on Sunday was done to make it clear to the congregation and the public that the new leadership was "valid," said Bishop Eric D. Garnes of Tabernacle of Praise Cathedral.
"In order to assure that this is valid ... that no one says they took it upon themselves, we cannot do anything behind closed doors ... it has to be clear in front of the public that these are the persons that has been called, consigned to govern the body of Christ known as Relentless Church," Garnes told the megachurch. "They didn't put themselves here, they have accountability and they have authority legitimately.
"Many times people will call themselves pastors, people will call themselves bishops, people will give themselves their own crisco anointing on their head and then come and tell you this is their new title that they wish you to call them by."
He added, "The purpose of installing John today with Aventer (his wife) is to bring him publicly before you so that Relentless Church can obey."
Garnes also urged Gray to stay aligned with the Gospel.
"If you go outside of the Gospel of Jesus Christ, I warn you by my own hand I will come after you," he said. "But if you stand with the Gospel of Jesus Christ from Genesis to Revelation, we will always be brothers in the Kingdom of God." 
The ceremony included a recitation of "the creed of the faith," the placement of a Judaic prayer shawl on the pastor couple, and the Grays taking Communion. 
"We want [millennials] to understand where we come from," said Garnes as he explained the installation process. "The Bible didn't show up just yesterday. The Bible has a foundation. John comes from foundation. ... Tonight, we want you to understand by the uses of the Aaronic priesthood in the Old Testament how we will set John aside." 
The service also featured praise with gospel singer Tasha Cobbs and Kirk Franklin who together with Travis Greene, William Murphy, William McDowell, Destiny's Child's Michelle Williams, Fantasia Barrino, and Tamela Mann sang a power-packed rendition of "Now Behold the Lamb."
Senior Pastor of Lakewood Church Joel Osteen presented the couple to their new church before they gave their vows. Osteen also spoke of how much of a blessing Gray was to his congregation in Houstom and as he spoke, he burst into tears.
Gray has been serving as an associate pastor at Lakewood.
"John and Aventer have made me better," Osteen said as he became emotional. "Lakewood is better today [because they were there]."
Before Gray's first Sunday in South Carolina, Osteen and his wife Victoria likewise sent off the couple in front of the entire Lakewood congregation by praying for them. In that service, it was announced that Gray would still visit Lakewood Church and preach on Wednesdays.
Other well-known figures who attended Sunday's service included preacher Sarah Jakes Roberts, filmmaker DeVon Franklin, actress Meagan Good and Pastor Craig Groeschel. 
Pastor Ron Carpenter preached his farewell sermon on May 6, officially transferring the leadership of the 21,000-member multi-campus Redemption Church to Gray who renamed the ministry Relentless Church.
"I want the agreement of the house because this is not a trivial moment to me," Carpenter, who founded Redemption in 1991, told the congregation. "This is the peaceful transference of power."
Carpenter moved to San Jose, California, to take over the 14,000-member Jubilee Christian Center and rebrand it as part of the Redemption Church group.