'Alone Yet Not Alone' Actress Views Oscar Controversy Over Best Song as Faith-Filled Opportunity (INTERVIEW)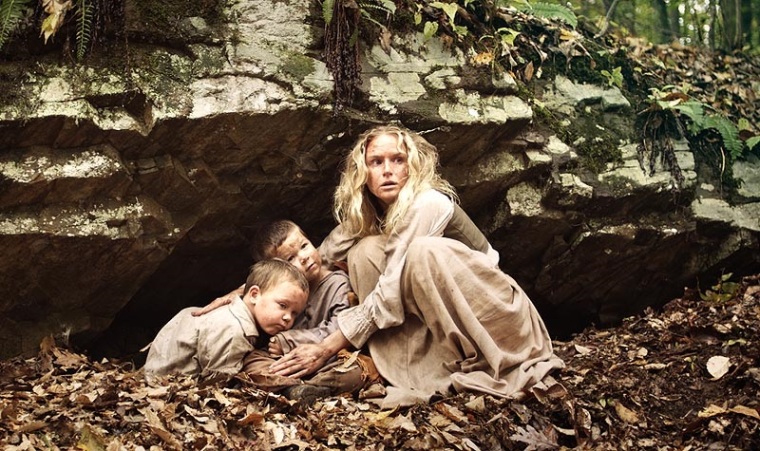 One of the primary actors of "Alone Yet Not Alone" says she doesn't blame the Academy of Motion Pictures Arts and Sciences for taking back its nomination of the movie's title song for the Best Song award. Though it was a huge disappointment for her, the rescindment is now a source of encouragement as she believes that more people will hear the song and see the film than ever before.
"We are human and people face feeling isolated and alone – and that's the neatest thing that I think is happening as the result of the Oscar [nomination] being rescinded, is that if people can hear this song that never would have thought of it or heard of it and all of a sudden they are comforted in their own soul that they really aren't alone," Jenn Gotzon, who plays Lydia in the film, told The Christian Post on Monday.
The Academy first nominated "Alone Yet Not Alone" for best song then revoked its nomination two weeks later, saying that song creator Bruce Broughton improperly emailed "members of the branch to make them aware of his submission during the nominations voting period." Originally, the nomination had been controversial among Hollywood insiders because "Alone Yet Not Alone" earned just $134,000 in its 21-day run and Broughton is a former governor and current music branch executive committee member, according to The Hollywood Reporter.
Since the decision by the Academy last week, several prominent people within the film industry have spoken out against the action, including Gerald Molen, Oscar-winning producer of "Schindler's List."
"Every film, director, writer, cinematographer, actor, art director, costume designer and efx house finds a way to pitch or promote their work. Many will see this decision as faith-based bigotry pure and simple," Molen says in a letter to Academy of Motion Pictures Arts and Sciences President Cheryl Boone Isaacs.
Gotzon said she doesn't see it that way. Read Gotzon's interview with CP that has been edited below.
CP: When you heard the news that the song was going to be rescinded by the Academy, what was your reaction?
Gotzon: I was heart-broken for Bruce [Broughton], for Dennis [Spiegal] because they were the creators of the song, and also for Joni Eareckson Tada, who had the most miraculous experience performing the song.
That heartbrokenness wasn't about the fact, "Oh, we're out of the Oscars," but it was about the fact of their hard work which was honored is now under suspect that they did something wrong. I was so concerned about people looking at their character at being flawed with integrity because it was so far from the truth. They are really good, honorable, honest, and well-spoken people that you just don't like to see bad things happen to good people.
CP: The Academy appears to be receiving what is a growing backlash to its action; where do you think this controversy will lead to now?
Gotzon: It may lead to two things. One, which is the obvious in front of us, it is bringing more awareness to this little movie, "Alone Yet Not Alone," and by little I don't mean small budget because it is probably one of the larger budgets in inspirational and independent film-making at $7 million dollars. But I think this is developing awareness for people to be able to look past the controversy and hear the meaning behind this song that you are "alone," but you are really not alone – meaning that in the midst of life's wilderness, all these allegories, we have hopelessness, we have addictions, we have suicidal thinking, we have bullying, we have darkness that surrounds our world, especially with Philip Seymour Hoffman just yesterday committing suicide, drug overdose, we really don't know the reasoning behind it, but this is reality, what's happening in our world behind closed doors.
We are human and people face feeling isolated and alone – and that's the neatest thing that I think is happening as the result of the Oscar [nomination] being rescinded is that if people can hear this song that never would have thought of it or heard of it and all of a sudden they are comforted in their own soul that they really aren't alone. If they chose, they could reach out to God and God would reach back to them and embrace them, and hold them, and love them because that's what God is, He's a loving father, who forgives and has grace and wants to be with us and carry us through those dark times. God has given us freedom of choice. It's our choice to reach to Him.
So that's first thing that I see that's happening as the result of the Oscars, is that this song, which nobody probably ever heard of prior is getting global awareness, that maybe people's lives can really be inspired and touched, and maybe healed. How cool would that be?
The second thing that I see that's happening is it's interesting from all perspectives, from political to religious to all sides of the camp, people are looking at this for the first time, saying, "You know, this really isn't fair." Was this removed because of Christian bigotry? Why was this removed? Those are some questions and conversations people are now spawning in the media. When I look at that as a great picture, you know, there has been a movement in inspirational, uplifting films – films that have a story line that can really bring hope and love and redemption to a viewing audience.
CP: Before this controversy, you were already an advocate for inspirational and uplifting films as not only an actress in the film industry, but in your ministry and mentoring work, supporting other Christians wanting to have a career as an actor or actress. What do you recommend people do in response to the song's removal from Oscar nomination?
Gotzon: I look at it as an example of actions speak louder than words. It's so easy for the world to place judgment or hatred on a certain belief system. I think the way that we in the Church react needs to only react in love, grace, and forgiveness. Those are the only ways that we need to react. Anything else is almost contradicting to really why we were forgiven. Everyone has a choice and a decision, and the choice that the Academy made, I personally believe they made that choice in the best wisdom and intelligence that they knew how to make that decision. I do not think it was a vendetta against Bruce, I do not think it was a vendetta against Christian film, I do not think it was a vendetta against anything. I just think they were trying to be honorable and keeping the Oscars as ethically based as possible, and bravo to them.
Ken Wales, [executive] producer of the film, said this, and I love this wisdom: "The only thing this should do is to point people to go see the movie on Father's Day, when it releases in theaters across the country and people then can see this powerful story of a historical, inspirational film."
It's not really an overtly Christian film to be honest with you. If nobody knew that it had a Christian undertone to it, people would watch the movie and walk away saying this was a historical, inspirational movie about a family who loved each other, and a faith that set them free. If you look at the movies "Steel Magnolias," or "The Blind Side," or "The Help," it's right inside that same vein. In fact, I think some of those movies have more Scripture in them than "Alone Yet Not Alone." I look forward to an audience everywhere to not look at it as a Christian film, but yes, it has a good wholesome loving hope-filled message to it, but there's so much more to this story.
CP: Tell me why you think this song made such an impact on the Academy when they voted to nominate?
Gotzon: Nobody really thought that would be nominated for an Oscar, but how neat that this powerful song really just, there's an anointing on the song. I think that's why when the people heard it who were the voters, and I don't know anything about what really goes on behind the scene in the Academy, but there is an anointing on that song that you cannot argue. If you've never heard that song and you don't know anything about the relevance of it, but you know about the theme of the movie and you hear the song, there's this anointing. It is almost as if God is kissing you in your heart when you listen to it. It transcends the human soul into a place of peace and comfort. I think that's what resonated, which is why people voted. And then you hear the back story of the song and how Joni [Eareckson Tada] sung it – that's a miracle. A miracle happened over her being with 50 percent lung capacity and pushing on her diaphragm singing one line at a time.
On the Web: http://www.aloneyetnotalone.com/