American Church Has 'Whitewashed the Gospel,' Former All-American Soccer Star Says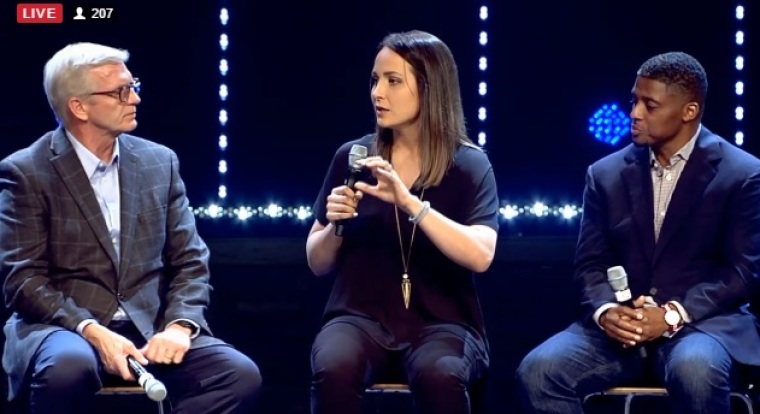 Former All-American soccer standout Mo Isom lamented that part of the racial struggles in the United States is caused by the fact that the American Church has effectively "whitewashed the Gospel."
The 27-year-old former goalkeeper for the Louisiana State University women's soccer team, who holds the school record with 35 victories and 25 shutouts, participated in a panel discussion with other former athletes at the "Under Our Skin" forum on race and faith, held at The Crossing Church in Tampa, Florida, last Thursday.
Isom, who wrote the 2016 bestseller Wreck My Life: Journeying from Broken to Bold and is also a blogger and public speaker, explained that she didn't realize how divided her white and black friends were on racial issues until after 37-year-old African-American Alton Sterling was shot dead by police officers in Isom's old stomping grounds of Baton Rouge, Louisiana, last July.
"What was really amazing was that on Facebook, my own friends and teammates and neighbors were voicing unrest, pain, oppression and struggle. I don't even know if prior to it happening in their own backyard, many of them [would] have [had] the courage to voice. All of a sudden, they are voicing it and I am thinking, 'Yes, let's rise up as a community. I know that my fellow white friends who love Jesus, that proclaim the same things I do who are walking this faith ... [will] rally.'" Isom explained. "But then, I clicked over onto their Facebook pages, and it was startling. It startled my heart to see the defensiveness, the fear. Like what Benjamin [Watson] said, we take our corners."
Isom said that when her white friends posted "All Lives Matter" on social media, she believed they did so in a way that indicated that they did not want to admit that black lives matter because they thought it would mean white lives matter less.
"It was not an all lives matter in the body of Christ ... it was a fearful [notion that] if we say that Black Lives Matter, does that mean that our lives matter less? It was very concerning," Isom explained. "I sat back and thought ... as the American church, I am concerned that we have literally whitewashed the Gospel."
"I say that because you would be hard-pressed to go out anywhere and find a nativity scene around Christmas where Mary is not a Caucasian woman with brown hair," Isom added. "I just thought there are going to be a startling number of believers who enter the gates of Heaven and are shocked when they see that the man sitting at the right hand of God, the Father is a Middle Eastern homeless refugee."
Isom added, "Heaven is going to be rich in color, rich in language, rich in diversity. These are going to be the people who we spend all of eternity praising the Father alongside. We can not even find the courage to stand up next to our neighbor when our commissioning is to bring Heaven to Earth right now and to create unity as a body of Christ to function together."
"Paul says, 'be all things to all people so that by all means, we might win some souls.' He doesn't say to do that just to the people you are comfortable with. He says to put yourself out there and be all things to all people. That means getting to know them. That means entering into a relationship with them. That means getting to know their hearts."
Later in the discussion, Isom contended that white people often listen to racial grievances with the intent to refute instead of listening with the intent to understand.
"I think if we could stop ourselves, stop from so quickly needing to be a wise voice and instead be a compassionate brother and sister in Christ made in the exact same image of God, loved, favored, seen, known and compassionate and empathetic to the oppression around us, then we start to listen with the intent to understand," she asserted. "The differences that divide us [will] no longer cause fear or concern or make us take up our corners or put up our walls. They become differences that we try to embrace and lean into and experience."
Isom believes that white people have a responsibility to apologize for the racism that blacks and others have faced in the past.
ESPN anchor and the forum's moderator, Sage Steele, who is biracial and explained earlier in the panel that the worst racism she receives is from black people, then asked at what point can white people stop apologizing "for the crimes and sins of five generations ago?"
"I think it is legitimate in many ways but you don't need to apologize for your whole race. That's my struggle, Mo, because I feel like I am so blessed with both. I know for a fact, the majority of white people that I am around love me for me, not because they feel bad," Steele said. "The apology part is tough for me. Yes, it is deserved in some situations, but not all."