Americans Unaware Democrats Are Having Debates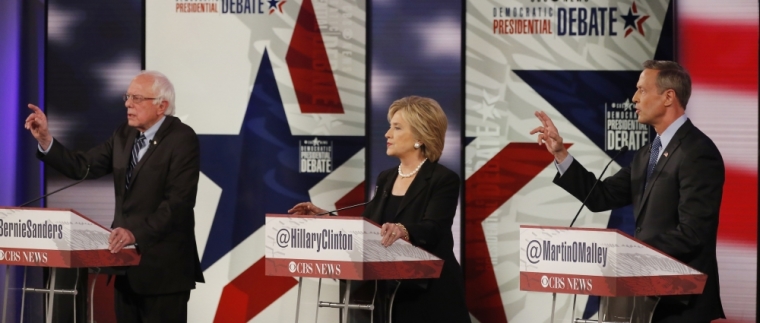 For average, everyday lonely Americans like Fred, flipping through television channels on a Saturday night has become a ritual.
Still waiting for replies to women he queried on a dating site, Fred finishes off his second pint of ice cream as he comes across a peculiar sight on network TV.
"I was just looking for a good action flick to watch, when I saw Hillary Clinton awkwardly standing around with a couple other guys," explains the man who lives in his parents' basement.
"I didn't quite understand why some random person was asking them a bunch of questions. I kept thinking this was the worst game show ever."
When Fred was kindly and patiently informed by his parents that he was in fact watching the second Democratic Primary debate, his confusion only grew.
"I thought Bill Clinton's wife already won that thing," he replies, tossing the second empty ice cream container to the floor. "You mean someone else is running?"
Fred's obliviousness is not isolated, as a recently released poll found that very few Americans knew there had been multiple Democratic debates.
According to findings from Queenna — no, that's not right -— Quint-ta-pan –er, no — Quinna, Quinnaaaa — screw it — that University that always asks people stuff, 92 percent of Americans were unaware the Democrats were having debates.
Of that number, 66 percent assumed Hillary Clinton had already become the first female president and the rest just plain didn't care.
Researchers from the Q place were initially perplexed as to the surprisingly large number of people who actually didn't know the Democrats were holding debates.
"A lot of them likely stumbled across one of the two debates through channel surfing," explained one researcher from Queen-a, Quian-a — okay I give up.
"Also, among the sample that did know of the debates, it turned about nearly eight in ten of them were staffers of the Hillary Campaign."
One social media-centric politics junkie explained that the only reason he knew of the debates was because of unabashed one-percenter Donald Trump.
"While my boss thought I was working late, I saw Trump post a series of tweets about how stupid everybody was on the stage," he explained while never giving eye contact.
"Then I realized he was talking about a specific debate. Lo and behold, I found it livestreaming. If it wasn't for The Donald, I would be totally ignorant."
News of the Q place study and other anecdotes come as Politico reports that the second Democratic Debate drew the lowest numbers of the season thus far.
Politico reported that the CBS Democratic Debate between Hillary Clinton, Bernie Sanders, and that other guy got 8.5 million viewers.
While that may seem impressive, it looks pitiful compared to the 15 million for the first debate and the 20+ million from the GOP debates.
Even though he now knows of their existence, Fred does not appear interested in watching future Democratic debates.
"Have you seen when they're happening?" commented Fred in exasperation as he began his third pint of ice cream for the evening.
"The Saturday before Christmas? Who would watch a debate then, especially with crazy relatives in town. Can you say awkward?"
Awkward.
WARNING: THE ARTICLE ABOVE IS A WORK OF SATIRE. PLEASE SHARE RESPONSIBLY.