America's Largest Pro-Israel Group Launches New Lobbying Effort Led by Gary Bauer, Urges Congress To Vote Against 'Stunningly Bad' Iran Nuke Deal (Interview)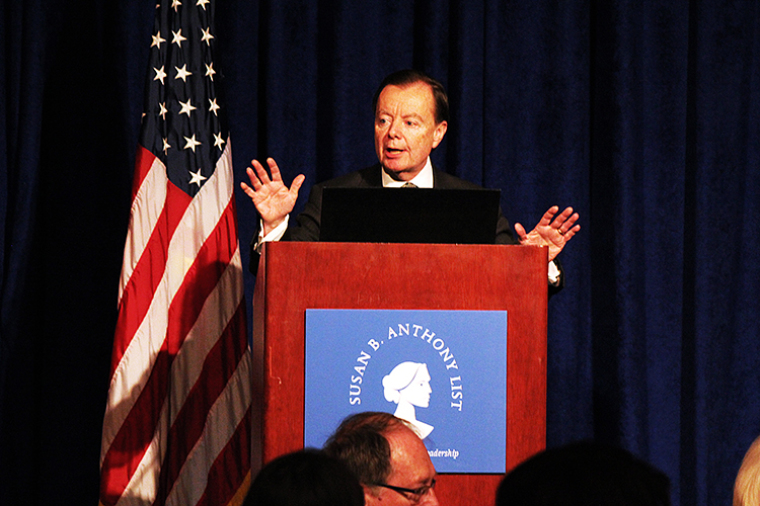 Correction Appended
America's largest pro-Israel advocacy group, Christians United for Israel, has launched its own lobbying arm that is already working to persuade Democrats in Congress to vote against the Obama administration's' proposed nuclear agreement with Iran in order to get enough votes to override a possible veto.
CUFI, a 9-year-old national grassroots movement that has over 2.2 million members focused on driving American support for Israel, announced at is 2015 Washington, D.C. summit that it has rolled out a 501(c)(4) political lobbying entity called CUFI Action Fund.
Being a 501(c)(4) organization, CUFI Action Fund will have more more flexibility to spend its funds on policy education for Congress and grassroots education about the historical and future importance of the a strong U.S.-Israel alliance.
The entity will be headed by former Family Research Council President and one-time presidential candidate Gary Bauer, who told the Christian Post this week that the fund has wasted no time in lobbying Congress members about the existential dangers of the Iran deal. Although Republicans have the majority in Congress they will need enough votes to get a two-thirds majority to override the likely presidential veto.
"Over the next 60 days, our focus will be the ill-conceived and stunningly bad proposed nuclear agreement with Iran," Bauer said. "We are going to be on Capitol Hill every day, both with lobbyists and we are also going to be in their email box and on their telephones and in their mail delivery and at their town hall meetings with people that are going to press members of Congress in both parties on this."
CUFI believes that the Iran deal could lead to the destruction of Israel and even the United States, but Bauer remains optimistic that enough Democratic members of Congress will overcome their loyalty to President Barack Obama and do what is best for the United States and Israel.
"I think it was John F. Kennedy who said years ago that he was a loyal Democrat but sometimes party loyalty demands too much," Bauer said. "I remain hopeful that 13 Democrats who understand the dangers facing the United States and Israel will do what great men and women have done throughout our history — put the security of our country and our allies before passing a short-term political advantage."
"There seems to be a growing wing of the Democratic party that does not share the historic support for Israel," Bauer continued. "Our hope is that it is not dominant yet and that there will be senators now who will want to take the mantle of a Joe Lieberman or Senator Henry Jackson from Washington State back in the 70s. There is a party with a tremendous history on national security, whether it was Harry Truman or FDR."
The 69-year-old Bauer threatened that any member of Congress that approves of the Iran deal could be making the biggest mistake of his or her political career, implying that Iran can't be trusted to honor the agreement.
"One of the arguments that we are going to make is that anybody in either party who votes for this deal is putting their career in public life, is turning that career over to the not-so-tender mercy of the mullahs of Iran." Bauer asserted. "When Iran inevitably cheats on this deal and people die, no member of Congress is going to be able to say 'I had no idea that was going to happen when I voted on this.'"
Bauer explained that the new organization looks build its grassroots infrastructure so that it has local and state officers in every Congressional district and every county in America. He stated that the entity has a goal of securing "at least a million new pro-U.S.-Israel alliance voters registered to vote for 2016."
Although it is too early in the election cycle for the organization to support any particular presidential candidates in 2016, Bauer asserted that there is much the next president of the United States can do to counter the Iran deal.
And while there is no concrete advertising campaign yet, Bauer said that if CUFI Action Fund gets the financial support it is hoping for, it plans to utilize all available advertising avenues.
CUFI Action Fund will also take on other U.S.-Israel issues besides the Iran deal, such as rebuilding the support for the promotion of Judeo-Christian values and spreading awareness about the plight of Christians and Jews in the Middle East.
"I seldom hear anybody talk about Judeo-Christian civilization. The president gives us lectures all the time about the wonders of Islamic civilization ... but I am not sure he has ever used the phrase 'Judeo-Christian civilization.' We believe that it exists. We believe that it has brought more liberty to more people than any other culture or government idea," Bauer said. "CUFI Action will be very vocal in defending that civilization and the two pillars of it and we are going to be working on the increasing persecution of Christians and Jews taking place in Europe and anywhere where radical Islam is growing."
Correction: July 23, 2015.
An article on July 23, 2015 incorrectly identified CUFI Action Fund as a "Super PAC" in the headline. It is a 501(c)(4), not a 527, or Super PAC.