Analysis: On LGBT Workplace Discrimination, GOP House Has Potential Path to Splitting Democrats on Religious Freedom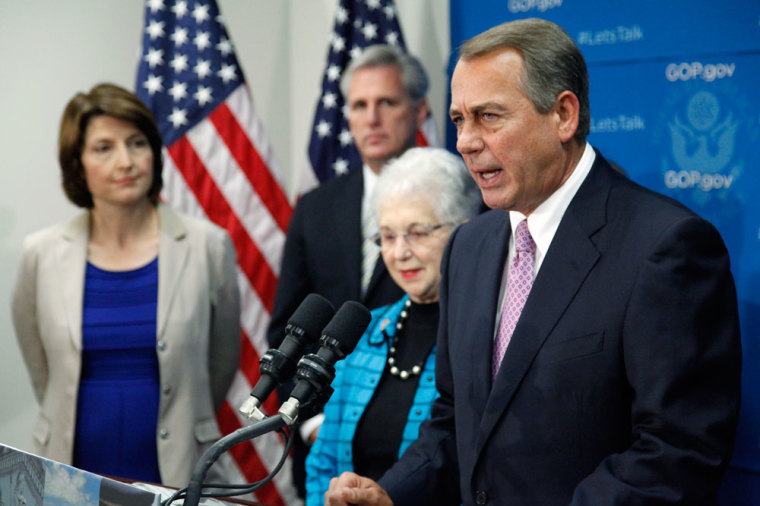 President Barack Obama's LGBT workplace discrimination order has revealed a rift among Democrats over whether religious freedom trumps gay rights. The Republican-controlled House of Representatives could exploit that rift by bringing the Senate-passed Employment Non-Discrimination Act, which has a religious exemption, to the floor for a vote.
ENDA, which would ban workplace discrimination based upon sexual orientation and gender identity, was passed by the Senate in November with the support of 54 Democrats and 10 Republicans.
The bill likely would not have passed if it had not contained a religious exemption. The exemption was a major point of contention during the debate over the bill. Some liberal groups complained that there should be no religious exemption. Some conservative groups complained that the exemption was not strong enough.
The exemption is for explicitly religious organizations, or, in the words of the bill, any "corporation, association, educational institution or institution of learning or society that is exempt from the religious discrimination provisions of title VII of the Civil Rights Act of 1964."
Sen. Pat Toomey, R-Pennsylvania, offered an amendment that would have specified that the religious exemption included organizations affiliated with particular religions and organizations with both religious and secular functions. That amendment failed with only 43 votes.
Gay advocacy groups praised the vote as historic. The same groups condemned House Republicans when Speaker of the House John Boehner announced there would be no House vote on the legislation.
In June, Obama announced that he would sign an ENDA-like executive order that would only apply to federal contractors.
Religious freedom advocates urged Obama to include a religious exemption. Some of these advocates were Obama supporters. Michael Wear, who led the faith outreach for Obama's 2012 reelection campaign and worked in Obama's Office of Faith-based and Neighborhood Partnerships, organized a letter to Obama with 13 other signers, including the head of Catholics for Obama, asking Obama to include the same religious exemption found in the Senate bill.
In an apparent reaction to Wear and other religious freedom advocates, however, some of those same groups that had supported ENDA decided that the religious freedom protections went too far. They would only accept an ENDA with no religious exemption at all. In early July, four organizations, The American Civil Liberties Union, Gay & Lesbian Advocates & Defenders, Lambda Legal, National Center for Lesbian Rights, and the Transgender Law Center, issued a statement saying they no longer back the Senate bill.
According to their statement, the U.S. Supreme Court's Burwell vs. Hobby Lobby decision, which found that family-owned for-profit corporations are covered by the Religious Freedom Restoration Act, was also a factor, even though the ENDA religious exemption was not broad enough to apply to for-profit corporations.
Other gay rights advocacy organizations, such as Human Rights Campaign and Third Way, have continued to support ENDA.
So, House leaders could expose the current rift by bringing the Senate ENDA bill up for a vote. Democrats would likely split on the issue. Do they oppose the bill they have been working so long to pass? How would their constituents feel if they opposed a religious exemption? The rift would be further exposed if the bill would pass and be sent to Obama. Democrats and liberals would split on whether Obama should sign it or veto it.
Regardless of which way it would turn out, the fight itself would damage the Democratic Party to the benefit of Republicans ahead of this year's congressional elections.
What are the chances House Republicans will attempt this political maneuver? Not high. The current House Republican caucus has shown little interest in the use of cunning tactics. Their leader can be cagey. But his leadership lacks followership.
In December 2012, for instance, Boehner came up with a plan to get Democrats to agree to some major entitlement cuts while offering little in return. In a major battle over the federal budget, Democrats were accusing Republicans of protecting tax cuts for "millionaires and billionaires." The accusation was not true. They actually wanted to prevent taxes going up on families making about $200,000 per year.
Boehner devised a plan that would have exposed the Democrats. He suggested a bill that would have let the tax rates increase on only income above $1 million in exchange for slower growth in spending on health care programs.
The plan was brilliant. Democrats would have to either go along with entitlement cuts or vote against a tax increase on millionaires. Boehner's caucus, however, would not go along with the plan. (Congress ended up passing a bill that caused taxes to go up even more than if they had passed Boehner's millionaire's tax increase.)
Similarly, passing the Senate ENDA bill would be a smart political ploy. But House Republicans do not do smart political ploys these days.