Andrew Brunson Relied on This Bible Passage to Help Him Endure Turkish Prison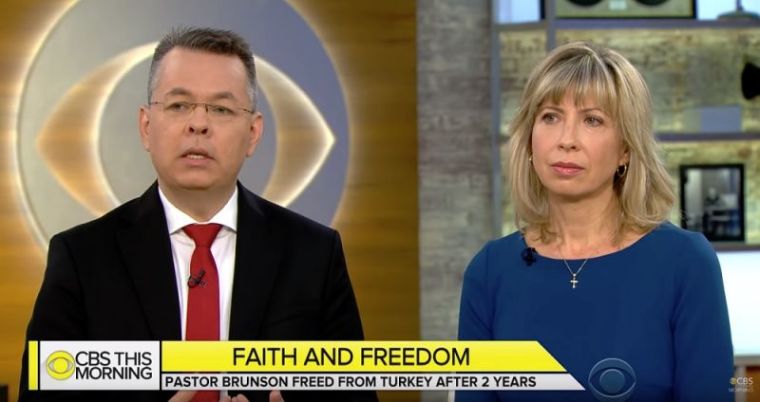 Pastor Andrew Brunson revealed the passage from Scripture that he most relied on during his days of imprisonment in Turkey.
The 50-year-old Brunson, who spent over two years in detention in Izmir before his release earlier this month, appeared on "CBS This Morning" last week to talk about his imprisonment for what he says are false terrorism charges.
Appearing on the show with his wife, Norine, Brunson detailed the tribulations of his detention and was asked if he was allowed to keep a Bible while in prison and if there was a passage from the Bible that helped him through the experience.
"It took a while before I could have any books or Bible but eventually I did have one," Brunson, a North Carolina pastor who ministered in Izmir for over two decades, answered.
"I read 2 Timothy where Paul talks about suffering and finishing the race well," Brunson added. "This became my prayer. I want to be faithful and endure and finish well."
Brunson told the hosts that he was first held in solitary confinement and eventually moved to an overcrowded cell that held 20 people.
Brunson had previously explained that he was the only Christian among the Muslim prisoners in the cell. Brunson had said in an earlier interview that it was "like living in a mosque."
"There was very little contact with the outside," Brunson said on "CBS This Morning."
"I could see Norine, for example, 35 minutes a week through window glass talking by phone. She actually is very strong and had to take me through this emotionally and spiritually. She was the only one I could receive truth from. So when she would come in, she would encourage me and that is what would keep me going through the next week."
Brunson, who spent over a year and a half in prison before he was charged with a crime, explained that he was not beaten or interrogated. He was only told that he was a threat to national security.
After 18 months of detention, Brunson was accused of having ties to an Islamic group blamed for the 2016 coup attempt against the Erdogan government. He was also accused of supporting Kurdish terrorists. Brunson has strongly denied all charges.
"We were very shocked because we had spent 23 years working very openly to tell people about Jesus, helping refugees and things like that," Brunson said. "We hadn't done anything to harm national security. We were just telling people about Jesus."
As many have claimed that Brunson was being held for political reasons, Brunson was asked if he was being as a "pawn" in an attempt at "hostage diplomacy."
"People have certainly written that and President Trump and Sen. Lindsey Graham (R-S.C.) told me that," Brunson explained. "I just had the view from the cell. [For] whatever reason the Turkish government was holding us for, I believe that God was involved in this for us because I think of millions of people who prayed for Turkey and how God is bringing blessing out of it."
Brunson was convicted of his crimes in court on Oct. 12 but was released on time served and the court waived his travel ban, allowing him to return to the U.S.
Upon return to the U.S. last weekend, the Brunsons were greeted by President Donald Trump. They prayed over the president the words of Isaiah 11, just as Norine Brunson had envisioned in a dream.
"I had a specific dream with specific verses," Norine Brunson said. "So when I had the opportunity, I knew what I was supposed to pray over him."