Andy Stanley at Catalyst: Jesus Called Christians to Unite, Not Argue Over Minor Theological Differences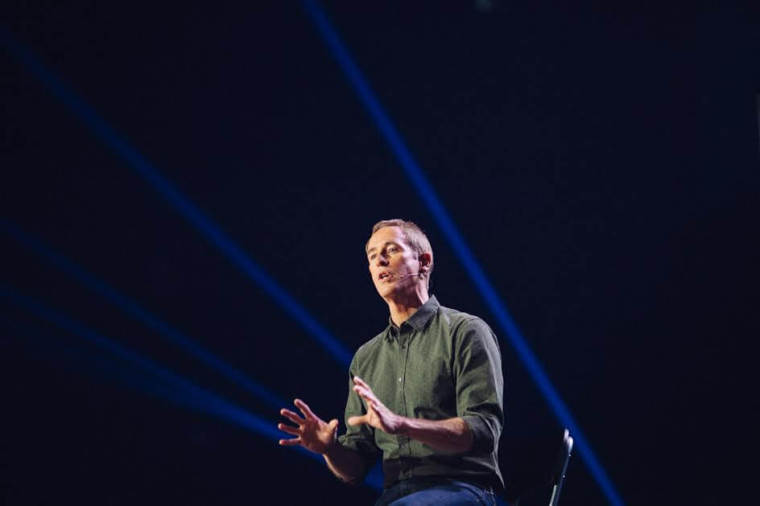 DULUTH, Ga. — Speaking to thousands of Christian leaders gathered for Catalyst Atlanta Thursday morning, prominent evangelical Pastor Andy Stanley said Jesus Christ commanded that cross-cultural unity take precedence over all the minor theological differences that have divided Christ's followers for centuries.
As over 7,000 church leaders gathered at the Infinite Energy Arena for the 17th annual three-day conference, Stanley, a popular author and senior pastor at North Point Community Church in Georgia, was asked to kick off Thursday morning's events with an address that touched on the theme of this year's Catalyst Atlanta, which is "uncommon fellowship."
According to Stanley, "uncommon fellowship" means "head-turning, jaw-dropping, never-would-have-imagined-that-we-would-see-those-people-together association."
While there are many theological and cultural differences that continue to separate churches around the world by denomination and race and keep people of different races from coming together in worship and fellowship, Stanley explained that many of the cultural factors that divide the Church today were in place when the early Church was growing and getting its footing during the first century.
Stanley said the makeup of the early Church shows that it actually embodied the essence of "uncommon fellowship," as Jews, Gentiles, slaves, slave owners, merchants, Roman centurions and others came together to recognize Jesus as the Son of God and Savior.
Stanley told those in attendance that when Jesus prayed for His disciples, He prayed for all His followers in future generations to be one.
"My prayer is not for them alone ... I pray also for those who will believe in me through their message, that all of them may be one, Father, just as You are in Me and I am in You," Jesus said, according to John 17.
Stanley then paraphrased and explained what Christ meant by that prayer: "Father, I pray that they will all be in oneness just like We are in oneness. I pray that they will be in unity together, just like We are in unity together."
"Why, what is at stake? What's the big deal?" Stanley asked. "Jesus believes that our unity was evangelism. Jesus believed that our ability and willingness to love one another would be the megaphone to the world that God sent Him into the world. It is not a nice-to-have. … It's not a 'Hey, can you put down weapons for the weekend? Jesus said that this is mission critical. This isn't about, 'Hey kids, get along in the backseat.' This is about 'Is this going to work? Is this going to happen?'"
Stanley then explained that a few verses later, Jesus included another "purpose clause" to show what the result of such unity would be.
"Then, the world will know that You sent Me and that I love them even as You have loved me," Christ said.
Stanley then asserted that unity and uncommon fellowship is "mission critical because disunity disrupts the mission."
"Do you know why Jesus prayed for this?" Stanley asked. "Because it is difficult and hard. The reason He prayed for this is because He knew you and He knew me and He knew that people being raised as a Southern Baptist would be told that the 'Methodists close their doors on Sunday night and the spirit of God left.' I heard somebody say that one time. Now, nobody has church on Sunday night. What does that say? But, how much stuff have you heard like that growing up? How much stuff have you said like that?"
"Your theological peculiarities, the way you slice and dice, how seriously and non-seriously you take Old Testament and New Testament, there is so many opportunities for us to divide up in our tribes and Jesus told us this at the end of His ministry. He said, 'God, if there is one thing that You and I know they got to get right, it is unity around the one thing they have that they can agree on — that I am the Christ, the Son of the living God.' This is such a big deal to Jesus."
Stanley emphasized that "unity around who is Jesus is preeminent" and all the other theological differences are just "detail."
He added that Jesus not only called on His followers to unite around their belief in Him but He also issued a new command, which is found in John 13.
"Jesus gathered with His disciples one last time and a few hours later, He would be arrested, tried and crucified. He gathers them together and it's kind of like when you go on vacation and get all your kids together and the babysitter and tell them, 'If you forget everything else I say, look right here, do not, always, don't forget,'" Stanley explained. "Jesus, on his way to be arrested and crucified, gets them together and He brands His new movement. He brands His new movement with a new command."
"He says, 'Guys, let me boil this down to one thing for you. A new command I give you — Love one another.' Jesus takes the golden rule and makes it the platinum rule. You have heard 'Do unto others as you would have others do unto you.' … But we are taking it to a whole new level. Love one another, not as you have been loved or how you want to be loved. A new command — 'Love one another as I have loved you, so you must love one another.'"