Andy Stanley Starts Sermon Series Titled 'Me & My Big Mouth'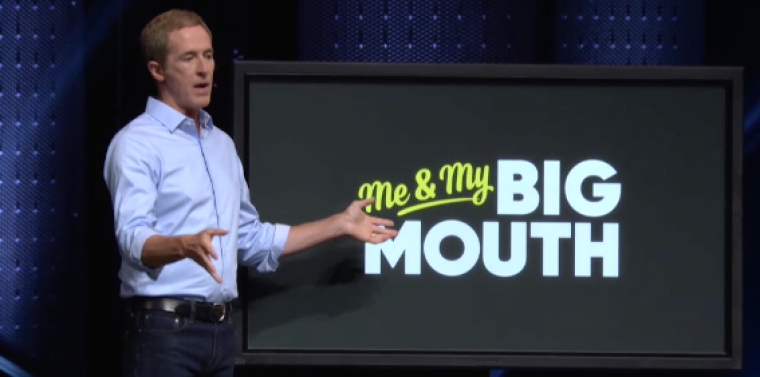 North Point Community Church Senior Pastor Andy Stanley has begun a new sermon series, which is centered on the issue of being careful with what one says to others.
Titled "Me & My Big Mouth" and scheduled to take place over the next four weeks, Stanley preached the first part of the series on Sunday.
The first sermon in the series looked at James 1:19, which reads, "My dear brothers and sisters, take note of this: Everyone should be quick to listen, slow to speak and slow to become angry."
During the sermon, Stanley told those gathered at North Point that the main purpose of the sermon series was to be introspective on the issue.
"This is not about your husband and his big mouth, your wife and her big mouth, your boyfriend and his big mouth, your sister-in-law and her big mouth, your boss and his big mouth. This is about you and your big mouth," said Stanley.
Stanley stressed the need for people, including himself, to do what James says in the Bible, which is to make listening a priority, especially during times of disagreement with others.
"We argue, argue, argue," he continued. "But if you can learn, if you can hit pause, if you can be curious, and if you can ask questions, you're quick to listen, quick to listen, quick to listen, and slow to speak, everything changes."
Stanley argued that the life of Jesus Christ was an example of the "quick to listen" and "slow to speak" command from James, saying that "this is exactly what your Heavenly Father did for you through Christ."
"He sent His Son into the world as one who could not speak," explained Stanley. "God sent His Son into the world not as a preacher, or a teacher, or a prophet, or an author, or a wordsmith, He sent His Son into the world as a baby who was speechless."
"And for 30 years He just experienced life. The sorrow, the disappointment, the funerals, the persecution ... and then, after 30 years, He began to speak. And people flocked. And do you know why they flocked? They felt as if He understood."
Stanley's new sermon series comes weeks after the megachurch pastor garnered controversy for a message in which he said that Christians should "unhitch" their faith from the Old Testament.
In an April sermon, Stanley said the early church apostles "elected to unhitch the Christian faith from their Jewish scriptures" and Christians today must do the same in order to "not make it difficult for those Gentiles who are turning to God."
The sermon was the third and final part of a sermon series titled "Aftermath" that was centered on reaching out to individuals who lost their faith because of something in the Bible.
Stanley explained that while he believes the Old Testament is "divinely inspired," it should not be "the go-to source regarding any behavior in the church."
Some accused the megachurch pastor of advancing the early church heresy Marcionism, which maintained that the God of the Hebrew Bible was not the God of the New Testament.
"[Stanley's sermon] can really only be described as an elaborate and educated flirtation with the old Christian heresy of Marcionism—the belief that the Old Testament is not authoritative in matters of Christian doctrine and morals," wrote Wesley Hill of Trinity School for Ministry in a column for First Things.
In response to the critics, Stanley told Relevant Magazine in an interview last month that criticism of his comments lacked the overall context of his remarks.
"I approach a message series like a single sermon. I don't try to cover everything in 35 minutes. I'm not that good," Stanley said to Relevant.
"So, if you want to criticize my approach to preaching, fine. I would love to talk about that. But don't criticize a statement in a sermon if you aren't willing to spend the time necessary to appreciate the context."
Affirming his belief that the Old Testament is the Word of God, Stanley added that he believed those "who listened to all three parts of the series probably understood the point I was making."
"Whenever someone like me—or anyone for that matter—begins talking about the Bible in unusual or new terms we should all pay attention and ask lots of questions. But throwing stones after listening to one sermon seems a bit premature," he continued.
Chelsen Vicari, evangelical program director for the Institute on Religion and Democracy, listened to the entire series and said that while Stanley "makes some valid points" — including his emphasis on Christ's crucifixion and resurrection as the crux of Christianity — she still "can't understand why Stanley went on to belittle the Old Testament in the process."
"As I've watched the full sermon series, it appears the motivation behind Stanley's controversial message is an effort to confront the hostility from our post-Christian culture with an acceptable softened version of Christianity. However, we at the Institute on Religion & Democracy have seen what happens when Christian leaders refashion Christianity to appease broader culture. Local churches merely win society's applause without adding many congregants," she warned.