Angelina Jolie Dropped to Her Knees and 'Prayed for a Miracle' on 'Unbroken' Film Set After Taking Inspiration From Christian War Hero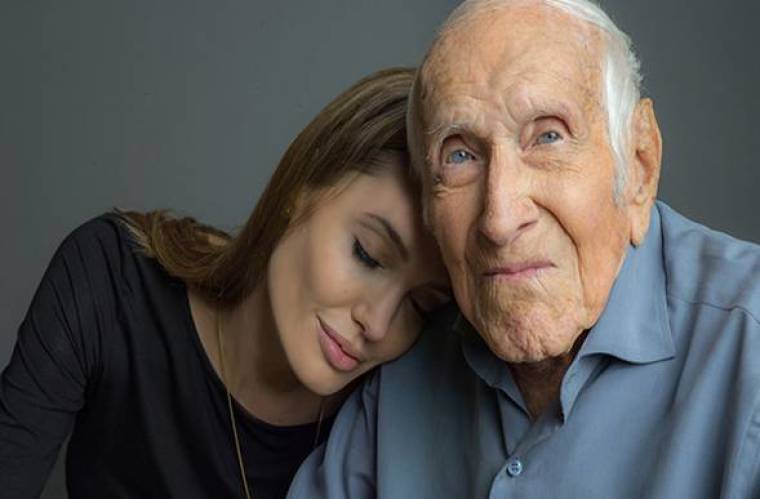 Angelina Jolie, though not religious, discovered the ultimate power of prayer while on set of her forthcoming film "Unbroken," thanks to her unlikely bond with a WWII hero and devout Christian.
Louis Zamperini, who died of pneumonia at age 97 on July 2, was the Olympian runner and prisoner of war survivor who inspired Jolie's latest directorial debut. The film is a war drama based on the best-selling book Unbroken: A World War II Story of Survival, Resilience, and Redemption.
The born-again Christian's incredible bond with the 39-year-old Academy award-winning actress not only led her to create a film about his remarkable life journey, but ultimately would also propel her closer to faith.
While directing one particular scene in New South Whales, Australia, Jolie found herself in desperate need of a miracle.
"She was not a person of faith and had never prayed before but she found herself at the very last scene of the movie ... they needed sunlight to shoot this very important scene and there had been a storm that had been going for a while," Zamperini's daughter Cynthia Garris said at a press conference in New York on Friday.
"[Angelina] said 'I don't know what I'm going to do so I'll do what Louie would do.' She got on her knees and she prayed for a miracle … everybody saw it," she recalled. "It stopped raining. The sun came out, a rainbow came out, she said, 'let's get this take' [and] they shot the take. When she said 'cut,' it started to rain again."
The extraordinary moment, according to Garris, was a testament to her late father's faith and the ability of his compelling story to impact even the most irreligious people.
"She was moved by my father's faith to try that and that's what he wants for people to get from the movie," Garris explained. "I'll tell you, when my father died we were all with him in the hospital. [Angelina] came about 45 minutes later and she was pointing above saying 'I know he's with us, I know he's there with God.' I think maybe in God's plan for Angelina, she was supposed to find Louie and make this movie to find her way to a life that would encompass the Almighty."
Zamperini survived a number of horrendous ordeals throughout his life, including living across the Pacific in a raft for 47 days after a near-fatal plane crash. He also endured unspeakable torture at the hands of the Japanese navy after being sent to a P.O.W. camp.
It was after reluctantly attending a crusade led by evangelist Billy Graham in 1949 that Zamperini began his Christian walk and through his faith, he was able to forgive his captors and later overcome his struggles, including PTSD.
Jolie recently spoke about her decision not to delve deeply into Zamperini's Christian faith walk in the film. She explained that it was the war hero himself who requested that the faith theme be "universal" in a bid to appeal to a broad audience.
"We made it universal, not specific to one faith, and that was something that was agreed upon with Louie," Jolie said. "He said he wanted the message to reach everyone. He said to make faith and forgiveness universal … he said this is about reaching everyone and this should speak to everyone … If you were looking for symbolism and miracles in the film you will see them."
Zamperini's children attested to Jolie's statement and applauded the Hollywood filmmaker's cautious retelling of their late father's story.
"We're very happy with it," said Garris, with her brother Luke Zamperini adding, "I absolutely love this film!"
"Unbroken" hits theaters across the U.S. on Christmas day.
Angelina Jolie on Unbroken, directing Brad Pitt & the mansion tax