Anonymous 'Tips for Jesus' Instagrammer Leaves Trademark Stamp, Personal Bag at Hollywood Restaurant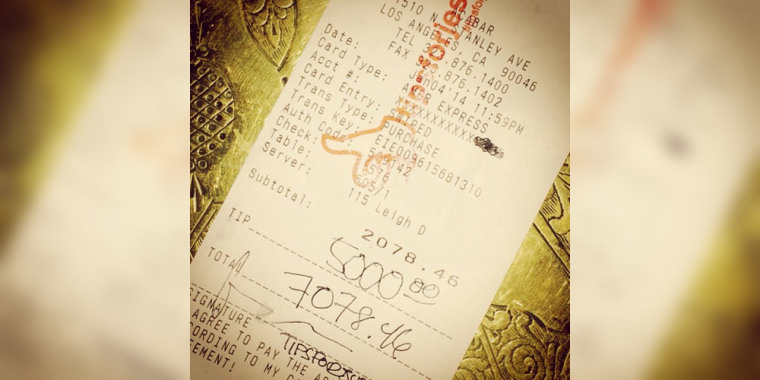 Tips for Jesus is the popular Instagrammer who's been leaving massive tips, usually thousands of dollars, for servers in sports bars and restaurants around the country. The tipper has inspired ongoing stories of generosity, attracting 71,000 followers on its Instagram account. His journey is even more intriguing since the person behind it has remained anonymous, though Valleywag reported in December that former Paypal VP Jack Selby is behind tipping spree. Selby has neither confirmed nor denied the report.
After the world of good TFJ has already done, now one West Hollywood, Calif. restaurant gets to return the favor. Earlier this month, the Instagrammer visited Acabar and started spreading the wealth, anonymously buying bottles of wine and champagne for other diners, and paying the tab for an older couple sitting next to them. TFJ left a $5,000 tip for 27-year-old cocktail waitress Leigh Dollard. Per restaurant policy, Dollard split between the two other cocktail servers and will use the money for law school applications.
But Tips for Jesus left more than a giant gratuity, he left the trademark stamp he uses on the checks and his leather "man-purse."
Acabar put the word out to return the items, and according to a comment on this LAist article, their owner is on his way.
"Was wondering where that went!" a commenter named tipsforjesus said.
Whether or not the commenter is real, given Tips for Jesus' online savvy, he'll learn the whereabouts of his missing items soon enough. Not that losing his stamp has slowed the TJF train – he's left four massive tips (sans stamp) since that night at Acabar, including this $2,000 tip on a $238 bill.