Antifa Protests 'Christian Fascist' Students for Life Pres. Kristan Hawkins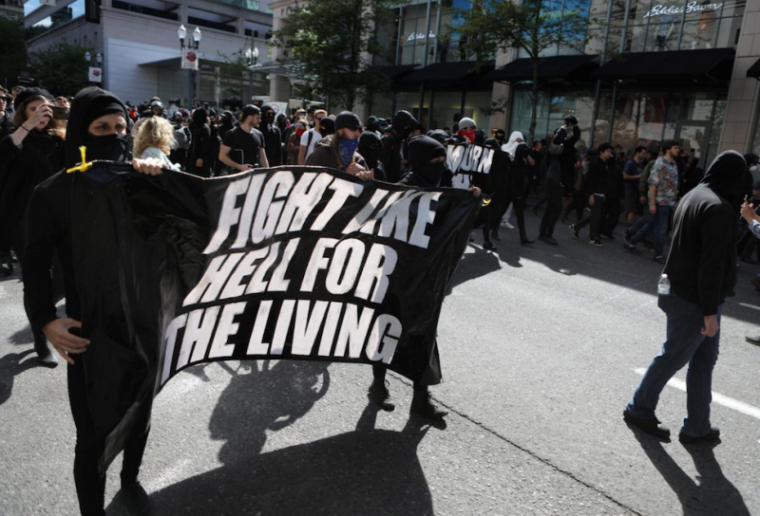 Activist group Antifa announced it would protest Students for Life of America president Kristan Hawkins at her planned speaking stops in California this week, calling her a "Christian fascist" for her pro-life cause.
Hawkins has in turn asked supporters for prayers ahead of her events this week at California State University, L.A., California State University, Fullerton, and University of California, L.A.
A Facebook event page hosted by Refuse Fascism Orange County called Hawkins a "fanatical anti-feminist Christian-fascist," accusing her of spewing "misogynistic, anti-women poison."
"The anti-choice agenda being pushed by Trump/Pence and their fascist movement is nothing less than preparing for the ground for a real-life Handmaid's Tale, with women completely enslaved and subordinated to a patriarchal order," the event description reads, referring to the dystopian book-turned-T.V. show.
The far-left group, which has strongly spoken out and turned up at various protests against President Donald Trump and Vice President Mike Pence, says that it is fighting against a "fascist America" that it claims has manifested at the White House.
Hawkins posted a Facebook plea in response to Antifa on Tuesday:
"Friends, say a pray (sic) for me today, tomorrow, and Thursday as ANTIFA is trying to organize protests at each one of my speaking tops this week in California. Let's hope we can change some minds at Cal State-LA, Cal State-Fullerton, and UCLA this week."
The group said in another Facebook post on Tuesday that it has arranged for security at Hawkins' speaking events "in case Antifa chooses to get violent." 
After the first event at California State, L.A., Tuesday night, Hawkins shared the "good news" that "the event went well" and there were protests but no violence. 
"The police here a Cal State-LA did a great job. Felt safe the whole time. Thank you for your prayers!" she added. 
SFLA says that it has assisted as many as 400 students and groups for the #ProLifeWalkout event scheduled for Wednesday, where pro-life students are set to walk out of classrooms in order to highlight their support for unborn children.
As historians like Mark Bray have explained in The Washington Post, Antifa operates as more of a collection of various left-wing groups and activists, rather than as a centralized organization.
Groups and individuals linked to the movement have taken part in violent protests in the past, including the "No to Marxism in Berkeley" clash in California in August 2017, when conservatives and journalists were reportedly attacked with clubs and other weapons.
House Minority Leader Nancy Pelosi, a Democrat, said at the time that Congress members need to speak out against Antifa violence.
"Our democracy has no room for inciting violence or endangering the public, no matter the ideology of those who commit such acts," Pelosi said back then.
"The violent actions of people calling themselves Antifa in Berkeley this weekend deserve unequivocal condemnation, and the perpetrators should be arrested and prosecuted," she added.
A separate petition on the White House site "We the People" calling for Antifa to be labeled a terrorist organization gathered over 368,000 signatures last year, prompting a response from the White House.
Trump's administration explained that federal law does not allow for domestic groups to be designated as terrorists, however.
"Nonetheless, law enforcement has many tools at its disposal to address violent individuals and groups. The Department of Justice routinely charges violent individuals, of all types, with a variety of offenses, including arson, threats, fraud, tax violations, hate crimes, murder, and offenses related to the misuse or illegal possession of firearms and explosives," the White House assured.