Antonio Sabato Jr. Talks Jesus, President Trump and Being Blacklisted in Hollywood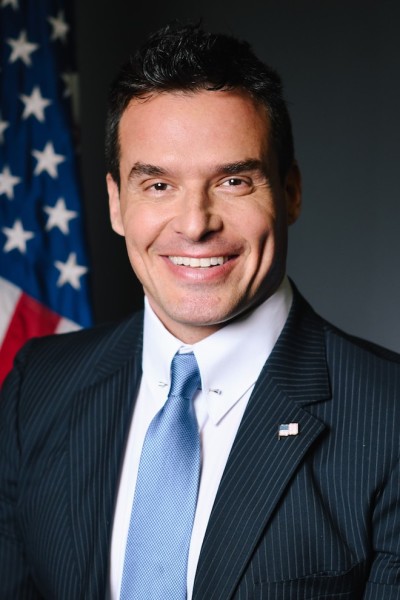 Popular actor and model Antonio Sababto Jr. who stars in the Christian soap opera "Hilton Head Island" is running for Congress and recently spoke to The Christian Post about his faith, what it's like being blacklisted in Hollywood, and why he supports President Donald Trump. 
Sababto has had a successful career to date, starring in acclaimed television shows and movies such as "General Hospital" and "Melrose Place." He's also a recognized face serving as a model for Calvin Klein. In recent years, however, he's shifted his focus from Hollywood to God and country.
The leading independent faith and family studio PureFlix recently announced the continuation of "Hilton Head Island" which is described as a "hope opera" instead of a soap opera, which features Sababto.
When asked to describe what a hope opera is, the seasoned actor responded: "[Hope is] Jesus Christ, hope is God, hope is family values, hope is spending time with your loved ones and resolving problems together in the family, faith morals, and a great heart. That's what the show is about. It's about a family coming to a halt in a crisis situation and finding a way to come together through the word of God and through the help of God, and they're able to do it. That's why they called it a hope opera, because, relatively speaking, nowadays we don't have that much hope."
"Hilton Head Island" refrains from using coarse language or displaying sex and violence on screen while maintaining the quality of a mainstream TV series. This show, which centers around the fictional Trisk family, focuses on the power of family, loyalty and faith. It's second season began on Oct. 9.
Sababto said a series like the PureFlix original is greatly needed in times like these when the past decade or so has seen such "destruction of the Church and destruction of Jesus and the destruction of positivity" in America. 
"There's people in government that don't want to talk about God. We have God in our Constitution, in God we trust. But people in higher places don't want to talk about it. And I think this is a good way to get across to people who are fed up with the usual Hollywood propaganda and they're just willing to follow the Word of God rather than the voices of all these people that are lying to us each and every day. It's a positive good show," he maintained.
Being Italian-American, faith, Sabato said, has always been a part of his life.
"I was born in Rome so I knew about God; I knew about Jesus from a young age. We had churches across the street from my house, every corner of Rome is populated by seeing God and Jesus on the Cross," he continued. "I was always close to Him. I was always there and had communication with Him since I was a little boy, on my own private time."
Sabato said he was never forced by his family to go to church, instead they raised him to make up his own mind.
"You find God or He finds you. There were times in my life, crucial times, that God has stepped up and helped me," he declared. "I would say, in the last 10 years, I found Jesus in a very personal, close relationship that I love and it's stronger every day. I'm not shy to talk about Him or talk for Him, and that's why I'm doing what I'm doing. We need people in government or anywhere who are willing to say, 'You know what? The most important thing in my life is Jesus. And I'm not afraid to say it.'"
Having worked on numerous TV and movie sets throughout his nearly 30-year career, Sababto said PureFlix is different from most. 
"What I found inspiring about working with PureFlix is that they're not only professional, but they keep God close and that's fascinating to me," he said. "It's exciting to me that more production companies are willing to speak out. We started the day with a prayer or we talked about positive things in the script, the storyline, and it's positive from beginning to end with a great message that everyone can see."
Sababto declared that his work with the Christian company is a good way to be associated with Hollywood without following the "liberal craziness that's going on there."
Now working on "Hilton Head Island" for a second season, Sababto admitted that he has seen similarities between himself and his character on the show, Jude Trisk.
"In my life, as a human being, we make mistakes. That's why I believe that going back to the Word of God and going back to the Bible, going back to some sort of guidance, going back to believing something higher than yourself puts you in a humble position," he said.
"This man that I play, Jude, he's living on the fine line between good and evil and money is very much a part of his life, and greed. His family opens him up to a better way of life. I can relate to that. Anytime I made decisions based on my own human beliefs, we tend to make even more mistakes. And God brings us back and says, 'You know, don't believe what you can see, what you can touch, but believe in the spirit.'"
Once named as one of People magazine's Sexiest Men Alive, he said he humbled himself and gave his life to God but because of that, Hollywood has "blacklisted" him.
"I lost everything. I lost my career, everything was taken away from me. I'm trying to survive on everything that I have without working as an actor. It's been extremely difficult. God has put me through this for a reason and it's only building me up to be stronger for what I have to do next," Sababto affirmed.
"I believe that this man, the character Jude, is very much like that, and in every season he opens up a little bit about himself. He's fighting the relationship with his father and the family and it's a beautiful story. I think this is an escape, something different and unique and special. Yeah, I relate to this guy a lot, but I'm in a much better place spiritually than I think he is at this point. As you can see in the season, as it progresses to season two, maybe he'll find God even more."
Most recently, Sabato decided to use his platform for running as a Republican candidate for Congress in California's 26th District as a way to be a voice for the people of California.
"I listened to the people in my county and that's the most important thing," Sababto said. "It's not about my plan or what I like to do, it's what the people of my county want and they want respect; respect toward a law enforcement, they want respect in the sense that we need to protect our borders. No more sanctuary cities. They want more respect to help the people who are dying on our streets, our homeless, and there's no way to help," he added, asserting that California has no system in place to helps its homeless population.  
"Our regulations are too high. We need to less regulate businesses so they can help open up businesses and help their families and their neighbors and our county. Taxes have to be lower in our county. It's just a lot of work to be done."
The 46 year old believes California wants a representative who's going to fight for them and "who's going to have the same beliefs," and is willing to stand up for what's right in America.
"It's been a really fascinating run for me the last year-and-a-half. It's been a long campaign and I believe God has got the plan and we're gonna win on principles and morals and the Word of God," Sababto maintained.
In 2016, the actor opened the Republican National Convention in Cleveland with a speech professing his faith and sharing his support for Trump. At the time, Sabato described Trump as the "unity" candidate and praised him for securing borders and protecting U.S. citizens.
He continues to share his support for Trump and believes God placed him in office with an assignment.
"He(God) put this president into office to save our country. And I believe that He's putting me in this position to save my county," Sababto asserted.
He concluded the interview by sharing that he will be participating in more faith-based material in the coming year.
Sababto will also be seen in the upcoming film "One Nation Under God" that's set to release in 2019. According to its synopsis, the Christian film is a story about a student who boldly stands up for God when a "presidential candidate visits his school. The exchange goes viral, challenging both to step out in faith and be the men that God has called them to be."
"I'm very proud of this film. God really put it on me on this one. I was struggling trying to find a way out, even before I announced my candidacy and this movie came to me and I worked really hard on it," Sababto added. "I play a senator who's running for president who finds God. I have goosebumps just to think about it. This movie's going to be huge and is exactly what we need in our country, one nation under God."