Apocalyptic Film 'Vanished' Brings Next Generation of 'Left Behind' to Big Screen for 1 Night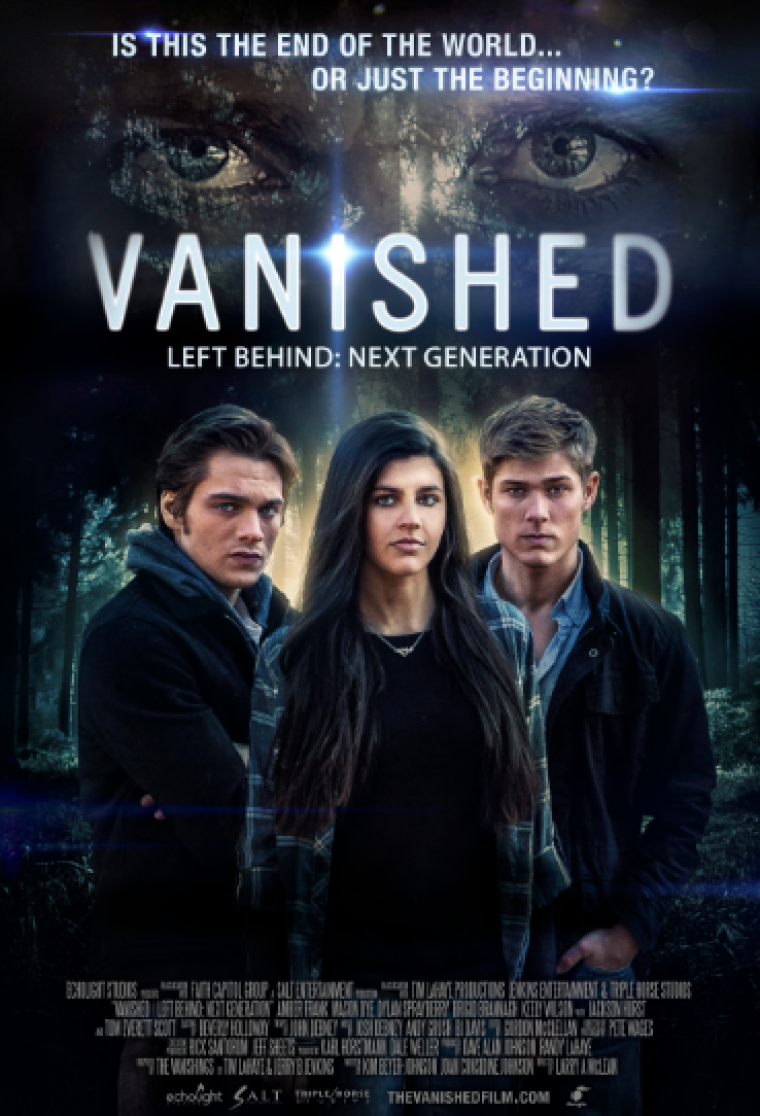 The gripping apocalyptic adventure film about the rapture and tribulation "Vanished: Left Behind: Next Generation," will be in theaters nationwide for one night only coming this September.
Targeting a new generation of moviegoers, the film is inspired by The New York Times best-selling book series Left Behind by authors Tim LaHaye and Jerry B. Jenkins. The series is no stranger to the big screen and was made popular by actor Kirk Cameron 16 years ago and more recently by Nicholas Cage in 2014. However, "Vanished: Left Behind: Next Generation," seeks a new audience by telling the story from the perspective of young adults.
Piggybacking off of the dramatic action movies "Twilight" and "The Hunger Games," the new feature, which will be in theaters on Sept. 28, hopes to take its characters beyond their own fears and desires, opening them to the questions of purpose, and whether their lives and choices really matter.
The film's synopsis reads: "When a billion people around the globe suddenly vanish and chaos engulfs the nation — headstrong 15-year-old Gabby (Amber Frank) is thrust into adulthood way too soon. The event forces Gabby, along with her younger sister Claire (Keely Wilson) and the two teen boys vying for Gabby's affection, Josh (Mason Dye) and Flynn (Dylan Sprayberry) — to try to figure out what has happened and how they fit into this dangerous new world."
Jeff Sheets, president of EchoLight Studios, said in a statement to The Christian Post that the film "is a fresh, new genre feature that is already being embraced by young and old alike. The journey that unfolds will captivate, entertain and challenge audiences."
The movie event will be presented for one-night only by EchoLight Studios in partnership with Fathom Events. In addition to the feature, audiences will get to experience a Q&A with the cast and filmmakers moderated by prominent national speakers and youth leaders Doug Fields and his co-founder of Download Youth Ministry, Josh Griffin.
"We are excited to debut this exclusive experience on the big screen," said Kymberli Frueh, Fathom Events vice president of programming in a statement shared with CP. "The best-selling Left Behind books from the '90s and early 2000s made a huge impact on their readers and 'Vanished: Left Behind: Next Generation' will resonate with those enthusiasts while engaging a new legion of young fans."
The cast includes Amber Frank (Nickelodeon's "Haunted Hathaways"); Dylan Sprayberry (MTV's "Teen Wolf," "Man of Steel"); and Mason Dye (MTV's "Finding Carter," Lifetime TV's "Flowers in the Attic"); along with veteran actors Tom Everett Scott ("That Thing You Do," "American Werewolf in Paris"); Jackson Hurst ("Drop Dead Diva"); Brigid Brannagh ("Army Wives," "Underground") and Rachel Hendrix ("October Baby," "Perfect Wave").
For more imformation on "Vanished: Left Behind: Next Generation" visit thevanishedfilm.com.