Archaeological Discovery: Olympic-Size Ceremonial Platform Discovered in Ancient City of Petra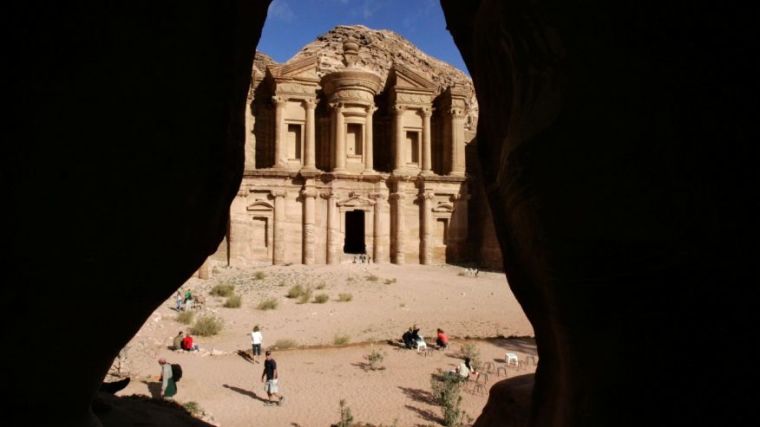 A massive platform in the ancient city of Petra, possibly linked to a part of its Christian history, has been discovered using satellite imagery, drones and ground surveys, archeologists announced.
Archaeologists Sarah Parcak, a National Geographic fellow, and Christopher Tuttle, executive director of the Council of American Overseas Research Centers, said in a National Geographic report that the monument is as long as an Olympic-size swimming pool and twice as wide. It is situated half a mile south of the center of Petra, which is a UNESCO World Heritage site.
CNN reports that the enormous platform was likely built during the second century near where the Nabataean civilization established the part-carved, part-built city, and it is believed to have initially been used for ceremonial purposes.
"That ceremonial focus probably allowed the site's conversion to a Christian chapel during the Byzantine period. During later Islamic periods, ordinary uses were more likely," it noted.
A second, smaller platform was also discovered within the larger platform, with one side of the smaller construction fronted by a row of columns.
Petra was abandoned by the end of Byzantine period in the seventh century A.D., in what is today southern Jordan. The unique ancient city, carved from local red sandstone, attracts hundreds of thousands of tourists each year. It is part of Jordan's Petra Archaeological Park, which covers 264,000 square meters within Wadi Musa.
The newly discovered platform is not known to have any parallels to other structures in Petra, and will be the subject of further research.
"When National Geographic fellow Sarah Parcak shared the results of her latest research with us, we knew it would pique global interest given the historic significance of this treasured site," said Kristin Romey, archaeology writer for National Geographic.
"It's really a remarkable find for the archaeological community," she added.
Tuttle reflected that it was satellite technology that allowed the archeologists to take in a broad aerial perspective of the site, by which they identified the faint footprints of the ancient structures.
"I'm sure that over the course of two centuries of research [in Petra], someone had to know [this site] was there, but it's never been systematically studied or written up," Tuttle said. "I've worked in Petra for 20 years, and I knew that something was there, but it's certainly legitimate to call this a discovery."
BBC news noted that Petra has been featured in some famous Hollywood films, such as Indiana Jones and the Last Crusade. New discoveries at Petra continue to be made long after Swiss explorer Johann Burckhardt rediscovered the ancient ruins in 1812.