Are Israel's Christians Arab? New Legislation Set to Distinguish Muslim, Christian Arab Populations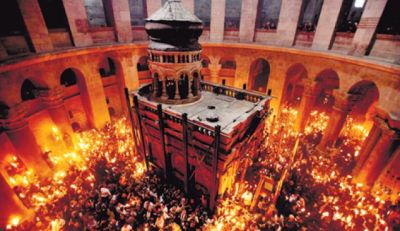 An Israeli legislator intends to introduce legislation that would legally distinguish between the country's Muslim and Christian Arab populations
Yariv Levin, who hails from Prime Minister Benjamin Netanyu's Likud party and chairs its coalition government, said that he believes this demarcation would help the government ensure that the needs of the country's tiny Christian population are being met.
"Out of ignorance, the government has been lumping all of the minorities, Druse, Christians and others, under the category of Arab since the establishment of the state, even though there are big differences between them. Since there are many more Muslims than members of other groups, the result is that only Muslim concerns were met," Levin explained Thursday, according to The Jerusalem Post.
According to Israel's Central Bureau of Statistics there are only 160,000 Christians in Israel, making up only two percent of the country's total population, and according to an Associated Press story last month, most consider themselves Palestinian. Christians who do live within Israeli's borders are those who resisted being driven out by the military during the creation of the country or who chose to stay once the new government formed.
Christians are also exempt from military service, something that is compulsory for their Jewish counterparts, though a small number volunteer annually.
Increasing the number of Christians who volunteer for the armed forces is one priority on which both Levin and Israel's federal government are both focusing. The public official also wants to introduce legislation that would replace "Arab" for "Christian" as their nationality on identification cards.
Levin said that it was members of the Christian community who first reached out to him to consider the legal distinction.
"It's not surprising that Christians want to be separated from Muslims," he said. "This is the only place in the Middle East where they have security and freedom of worship. Many Christians don't want to be known as Arabs, but as Maronites or Aramites."
Yet some have accused both Levin's actions and the Israeli government's effort to increase Christian military participation as being divisive to the country's larger Arab population.
Balad MK Basel Ghattas, a Christian Arab who co-founded a legal advocacy group for Arab minority rights, wrote Levin a letter saying he would oppose his agenda, which he claimed was driven by a "racist ideology."
Ghattas also accused Israel of exploiting the suffering of other Christians in the Middle East for its own political gain.
"[Levin is trying to] leverage the situation in the Middle East and the instability where Christians are unsettled," Ghattas told The Jerusalem Post.
"[His actions are] part of a divide and conquer policy that was used by the Zionist movement and by all colonial states in the world," he added.
But Bishara Shlayan, a Christian Arab from Nazareth, said that he felt that this new identity would enable Christians to seek loftier positions in the Israeli army, police and government.
Shlayan also pointed to Israeli's Druze and Bedouin communities as ones that have differentiated themselves from the country's Arab population and said Christians' decision to legally distinguish themselves would be the "last separation."
Levin and Netanyahu may also face a challenge from the country's Muslims.
In a recent op-ed, Oudeh Basharat, a Palestinian columnist for the Israeli newspaper Haaretz, accused the prime minister of trying to undermine the country's unity.
"Palestinian Arabs, Muslims and Christians, have been living here together for generations in harmony and sharing the same destiny, and now Netanyahu comes to divide them," wrote Basharat. "A country that sparks dispute between its sons is not a normal country. The time has come for the prime minister to absorb the fact that before him stands a nation, and not a collection of ethnic groups."