Aretha Franklin at Inauguration: Did Singer Mock Beyonce's Lip-Synching Controversy? (VIDEO)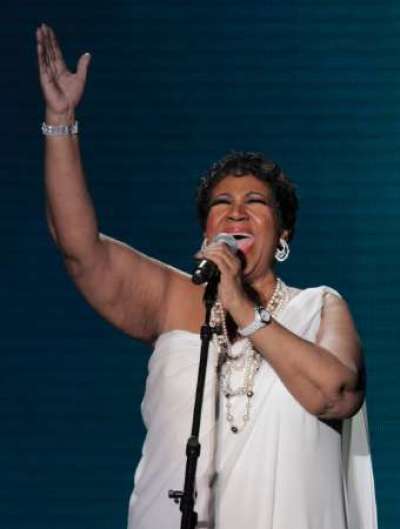 Beyonce Knowles has been mired in controversy over her alleged lip-synching at President Barack Obama's Inauguration Monday. Soul singer Aretha Franklin recently appeared to come to Beyonce's defense, however some critics believe that her comments may have actually been a backhanded compliment.
Beyonce's flawless rendition of "The Star Spangled Banner" Monday left many fans in awe, however her praise was cut short within hours when it was revealed that the Grammy-Award winning singer did not actually sing live, according to the New York Post.
"All music is pre-recorded for the ceremony because there are so many eventualities and conditions that day," Kristin DuBois, who is A rep for the United States Marine Band told The New York Post. "We performed, live, the band. But we received last-minute word that Beyonce was going to use the pre-recorded vocal track. Those were the instructions we were given. We don't know what the reason why."
Franklin, who performed the national anthem live during Obama's 2008 Inauguration, immediately spoke out about Beyonce's decision not to sing live following widespread backlash.
"When I heard the news this evening that she was pre-recorded I really laughed," Franklin told ABC News. "I thought it was funny because the weather down there was about 46 or 44 degrees and for most singers that is just not good singing weather. When I heard that I just really cracked up. I thought it was really funny, but she did a beautiful job with the pre-record ... next time I'll probably do the same."
Various critics including talk show host Wendy Williams immediately called out Franklin, 70, and accused her of "throwing shade" at Beyonce, 31. Fans took to social networking site Twitter to weigh in.
"Aretha is such a hater! Why do folks insist on pretending to give praise when they're hatin'? Bey did great! Ms. Franklin's just jealous," Tanesha tweeted.
"Aretha Franklin throws a bit of shade at Bey...for some reason, the elders never show LadyB any love!" StaceyMarieRobinson tweeted.
"Aretha Franklin admitted to laughing at Beyonce lip-synching? There's nothing funny about her angelic voice #hater," Chris. S tweeted.
Meanwhile a source claims that Beyonce, who was allegedly saving herself for her upcoming Feb. 3 Super Bowl performance, was shocked that she received so much backlash, according to Us magazine.
"She didn't think there was anything wrong with it. Pavarotti has done it! It was freezing out, and if she messed up just one note, that would have been the story," a source told Us.
"Everybody uses these tracks, and the music director advised it. Any big outdoor live performance is almost always with some kind of track," the source continued. "She did sing, but used a track."
Beyonce Sings the National Anthem at the 2013 Inauguration of Barack Obama